Looking for the ultimate getaway destination? Want to run away to a sunny and tropical location for this Holiday? What better way to say goodbye to 2022 than by booking a vacation in Cancun? With sargassum almost gone, winter coming, and Christmas right around the corner, spending time at the beach for the holidays can be a dream come true!
What better beach than one of the country's most acclaimed locations: Cancun, Riviera Maya, and Isla Mujeres? Here we listed a few things so you can start planning your make your holiday vacation a reality!
Book flights
First things first, flights and hotels. These two almost come together. If you want to spend the Holidays in Cancun or Riviera Maya you're still on time. Sure, prices aren't what they were a few months ago, but you can still book some pretty nice deals. 
You can check out one of our previous articles on How to get Cheap Flights to Cancun. 
Pick the dates and try to book the tickets as soon as possible since prices can drastically change as the holidays are just a couple of months away. 
Make sure you double-check the time and dates of your flight since planning your holidays kind of depends on it (transportation, accommodation, activities).
Book Hotel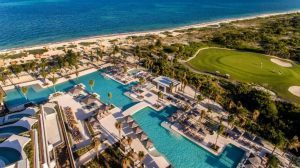 If you are one of those people that like to book your accommodation before booking a flight, I assume that is because you already know which hotel you want to stay at. 
On the other hand, if you are still looking for the perfect resort, you can check our list of hotels in Cancun Hotels. Also, we wrote an article about Hotels in the Riviera Maya that you need to know and Tripadvisor's Best Hotels in Cancun 2022.
Look for transportation (ferry)
Transportation is something that is often forgotten. Once you land at the Cancun Airport, you will want to get your transportation ready and wait for you to take you to your hotel. 
For this, verify if your hotel has transportation included in your booking, most of the time it has an extra cost. 
Beware of taxis parked right outside the airport terminal that might want to brag to you to use their services, they charge much more than a regular cab would. 
Uber and other similar services are not viable options since they are not allowed to provide services at the Airport.
Private transportation from Cancun International Airport is also a safe and affordable option. Our partner Cancun Airport Transportation has services to all destinations in Cancun and the Riviera Maya.
If you are traveling to one of the islands like Isla Mujeres or Cozumel, keep in mind you'll need to book ferry tickets and schedule your flights so you'll be on time on the pier.
Book tours
Holidays are not necessarily high season, but it sure brings a lot of people to the all-inclusive resort. With that in mind, the only reasons you might want to step out of your hotel will be for tours and to explore the natural and historical surroundings.
Some great tours to do during your Holidays in Cancun are the following:
Visit an Archaeological Site: San Miguelito in Cancun, Chichen Itza, Tulum, Cobá, and Ek Balam are just a few options for a day trip that will make your holidays different and unforgettable.
Do some water activities: Snorkeling in the Riviera Maya, Paddleboarding, jet skiing, and many others are available all year long and there's no better place to do these activities than in these turquoise waters!
Explore the Eco Parks: Grupo Xcaret Parks, Selvatica, and Crococun are also great options to visit as a family or if you're traveling with a party. Everyone will fall in love with the flora and fauna and of course, the Mayan Culture that surrounds it all.
Learn more here: Cancun Tours, Riviera Maya Tours
Get your travel insurance
It's not mandatory to get travel insurance to visit Cancun. Even though Cancun is quite safe, purchasing travel medical insurance is always a good idea.
Travel insurance is not currently required for all of Mexico. However, travel insurance with medical coverage is required for visitors to Puerto Vallarta and Riviera Nayarit. This insurance is to protect travelers against any unforeseen medical event, including those derived from COVID-19 contagion.
What to pack for the Holidays?
Adding up to what you would regularly pack for your beach vacation, here we give you a list of things you should definitely consider bringing for when you're at the beach for holidays:
Pack a special outfit. Some pack to slay, others just want to be in a swimsuit all day, but having a nice outfit can be a good idea for that special holiday dinner or if you are going out.

Biodegradable sunscreen and bug repellent. Others are not permitted on most of the tours.

Your own tumbler or water bottle. All-inclusive resorts encourage this so you can have a better experience when ordering drinks without having to waste so many cups. It is also good when going on a tour.

Plastic sealed bag to put all your passport and important documentation.
And that's it, sure there's more to consider but this is a star for you to start planning your Holidays at the Beach!