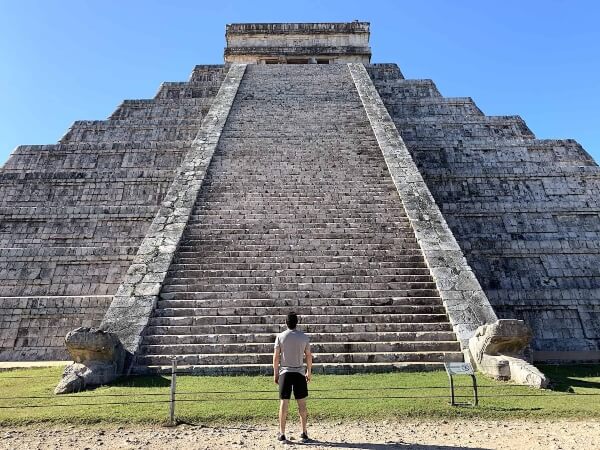 Chichen Itza Tour
Discover on this Chichen Itza Tour why the Mayans were one of the most advanced cultures of their time. This is one of the most popular activities in Cancun and you can't miss it!
You will be able to visit all the buildings on the archaeological site with a guide.
After the visit Chichen Itza pyramids, the nex stop is the Cenote to cool off the heat of Yucatan swimming in its crystalline waters and also take excellent pictures. Cenotes are underground water reservoirs characteristic of the Yucatan Peninsula, and the main source of the vital liquid throughout the region.
Chichen Itza tour includes a delicious buffet meal with exquisite regional dishes. Don't stop coming to Chichen Itza! This is one of the most popular tours in Cancun, the archeological zone is relatively close and offers an experience you will never forget. And ALSO is one of the New Seven Wonders of the Modern World.
Duration: All day    Available: Everyday
Included
Round trip transfer by van or air-conditioned bus.
Guide in the archeological zone.
Express stop in Valladolid.
Entrance fee to Chichen Itza.
Two and a half hours of explanation and guided tour of the archaeological site *.
An hour to explore Chichen Itza on your own *.
Buffet food.
Visit to a cenote.
* Times are estimates.
Not Included
Any type of drink throughout the tour.
Photo and / or video services.
Use of lockers, life jackets, or towels in the cenote.
Snacks or any type of food outside of what is contemplated in the buffet meal.
Other activities in Chichen Itza or in the cenote.
Tips.
Souvenirs, crafts, clothes, etc.
Any other product not mentioned in the list of what the tour includes.
If you would like a more "All Inclusive Tour" you might want to check the Plus Chichen Itza Tour
Extra Info
The details of the transportation, time of arrival and return, as well as meeting points will be sent to you by email at the end of the reservation process.
The rates for minors are valid for children between 3 and up to 11 years of age.
Infants below three years of age do not pay.
If your hotel is between Moon Palace and Tulum (that is, if your hotel is not in Cancun but in Riviera Maya), you must pay a difference in the cost of the tour. You will be contacted to make this payment, or you must pay it when you board the transportation.
Suggestions
Carry a certain amount of cash with you for products and services not included in the package.
Avoid carrying heavy or bulky backpacks or bags.
Wear comfortable clothes and shoes, as well as sunglasses.
Bring a hat or a cool hat to protect yourself from the sun.
Remember to use biodegradable sunscreen.
Bring a towel and swimsuit.
If you suffer from any health problem or physical impairment, please contact us before booking so we can advise you about it.