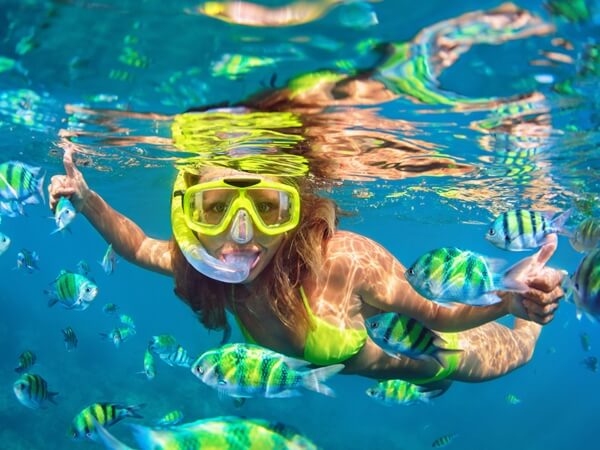 Riviera Maya Snorkeling
Riviera Maya has the best sealife in the world, and in this tour you will noticed. Snorkel in the second largest reef in the world. The reef that is located just in front of the Riviera Maya is the second largest reef system in the world after the one in Australia.
The tour leaves specifically from the Town of Puerto Morelos, which is considered as the entrance to the Riviera Maya. Puerto Morelos is only 25 minutes from the Cancun area.
This beautiful Riviera Maya Snorkeling tour will take you to two different spots in the Coral Reef Barrier, depending on the day and the current, our Captains will know where to go better.
The Snorkeling Tour takes about two hours, it is 15 minutes of each trip and then 45 minutes snorkeling.
Duration:2 hours and 15 minutes     Available: Everyday
Included
Private A/C transportation from your Hotel in Cancun to the Riviera Maya Snorkeling spot.
English speaking driver.
Greeting at the Beach Club and registration.
2 hrs Snorkeling Tour.
Entrance fee to the Puerto Morelos National Marine Park.
2 waters, 1 Hamburguer, 1 beer.
Free time at the Beach Club.
Not Included
Tips.
Extra foods or drinks at the Beach Club.
Shopping at the Riviera Maya Snorkeling Beach Club.
Extra Info
The Van will pick you up in your hotel in Cancun somewhere in between 7:45 and 8:15 am. (This is a shared ride picking up people in different hotels).
The Van will arrive at the Beach Club in Puerto Morelos where you'll be registered and given a wristband.
The boat will depart from the Beach Club at 9 am so be sure to be ready.
The Snorkeling Tour lasts about 2 hours, and after that you come back to the Beach Club where you can spend some free time as you wish.
You'll be served with a bottle of water during the tour. Arriving back at the Beach Club you'll be offered a water or soda, a Hamburger and a Beer.
You can choose two different pick up times for your departure, 1 PM or 5 PM, this needs to be set up prior to the tour so we can set up the vans.
Suggestions
What do you need?
Swimsuit.
Set of dry clothes to change after tour.
Sneakers or sandals.
Cash or credit cards.
Towel.