Every year, Condé Nast Traveler asks its readers to vote for the best hotels, cities, spas, etc. This year, with no exception, the Riviera Maya was named many times. Keep on reading and learn about the Riviera Maya resorts on Readers' Choice Awards!
What is the Condé Nast Traveler?
If you are into traveling, you sure are familiar with the worldwide known Travel Magazine Condé Nast Traveler. A global media company that produces some of the world's leading print, digital, video, and social brands (including Vogue, GQ, The New Yorker, Vanity Fair, Wired and Architectural Digest (AD), Condé Nast Traveler, and La Cucina Italiana)
Launched in the United States in 1987, Condé Nast Traveler is a market-leading monthly travel magazine, and today there are nine different international editions. With its motto of "Truth in Travel", the publication provides enlightening content on a wide range of topics, including destinations, hotels, food and beverage, airlines as well as fashion, cars, digital, and grooming.
With a print readership of 5 million monthly readers; 16 million unique digital users, and over 16 million followers. This is the travel magazine you'll want to seek.
What are the Readers' Choice Awards?
It's officially the 35th year, of their annual Readers' Choice Awards, and it continues to capture the travel experiences to its best. Voting is announced on their website and social media, so readers can go and vote for their best choice of hotel, spa, city, etc. This type of award nomination helps travelers to learn about new destinations. In addition, it works as a guide to finding the perfect hotel, or city or just to learn more about the fascinating world of traveling. 
Awards
Conrad Tulum Riviera Maya — Mexico
Habitas Bacalar — Mexico
Conrad Tulum Riviera Maya — Mexico
Habitas Bacalar — Mexico
41/50. Conrad Tulum Riviera Maya — Mexico
Conrad Tulum Riviera Maya

Étéreo, Auberge Resorts,

Habitas Tulum

Habitas Bacalar

Palmaïa-The House of AïA, Playa del Carmen

SLS Cancun

The Ritz-Carlton, Cancun

Chablé Maroma

Nizuc Resort & Spa, Cancun

Andaz Mayakoba Resort Riviera Maya

Chablé Yucatán

JW Marriott Cancun Resort & Spa

Live Aqua Beach Resort Cancun

Excellence Playa Mujeres

Mahekal Beach Resort, Playa del Carmen

Rosewood Mayakoba

Hotel Xcaret, Playa del Carmen

Viceroy Riviera Maya, Playa del Carmen

Fairmont Mayakoba

Excellence Riviera Cancun, Puerto Morelos
Conrad Tulum Riviera Maya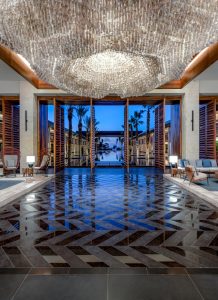 As you just saw, the hotel Conrad Tulum Riviera Maya stands out by winning in every possible category. And why is that? Well, only because Conrad Tulum has it all! 
Bar, private beach access, free Wifi, gym, pool, and spa. Out of all the big resorts that add on the Riviera Maya, the Hilston family makes itself known by using the region and culture, as their main source of influence. As Condé Nast Traveler pointed out, "It has enough going on to keep you there for a week or more, but with a clever eye to the boutique and the refined so that you never feel like you've entered a resort of such scale".
How to get to Conrad Tulum Riviera Maya?
Conrad Tulum Riviera Maya is of course located in Tulum. The easiest and fast way to get there is by flying into the Cancun Int. Airport. From there you'd want to take private transportation to the hotel, it's quicker and more comfortable than any other option.
The average transportation time from Cancun Airport to Tulum is 2:00 hrs. This will vary according to the exact location where you are going, in this case, the Conrad Tulum Riviera Maya. Weather, and traffic conditions at the time of your service, may also affect the time of arrival at the hotel. The best time to avoid traffic is before 7:00 or after 21:00 since hotel workers whose workday starts between 8:00 – 9:00 and ends between 17:00 – 19:00 take this route on a daily basis.
Learn more about how to get from Cancun to Tulum here.