The ultimate way to vacation in the Riviera Maya is to stay in the best all-inclusive resorts in the area. They know what you need and you know what you want, there's no reason to not look into this list of Rivera Maya Resorts. So keep on reading, here we bring you Hotels in the Riviera Maya that you need to know:
Is there anything better than a Caribbean vacation? Iberostar Riviera Maya Resorts gives you the Caribbean experience while also placing you at the heart of the Mayan civilization, one of the most fascinating cultures of pre-Colombian America. These Riviera Maya Resorts have 7 other Riviera Maya Hotels for you to choose from. In Iberostar Paraiso Maya, has a millennia-old atmosphere at the lobby bar, a recreation of the legendary pyramid of Chichén Itzá everybody loves. Soak in one of their 8 pools, including a lazy river that will make you feel like you're floating through the Mexican jungle. Or jump in the wave pool if you want a safe environment to play in the waves. You can also check out Aquafun, the new waterpark filled with water slides. It will give you a chance to rediscover yourself, your surroundings, and nature by offering a variety of activities, special facilities, healthy gastronomy, and the SPA Sensations.
Iberostar Grand Paraíso. 30 min (36.9 km) from Cancun Airport.

Iberostar Paraíso Beach.  28 min (36.3 km) from Cancun Airport.

Iberostar Paraíso Del Mar. 30 min (36.4 km) from Cancun Airport.

Iberostar Quetzal 1 h. (63.8 km) from Cancun Airport.

Iberostar Selection Paraíso Lindo. 30 min (36.3 km) from Cancun Airport.

Iberostar Selection Paraíso Maya Suites. 30 min (36.5 km) from Cancun Airport.

Iberostar Tucán. 55 min (61 km) from Cancun Airport.
With Cancun Airport Transportation, you can get to any of these destinations in a comfortable and safe way.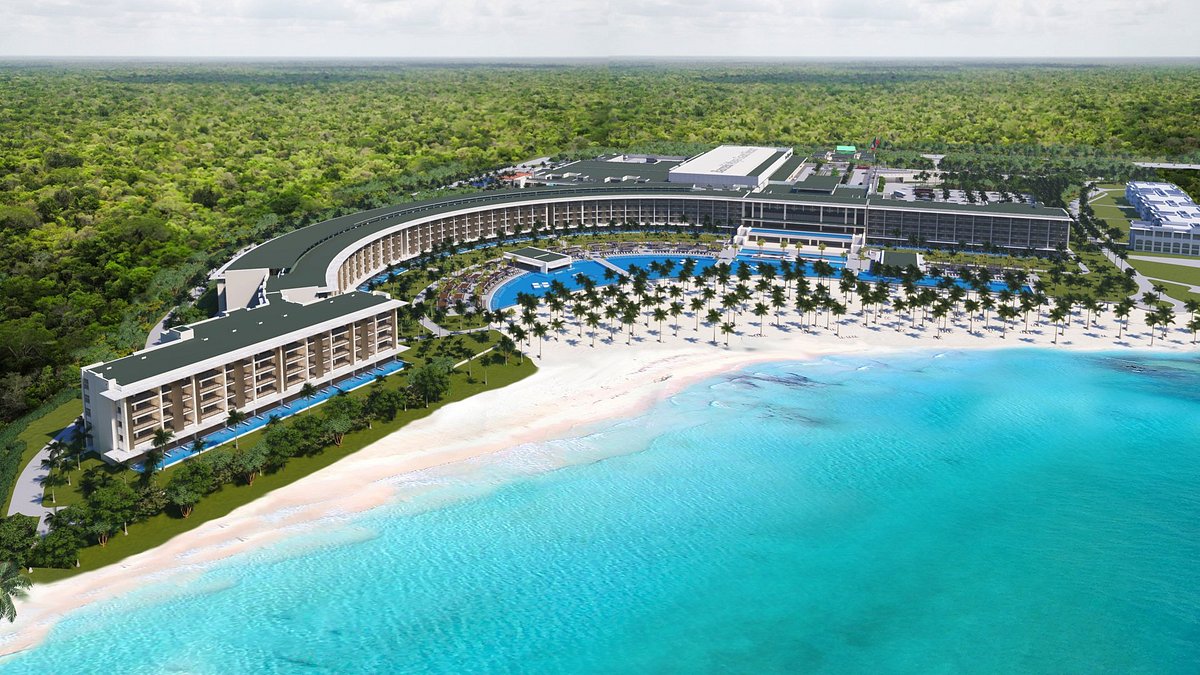 An adults-only experience in the heart of the Riviera Maya
The new Barceló Maya Riviera – Adults Only commands admiration. This Riviera Maya resort gives everybody something to talk about, with its majestic construction, large spaces, and a combination of monochromatic textures. The resort is located opposite one of the most spectacular beaches in the Mexican Caribbean, enjoy the splendor of this beautiful destination directly from the resort, where you will find white sandy beaches, a turquoise sea, and beautiful views of the idyllic surroundings.
It has a total of 850 rooms, featuring a terrace and hot tub. Over 500 of them have sea views, and 110 have a private pool.
The excellent facilities of this all-inclusive resort include the largest infinity pool in the Riviera Maya, a place where guests can enjoy an incredible experience as the pool fuses with the spectacular turquoise waters of the Caribbean. It also features two pool bars and a Music Bar with a live DJ and a wide selection of cocktails. For guests looking for something more laid-back, the Pool bar is the ideal place to sip a delicious cocktail beside the sea. All of these spaces feature sun loungers in the middle of the pool.
Barcelo Riviera Maya is 1 h away from Cancun International Airport, at 82.8 km of distance.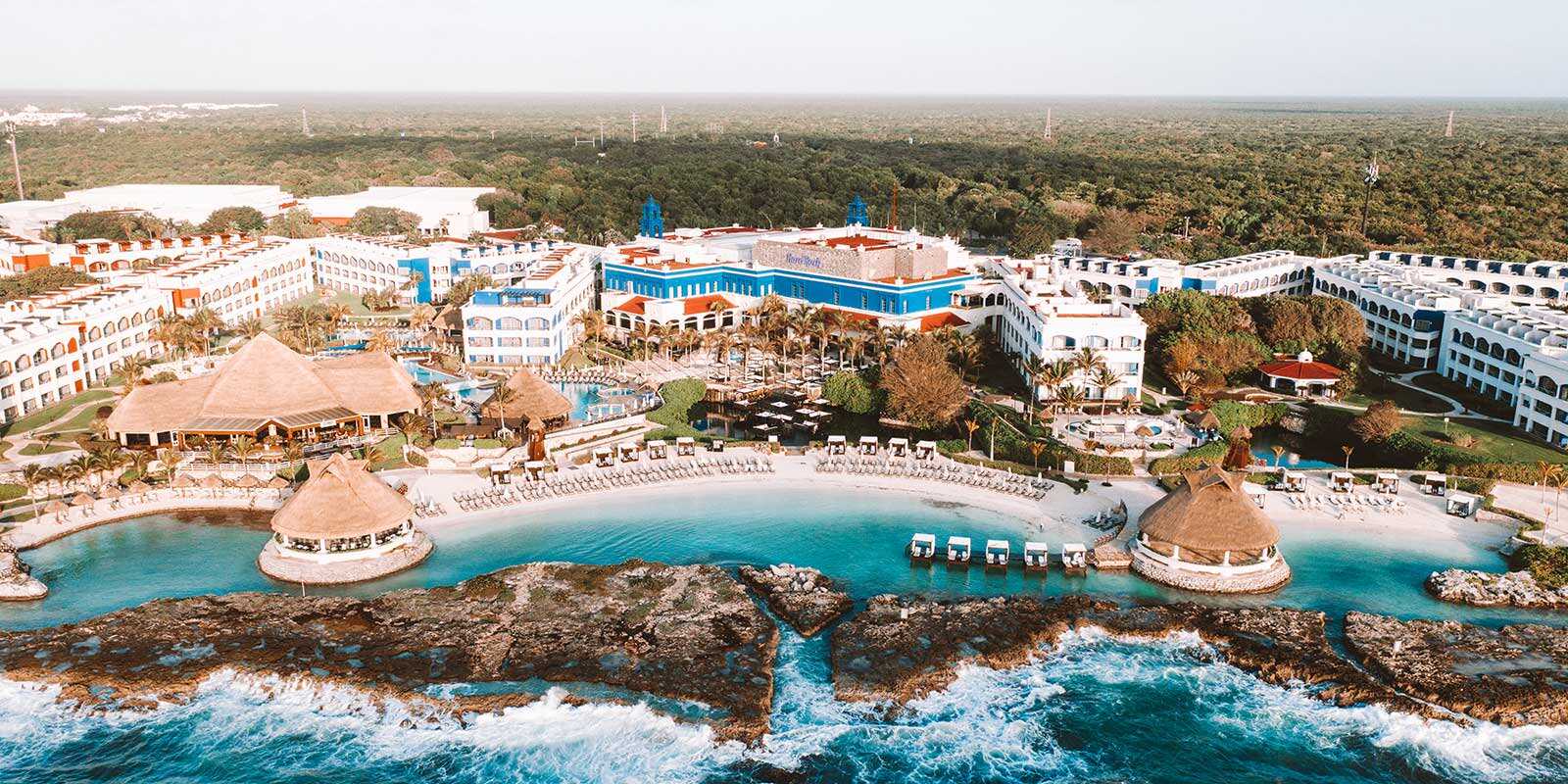 Here's where luxury meets satisfaction on a stage of stunning tropical views, a private white sand beach, and exclusive saltwater snorkeling areas. It's all capped off with an inviting traditional design, legendary Hard Rock hospitality, and undeniable excess at every turn. Live large at the Hard Rock Hotel in Riviera Maya and enjoy the very best of paradise for all. Or, pack your appetite for opulence and hit Heaven — an elevated and exclusive retreat for adult guests only featuring a private adult beach, superlative amenities, and dining at its finest.
From the Cancun Airport to Hard Rock Riviera Maya takes a 1-hour drive since is 76.4 km away.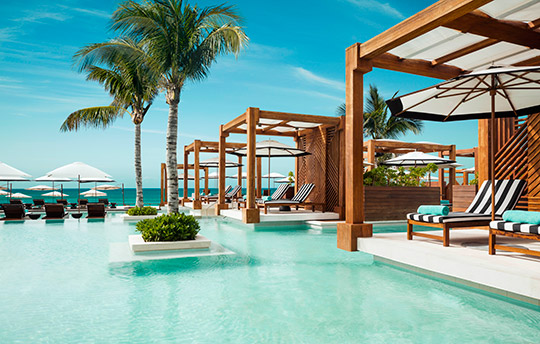 Named as one of the Top 5 hotels in Eastern Mexico by Condé Nast Traveler's Readers' Choice Awards, Vidanta Riviera Maya is an experience like no other. Guests can explore over 1000 acres of paradise, dotted with pristine pools and bordered by a magnificent beach. At Riviera Maya, you'll enjoy more than 15 world-class bars and restaurants, a Jack Nicklaus-designed golf course, lavish spa services, and fantastic entertainment. In addition to this,  guests have access to Riviera Maya's resident Cirque du Soleil show JOYÀ, and to the fantastic water world that is Jungala Aqua Experience.
It takes a 30-minute drive from the Cancun Airport to Vidanta Riviera Maya, since is 37.5 km away.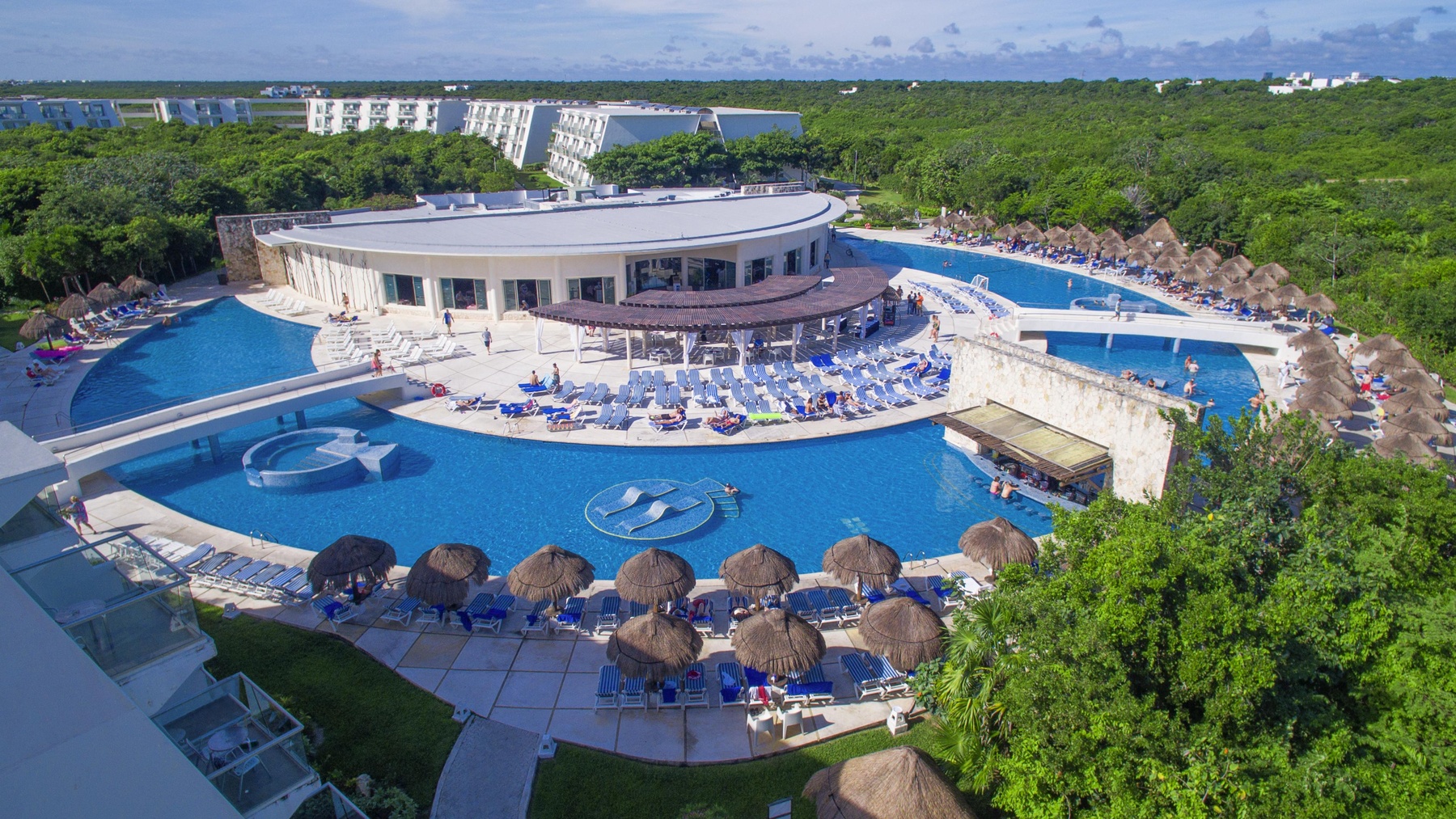 Grand Sirenis Riviera Maya Resort and Spa is situated on the Riviera Maya, just an hour away to the South of the Cancun Airport, and 32 km from Playa del Carmen. Its architecture, inspired by the Mayan culture, offers a spacious scenario, perfectly blending nature with open spaces. All guests enjoy spacious, modern Junior Suites offering comfort and incomparable tranquility.
From the Cancun Airport to Grand Sirenis Riviera Maya Resort & Spa are a 1-hour and 20-minute drive since is 95 km away.