Rapid Covid tests at the Cancun Airport – The State Health Services of Quintana Roo began the application of rapid tests for Covid-19 at the Cancun International Airport.
The actions were carried out in coordination with state and federal agencies and personnel from the airport facility.
10 modules were installed and a total of 242 rapid tests were performed, no positive reagents were found.
Rapid tests are applied in Quintana Roo from December 12 to the population with symptoms such as cough, fever, or headache. Playa del Carmen, Cancún, and Othón P. Blanco were the first municipalities to apply this measure.
From December 12 to December 22, a total of 1,500 rapid tests have been applied. This type of device analyzes the blood to find the presence of antibodies that reveal probable infections with the SARS-CoV-2 virus.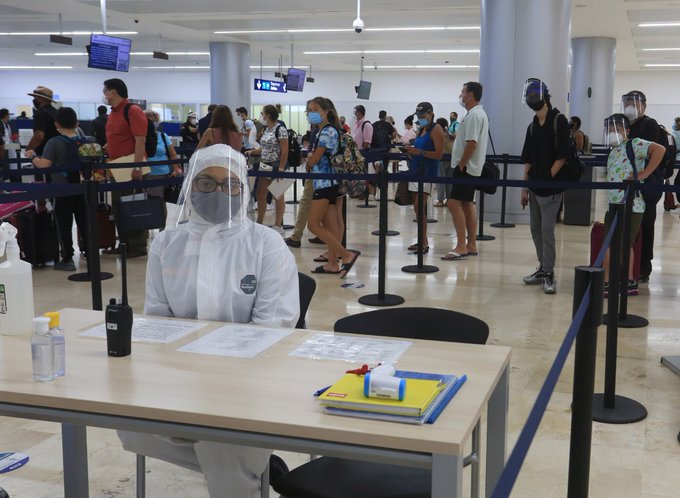 The governor of Quintana Roo, Carlos Joaquín González explained gave some words.
"We must be attentive to what is happening in the world. All of us are very aware of the arrival of English visitors to Quintana Roo. We have installed revision and diagnostic filters at the Cancun airport. We will continue to take care of visitor's health, "he said.
He explained that Quintana Roo cannot stop the arrival of planes from the United Kingdom. As there would have to be a notice from the Ministry of Foreign Relations.
He confirmed that yesterday afternoon a flight arrived at Cancun from London and an operation was implemented for an international health review that included the installation of 20 care modules for the 270 passengers and there was no confirmed case of contagion.
With these new measures on the new Covid-19, Quintana Roo strength its compromise with tourism and passenger's health.
Thanks for reading "Rapid Covid tests at the Cancun Airport"
Latest update : Covid Tests in Cancun and Surroundings
Original Source: El Universal