These Historic Flights Record from Canada to Cancun are making the destination the number-one choice for fellow Canadians, and they are selling fast!
A few weeks ago, we posted an article on "Why is Cancun so popular for U.S. travelers?". The answer to that question had to do with direct flights from many major cities in the U.S. Today, Canada is stepping up its game and reopening flights to Cancun and adding some new routes that are been purchased on the clock.
This only confirms Cancun and the Riviera Maya's popularity and why Cancun Airport is one of the 10 busiest airports worldwide. 
Over the course of the year, more than 26 million tourists are expected to walk through Cancun International Airport's busy gates. The number of visitors before the pandemic started was already high, Cancun has been known for its beaches and party atmosphere. But it was until Canada finally ceased all COVID entry restrictions, that the number of flights purchased started to increase. 
Especially this holiday, Canada will stand out since both, local and international tourism from Canada to Cancun are traveling for a taste of the Caribbean.
There are more flights from Canada to Cancun this winter than at any point in history.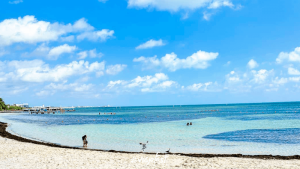 More flights to Cancun
There are now over 27 non-stop flights from which Canadian can choose from this holiday.
The high season starts in November and crowds keep traveling to Cancun until April for spring break. For Canadians and Americans, Thanksgiving week and November in general, call for a vacation. The upcoming cool weather up in northern countries, makes them want to travel to a more tropical-like holiday, and who are we to blame them? 
Cancun is the perfect destination for winter vacations. Beach, sun, and all fun, at least that is what you can hear tourists say.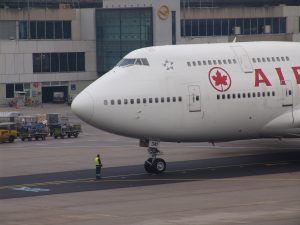 Canada to Cancun flights
Main cities flying from Canada to Cancun
Toronto
Toronto offers the highest number of flights to Cancun. Air Canada, Air Transat, and Swoop, all have recurrent direct flights to Cancun operating each day of the week. This may vary throughout the seasons, like WestJet, which opens its route to Cancun from November through April.
Ottawa
Unlike Toronto, Ottawa only has seasonal flights to Cancun. Airlines like Flair Airlines, Air Canada, Air Transat, and WestJet, have non-stop flights to Cancun starting November to April or March of the next year. Airlines vary on which days they fly.
Halifax
Halifax has WestJet, Air Canada, and Air Transat that offer direct flights to Cancun seasonally. Airlines operate this route between November and April and vary on which days they fly. But while WestJet starts their routes in November, Air Canada and Air Transat begin theirs in December and February, respectively.
Quebec City
Quebec City is one of the cities with year-round flights to Cancun. During the low season for Cancun, each airline only operates the route one day per week. When winter starts, they fly multiple times per week.
Montreal
Montreal has Cancun as a recurrent destination for travelers. Air Canada and Air Transat, have regular flights to Cancun nearly every day of the year.
Victoria
Victoria only has one airline that flies directly to Cancun, WestJet. Between November and April, the carrier operates the route band only on Saturdays.
Vancouver
Vancouver is well connected to Cancun and offers direct flights all year. Air Canada and WestJet fly the route and add more flying days as the high season starts off.
Calgary
WestJet connects Calgary to Cancun all year, while Air Canada flies the route seasonally. WestJet flies nearly every single day during the winter, making them a flexible option for booking.
Other cities with seasonal flights to Cancun
Kelowna
Edmonton
Saskatoon
Regina
Winnipeg
London
Hamilton
Kitchener/Waterloo
Tourism and COVID restrictions
This month, Canada removed the last of its COVID-related entry restrictions, and returning tourists no longer have to quarantine. Despite being one of the strictest countries in America regarding COVID lockdowns and regulations, Canada has an easy way to recover from the crisis.
During the pandemic, Canada closed its airports and all borders were closed. With everyone being on lockdown for almost 2 years, the country was surely isolated. In 2022, the situation has dramatically changed, and tourists are once again getting a taste of international travel. 
Canadian travelers can catch a flight to the Mexican Caribbean from all of the country's major airports, including Toronto, Montreal, and Calgary. 
Canadian Airlines flying into Cancun Airport
Air Canada flies to Cancun and Cozumel, one of the top island destinations in the area, creating a route to all of the Riviera Maya. A one-way 4-hour flight from Toronto to Cozumel costs some $482 on Air Canada throughout November, with slightly cheaper airfare for Cancun flights.
Passengers from Calgary can catch a flight to Cancun in January for just $290 with a 1-hour layover, although non-stop flights are also available for $387 on the same dates.  
On the other hand, Air Transat, offers a more budget-friendly option, with one-way flights from Montreal to Cancun for as little as $380 in December.
Sunwing Airlines is another good alternative, which also offers all-inclusive vacation packages. 
New Airport Technology
Canadian travelers are also set to benefit from new border crossing technology this winter, which uses digital passport and boarding card readers to speed up entry into the country. This gains efficiency for airport traffic, just as Cancun Airport is been adapted to their new E-gates to give travelers an easier and quicker method to go by migration checkpoints.