Is there parking available at the Cancun Airport?
There is a private parking lot at the Cancun Airport. The fees start from $30 MXN per hour to a full day per $235 MXN.  This is a great option as far as proximity to the entrance to the Airport, and for its accessibility regarding price rates.
Cancun Airport's official parking lot is safe and available 24 hours a day.
Location: Cancun International Airport (CUN) is located in the northeast of the Yucatan Peninsula. At the Cancun-Chetumal highway on Km 22 Benito Juarez, Quintana Roo. About 12 miles from the Hotel zone, approximately 20 minutes trip by car. Being a strategic location just 40 minutes away from Playa del Carmen and 120 minutes from Tulum. 
Learn more here: Cancun Airport Information
Where can I locate my transportation?
If you book private transportation and wonder where your pick-up may be located, you can find them right at the exit of the terminal. Outside of the Airport, there're pick-up and arrivals spots for cars to park. These parking spots are not necessary for parking but for a short wait. Private transportation as well as family and friends, can stop there and pick up or leave passengers with no problem.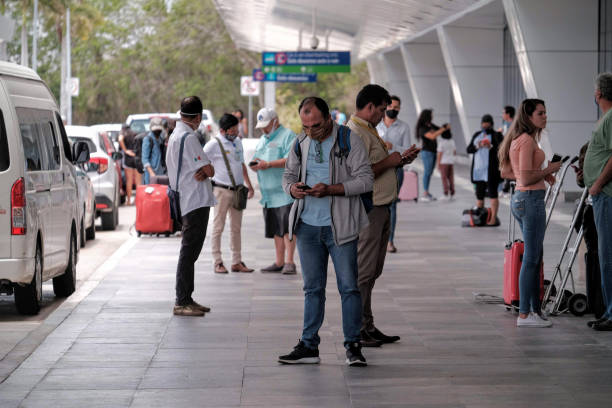 iPark, a private parking lot 
iPark is a private service that provides a parking lot for those who want to leave their cars in a secure facility as they travel away from home. Travelers can leave their cars in safe hands as they travel. The parking lot is located a few minutes away from the Cancun Airport, as you park your car, a shuttle will take you to your Terminal. 
This is a safe and affordable option for those travelers that need a place to park their car for days.
Where are the Cancun Airport Terminals located?
On the following map of Cancun Airport, you can spot the parking lots and main entrance to the Terminals.