If you have planned to spend your Christmas holiday vacation in Cancun, you're in for a treat. What's great about Cancun is that there is always something to do for the whole family, and during the winter, the city is just perfect to spend time outdoors. From beach days, excursions to Mayan Ruins, and more…
Sargassum-free winter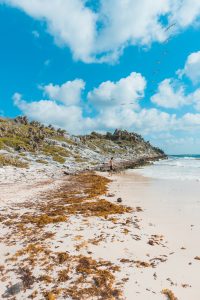 Are you worried about sargassum? 2022 had us all struggling with sargassum, thankfully, we are finishing off the year strong and free of sargassum. Spend your Holiday in Cancun: what to do, tropical edition, and enjoy the warmth of sunny days and crystal clear water at the most beautiful beaches.
Cancun and the Riviera Maya, including Tulum, Playa del Carmen, and Puerto Morelos are officially free of seaweed or sargassum. This will last all winter, so forget about the smell, and the difficult time trying to get a nice picture of the ocean. 
According to the Autonomous University of Quintana Roo, Cancun will remain sargassum-free for at least three more months.
As we previously wrote on our blog, sargassum has occasioned great discomfort for locals and tourists. For years, the government has encouraged students and professionals to seek a way to reuse sargassum to help prevent this event from becoming disastrous. In partnership with local specialists, researchers confirmed sargassum will not pose a problem during winter based on a 'long-term' forecast. In sum, the perfect weather conditions will ensure beaches remain clean: the seaweed will be kept away from the shoreline due to strong winds blowing from the north, despite temperatures remaining warm.
The increasing temperatures across the Caribbean have a significant impact on the ecosystems in the Riviera Maya and its surroundings, resulting in sargassum abundance.
As the beach will be sargassum-free, so will the skies. A little bit of rain as November passes by, but great weather overall to enjoy all outdoor activities like water sports, eco-parks, hiking, etc.
A Tropical Christmas
With warm weather, you can visit the cool waters of a Maya cenote. A cenote is a natural sinkhole caused by different circumstances in the environment. Swimming in a cenote is a must when you visit the Yucatan Peninsula. If you want to have a unique Christmas holiday, be ready to get wet and jump into the mystic waters of a cenote. 
Things to do in Cancun for the holidays
Another great thing that will make your winter wonderland in Cancun come true will be getting involved in any Christmas activity. Your hotel will for sure have some fun things to do during this time of the year, maybe it's a special party or show. Also, if you visit the malls in Cancun, the decorations will make you feel the Christmas spirit!
Check out: Shopping in Cancun
Booking a tour is always a good idea, especially during Christmas break. Some like independent traveling, but we must say that when you are on holiday you'd rather book a tour so you don't have to worry about any of the details. Imagine a private tour of the Maya Ruins of Chichen Itza or Tulum, even to one of the Eco-parks in the Riviera Maya. 
Check out: 5 Unmissable Tours in Cancun
Even going to Isla Mujeres and booking a Catamaran, now that's a splendid way to spend winter vacations. Relaxing in the middle of the turquoise ocean, getting sunkissed, and even being able to do some snorkeling… 
Talking about diving into the waters, snorkeling in Cancun is a tourist favorite activity when visiting Cancun. You can do it almost everywhere, but if you are one experience diver, or are seeking only the best of the best, you'll want to get some insight into the best places to snorkel in Cancun.
Check out: Cancun Snorkeling
You can even explore the Ventura Park water park at the end of the Hotel Zone in Cancun. This is a fun guarantee for the whole family…Ventura Park is a family amusement park in Cancun with fun for everyone. This means, no matter who you are, a child, teenager, or adult, there's something just for you. It's the perfect park for the entire family to enjoy a whole day's worth of Cancun activities.