Cancun International Airport continues to receive a lot of flights, which means that the economic recovery is on the right track, today Monday, August 23, 2021, it scheduled 427 operations, figures that had not been seen since the beginning of the Covid-19 pandemic in the state of Quintana Roo.
According to Grupo Aeroportuario del Sureste, S.A. de C.V., ASUR, 464 operations for today are scheduled. 216 are arrivals, of which 86 are national and 130 international. While 211 departures are expected, of which 84 are national and 127 international.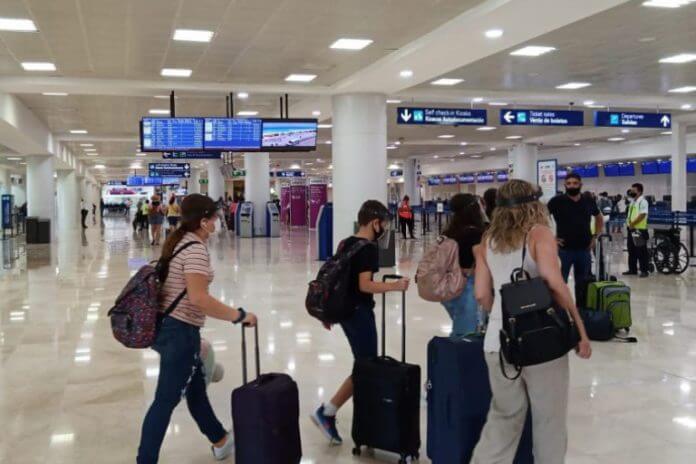 International destinations with flights to Cancun Airport
Cancun Airport indicated that the international destinations with operations scheduled for today August 23 are Atlanta, Austin, Baltimore, Bogotá, Caracas, Charlotte, Chicago, Cleveland, Dallas, Denver, Detroit, Istanbul, Philadelphia, Guatemala, Hartford, Houston, Las Vegas, Lima, London, Los Angeles, Madrid, Miami, Medellin, Milan, Minneapolis, Montreal, Nashville, New Orleans, New York, Orlando, Panama, Paris, Phoenix, Raleigh, Sacramento, Salt Lake, Sao Paulo, San Antonio, San Francisco, San José, San Luis, Seattle, Tampa, Toronto, Washington, Zurich.
These figures have made hotel occupancy continue to increase continuously despite being a few days away from concluding the summer holidays, flights continue to be maintained, in addition, this excellent news is well received by the State Government, as it means that the economic reactivation continues to advance, that is, tourists are preferring Cancun and Quintana Roo, Mexico.
International airlines operating today
In this way, the authority also mentioned that the international airlines with scheduled operations for today are Air Canada, Air France, Alaska, American, Avianca, Avior, British, Conviasa, Copa, Delta, Edelweiss, Estelar, Frontier, Iberojet, Jetblue, Latam, Neos, Spirit, Sun Country, Southwest, Turkish, United, Wingo, World 2Fly.
Finally, it should be remembered that, since the airport reopened all its doors, the number of flights continues to increase, to the extent that every certain time it breaks records, only in June they were twice, on Saturday 19 with 506 and 26 with 518 operations; While in July, there were three times, reaching 530 – 550 per day and the flights continue to increase.