As summer is approaching, we've created a 2023 Summer Bucket List: Cancun Edition to get you inspired into fun activities to do in Cancun this summer.
Bucket lists are a fun way to write down new things you want to try and experiences you wish to live in a specific time. So without further ado, here are our picks for Your 2023 Summer Bucket List: Cancun Edition.
Eat "Tacos al Pastor" and agua fresca
Mexican gastronomy is like a beautiful and spicy rainbow. Mexican dishes are colorful and full of flavor, not all spicy of course, but each with a unique stamp that represents a state, an ethnic group, and a tradition.
Tacos al pastor is born in the center of the country and has expanded its territory to the Yucatan Peninsula. So if this is you're the first time in Mexico, this is a taco you must try. And you can't eat a taco with our agua fresca. Aguas Frescas in Mexico, are the perfect match for any meal. Meaning literally "fresh waters", these beverages most of the time are offered as hibiscus water, lemonade, and horchata, which is rice milk (delicious by the way). 
Visit an Eco-Park in the Riviera Maya
Eco-parks have become famous in the area over the years as tourism in Cancun has found a way to enhance the beauty and importance of the region's flora and fauna.
You can find a list of eco-parks near Cancun and Riviera Maya here. 
One of the most famous ones is Xcaret Park, and the reason why is because it beautifully merges the Peninsula's nature with the Mexican culture and local traditions. At Xcaret you can see panthers, butterflies, and local monkeys; and witness a representation of the Mayan culture and Mexican History at a spectacular night show.
Explore the underwater caves: stalactites and stalagmites
When we think about underwater structures, the first thing that comes to mind is cold and closed caves. In the Riviera Maya, the surface is caliza stone and has a system of underwater rivers (cenotes), that create this amazing underground scene where we may observe amazing formations.
By immersing in these caves, as a powerful silence embraces you, you'll be able to hear every water drop fall and discover the fascinating formation of stalactites and stalagmites. Stalactites hang from the ceiling of a cave while stalagmites grow from the cave floor.
There are many caves to choose from all along the Riviera Maya. There are cenotes that are inside these caves like Sac Atún, Aktun-Ha, Siete Bocas, Samula, and Suytun, just to name a few.
Go swimming with the Whale Shark
Once a year, Whale Sharks gather in the Caribbean Sea during their migration season. It is during the months of June, August, and mid-September, that people are allowed to swim with these unique creatures. The whale shark can be seen on the coast of Isla Mujeres or Holbox Island, so booking a tour with certified agencies is always convenient to have the best experience.
So if you're looking for something unique to do in Cancun during the summer, this is it. Whale Shark season is right on time. You can book a Whale Shark tour and sail to see these beautiful sea creatures in their free environment. Remember there are strict rules to follow for this tour as it is not the intention to harm them or damage their ecosystem, so please follow your tour guide's rules so everyone can enjoy this once-in-a-lifetime opportunity!
Visit Holbox Island
Holbox is an island located near Riviera Maya and it is one of the only places on earth where a bioluminescence phenomenon takes place thanks to the millions of microorganisms that live in the Holbox surrounding waters. This same concentration of microorganisms is responsible for whale sharks and rays wandering close in for feeding purposes. 
Holbox is the ideal destination to spend in a quiet environment but at the same time constant adventure! Here you can party, relax, and spend a day sunbathing or doing water activities. Try the local food, marquesitas, and esquites are a must! You cannot go wrong if you visit Holbox.
Spend a day at the Akumal Monkey Sanctuary
Akumal Monkey Sanctuary & Animal Rescue is a heartwarming place where you can connect with rescued animals and learn more about them. You can take a tour and learn about the environment in which each animal lives and how we can help to protect them. At the Akumal Monkey Sanctuary & Animal Rescue, you'll be able to feed some of the animals and see them in their natural habitat. This activity is great for the whole family, everyone will enjoy it!
Do extreme zip-lining in the Yucatecan Jungle
If you're seeking for adrenaline, you must go zip-lining in the most amazing scenario in the area.  The Yucatecan jungle is filled with amazing birds, monkeys, and endemic creatures. Here in the Riviera Maya, you can find ideal places that have created amazing zip-line routes among the flora and fauna. Check out Selvatica and Xplor for this unique activity.
Go to the best beach in Cancun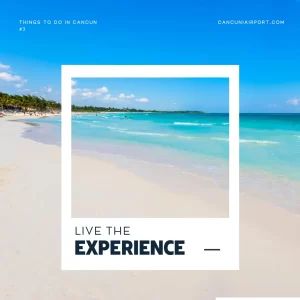 It may seem obvious to add "going to the beach in Cancun" to this "2023 Summer Bucket-List: Cancun Edition" but we've added something different for you to try. 
Have you ever wondered which is the best Beach in Cancun? According to Tripadvisor's Best Beaches in Cancun 2023 list, Playa Delfines stands at no. 1. 
Indeed, Playa Delfines, or El Mirador, is the most iconic beach in Cancun as here is where you can take a memorable photo with the CANCUN sign. But if you want to try something less touristic, hear us out:
Playa Marlin is a less-known beach located behind Plaza Kukulcan, 25 minutes away from Cancun Airport. This is a beautiful beach where you can see the sunrise and enjoy a peaceful day if that is what you're looking for.
Visit one of the Seven Wonders of the World
Perhaps you've never thought of adding Chichén Itzá to your vacation plans in Cancun, but a tour to Chichén Itzá is easier than you may think. There are many tour options for you to choose from, from Chichén Itzá Express tour, Classic tour, or Private Tour, there's even a Plane tour to Chichén Itzá, all from Cancun. 
You shouldn't miss the opportunity of visiting one of the Seven Wonders of the World this summer. And to make things more interesting, to point to the specific beginning of Summer, you can witness the Summer Solstice at Chichén Itzá when the sun illuminates two faces of the main Pyramid.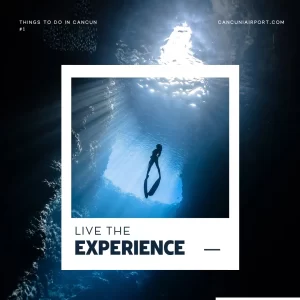 We've already talked about underwater caves, but those are also referred to as "closed cenotes". An "open cenote" has its own charm and most of them have platforms where you can jump from!
The uniqueness of every cenote is the magical part of it, as each cenote is so different from each others, you can't get enough of the experience.
Conclusion
As you read this article, we hope it has helped you to create your own 2023 Summer Bucket List: Cancun Edition. Remember that getting out of your comfort zone will always leave a good memory and learning experience.