Cancun and the Riviera Maya are located in an exclusive zone full of nature, Mayan jungle and pristine waters. As you know these places are famous because of their gorgeous beaches, a great atmosphere, and the amazing sea and obviously the cenotes too. You've probably seen some pictures of Cancun and Riviera Maya cenotes, in this post we will tell you which ones you should not miss.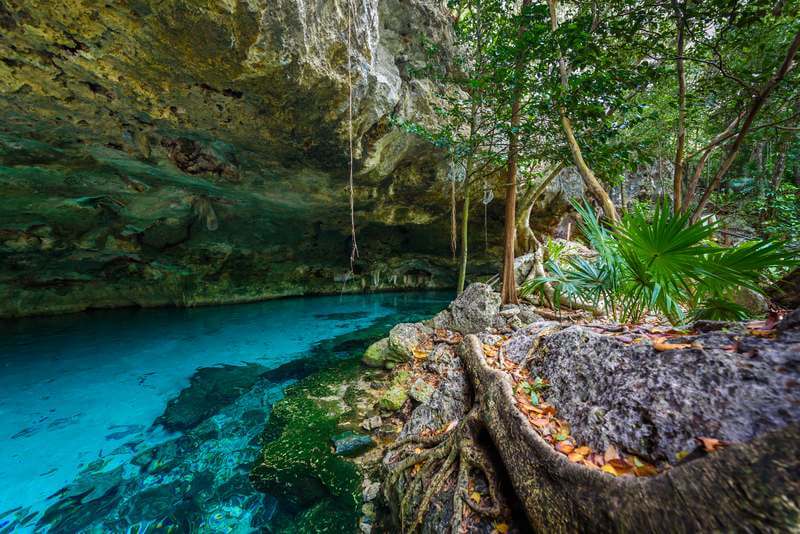 First of all, What is Cenote?
Cenotes are natural swimming holes formed by the collapse of porous limestone bedrock, which reveals a secret subterranean world. Cenotes come in all sorts of different shapes and sizes. The most common types of cenotes are Cave, Semi-Open and Open Cenotes.
Cenotes near Cancun
Sol y Luna Cenote
Most of the cenotes are located between Cancun and Tulum, but Sol y Luna Cenote is just a few minutes from Cancun Airport.
This place is more than a cenote, They offer swimming pools, Mayan Museum, Interactive Farm, and a restaurant. They also have ATV tours, gotcha, pony or horse tours, temazcal, and camping. A full experience that you shouldn't miss.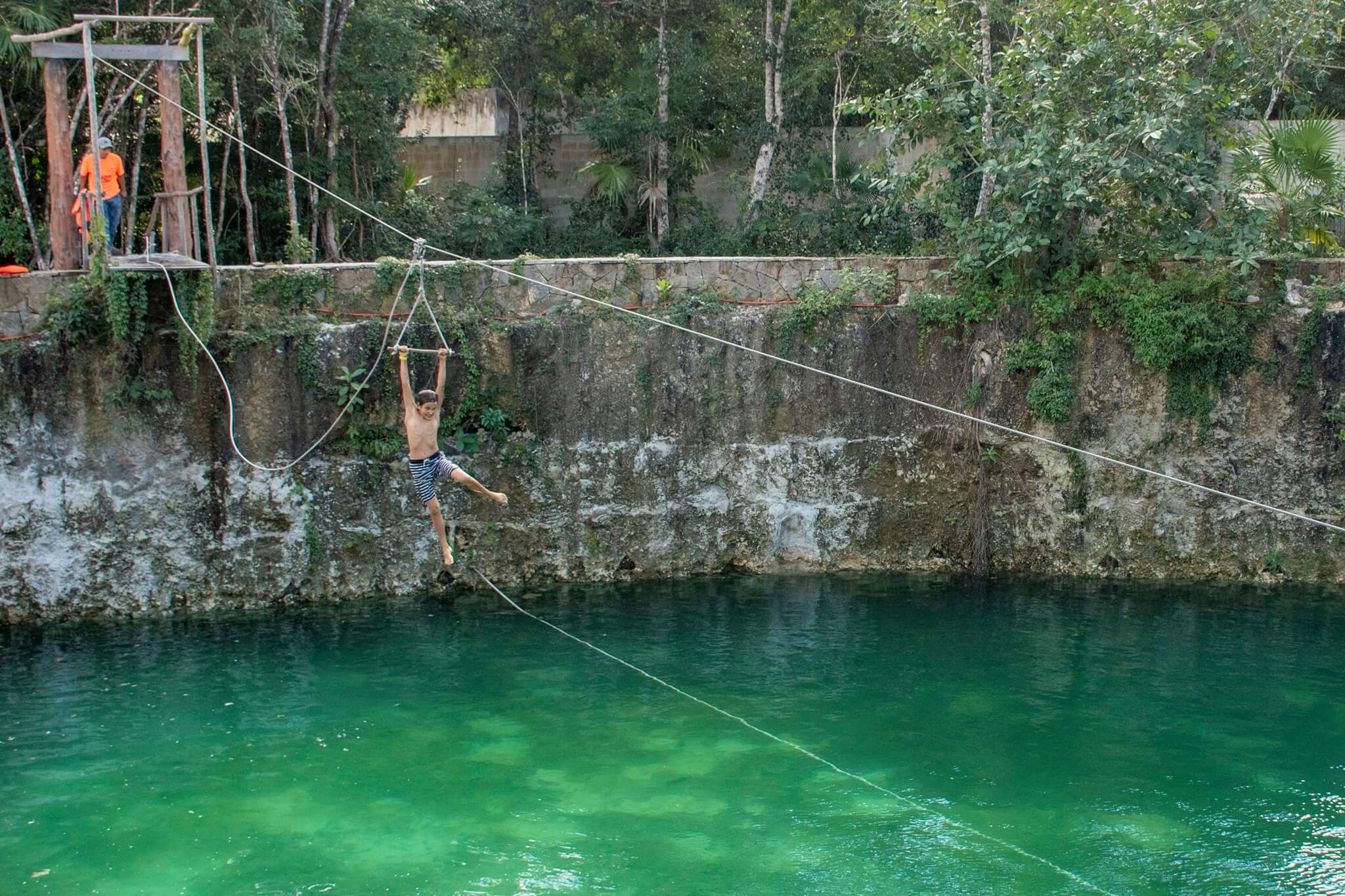 Zapote
This Eco-Park is located just 50 minutes from Cancun Airport, on the Cenotes Route in Puerto Morelos! It is 20 minutes away from Puerto Morelos town. This amazing place offers stunning crystal waters, you can swim, snorkel, swing from zip lines, a bike ride through the jungle, try authentic Yucatecan food, and relax in hammocks.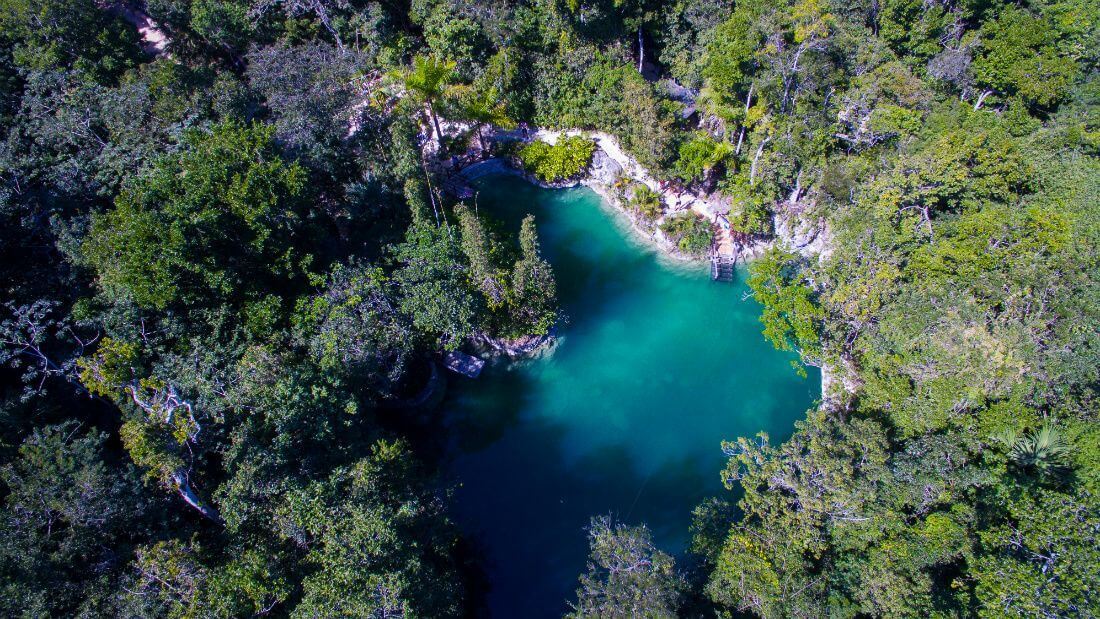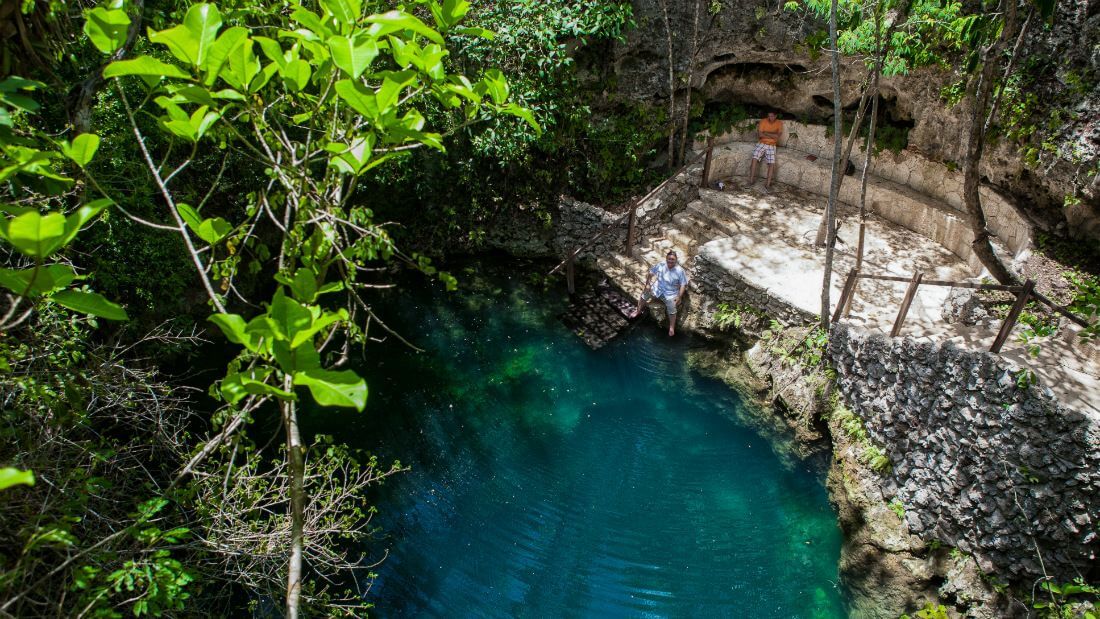 Verde Lucero Cenote
Another amazing cenote near to Cancun, this one is surrounded by the beautiful Mayan Jungle. It offers gorgeous emerald green waters, where you can do snorkel, kayak, and zipline. There is also no snack bar on site so it is best if you bring your own food when you visit. The Cenote is located at kilometer 17 of the Ruta de Los Cenotes in Puerto Morelos, in the northwestern part of the state of Quintana Roo just 50 minutes from Cancun and Playa del Carmen!
Playa del Carmen Cenotes
Blue Cenote
This is one of the most famous cenotes in Playa del Carmen. It's located just south of Puerto Aventuras in the Riviera Maya, about a 20-minute drive from Playa del Carmen. This place is perfect for families, the entrance is about $100 Mexican pesos. You can also rent your snorkel equipment there. There are no restaurants at the Cenote but you can bring your food and beverages. The cenote is quite big, so you will be able to swim all around it.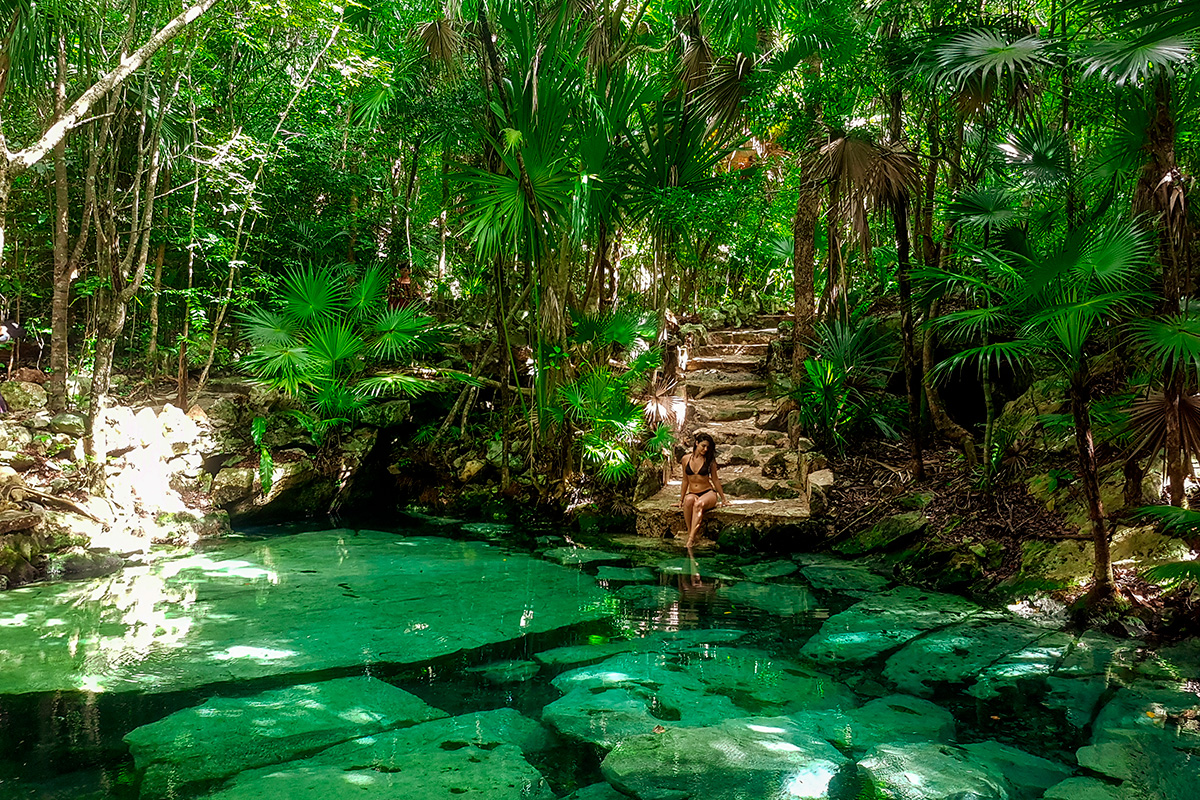 Cristalino Cenote
This Cenote is located next to Blue Cenote, they are somewhat similar but each one has its beauty. Jumping and snorkeling are visitors' favorite activities. A huge part of it is open but some areas are concealed inside a half-cave. Aside from the half-cave, you will also find that there are plenty of mangrove plants nearby. This creates a lush jungle feel to the cenote as there are plenty of greens in the surrounding area. The water is blue and very transparent. This place is perfect for a family day out.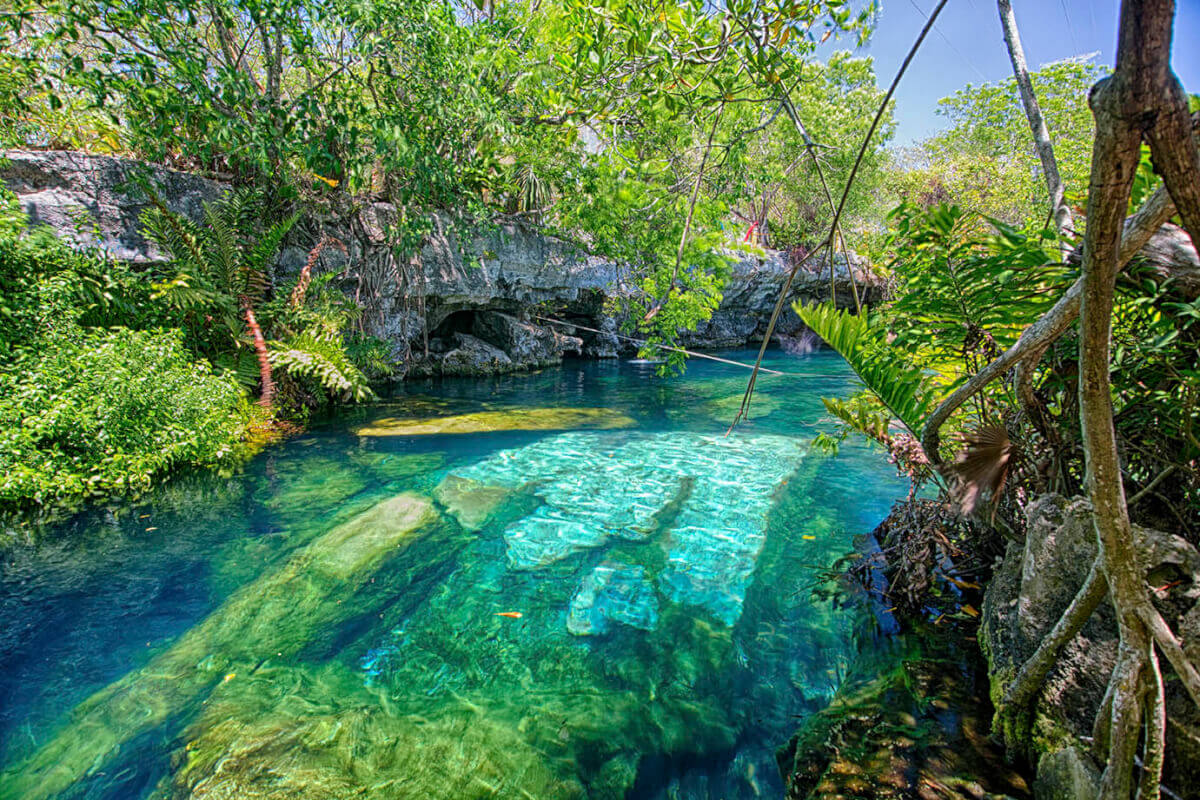 Kantun Chi
This Eco-Park is located in Puerto Aventuras, just 20 minutes away from Playa del Carmen. Kantun Chi is an ecological park with five amazing cenotes and a wonderful underground river. The park offers different types of cenotes, which makes this experience unique. Here you can find closed, open, and semi-open cenotes and caverns. Aside from the incredible cenotes, you will be able to have a delicious meal in its excellent restaurant Lol-ha. Spend a great day in this amazing Eco-Park.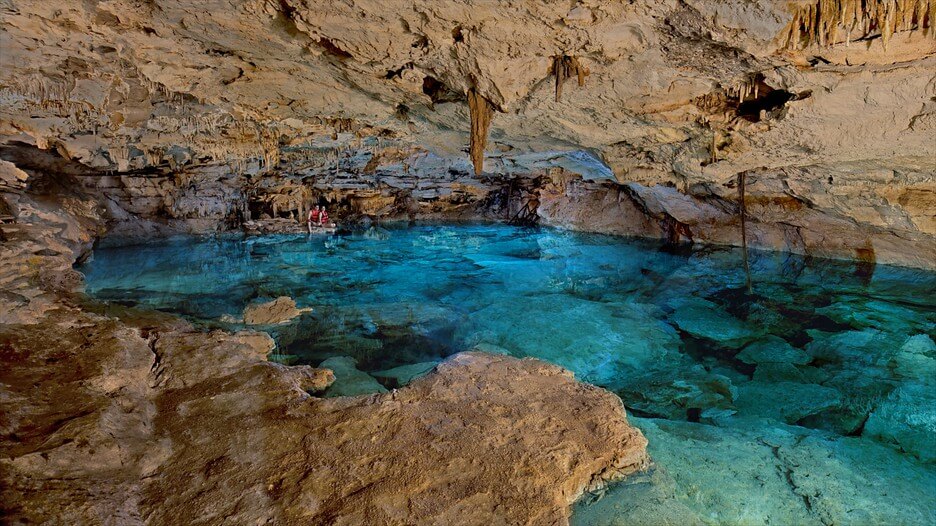 Tulum Cenotes
Grand Cenote
The Gran Cenote is located 5 km from Tulum Village & 7 km from Tulum Ruins so it's an easy day trip. This cenote is one of the most famous in Tulum. The best thing is that it is a combination of open, closed, and cavern cenote. You will love Its turquoise and clear waters, if you have never been in a cenote this is a good option to start your trip. Aside from its amazing nature, this place has a nice place to rest with hammocks and green grass. There is also a small grocery store, food and beverages are available too. Among Cancun and Riviera Maya cenotes, you shouldn't miss this one.
Tankah Park
You will live an eco-adventure in Tankah Park. Explore the lush jungle, soar on a zipline above a beautiful cenote, and swim and kayak through the freshwater Cenote of Tankah. You will be able to taste regional buffet lunch with handmade tortillas. This place is just amazing, you will love the different cenotes in there and its clear waters. Mixing the Mayan Culture and Adventure is the best match.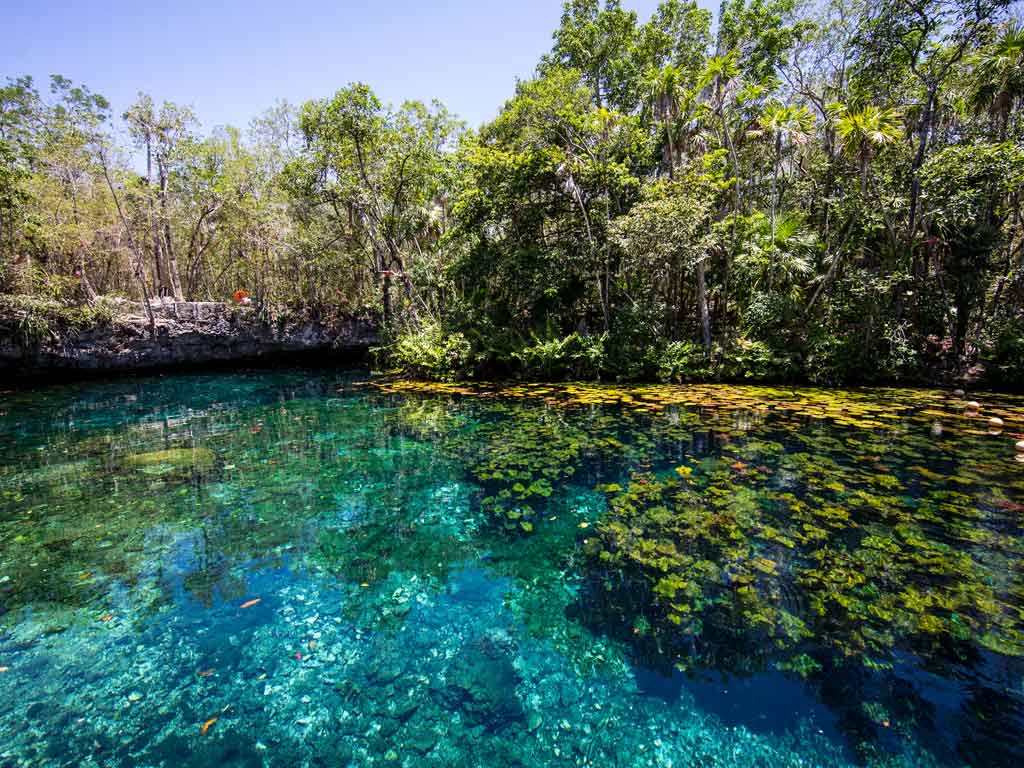 Manatee Cenote
The manatee cenote is one of the most beautiful in Tulum, it is an open cenote that connects with the sea. It really looks more like a crystalline lagoon as it is surrounded by mangroves. This cenote is the favorite of divers, you can kayak in the small river that forms in the cenote.
Now you know the best Cancun and Riviera Maya cenotes, you are ready for the adventure.