If you're planning a vacation, you need to know where to stay! Face it, vacations aren't cheap. Many people plan, scrimp and save for a long time in order to get out of town and spend a week leaving their cares at home. When it comes to planning a vacation, you'll need to think about 3 main things: hotel, flights, and things to do. Of course, there's much more between those things, but those are the main things to consider when planning a vacation. To start you off, today we will talk about Cancun hotels that can fit your budget, whether you're looking to spend a lot or just a little.
Looking For Luxury Cancun Hotels?
If you're able to splurge during your vacation, consider booking your trip at the Le Blanc Spa Resort. From the second guests enter the property, they're treated to pure luxury. Guests are greeted with a coconut milk cocktail and a warm bean bag for their necks and shoulders to help make tensions just melt away. The rooms are equipped with toiletries by Bulgari and even a free mini bar that the staff replenishes each day. However, that's not all the Le Blanc Spa Resort has. Each floor has a personal butler, which means that guests can have their whims met at any time, no matter what they are. Guests can even request personalized pillows to ensure that they get an amazing night's sleep and there's no need to haul beach towels and chairs around because the resort offers private Cancun beaches that are strictly for guests' use. This luxury doesn't come cheap, though. Rooms at the Le Blanc Spa Resort can start at $550 a night, however, many guests report that the resort is well worth it. 
Vacationing On A Budget?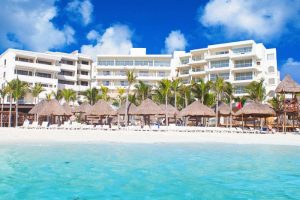 If there's a little extra room in your budget, consider staying at Hotel NYX Cancun. It's located right in the middle of the hotel zone, which means that you'll be in the middle of all the action. The property offers private Cancun beaches, an on-site restaurant, free high-speed Internet, a fitness center, a bar, and even kitchenettes in many of the rooms. It's an ideal spot for a family vacation since the property has a special kids' club and even a special children's pool. Rooms at Hotel NYX Cancun start around $150 a night. 
Want A Nice Hotel Without Breaking The Bank?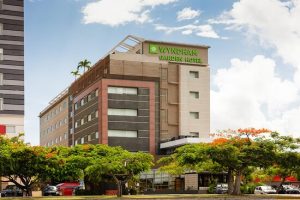 If you want an excellent Cancun travel experience, but you're traveling with tightened purse strings, look to the Wyndham Garden Cancun Downtown. However, in this case, the budget doesn't mean roughing it. The Wyndham Garden Cancun Downtown is a four-star hotel that's close to the shops, restaurants, stadiums, and other attractions in the local area. Guests can also take advantage of a free breakfast each morning, free high-speed Internet access, room service, an on-site swimming pool, beautiful gardens, and even free parking for guests who have a vehicle. Rooms here can be found for under $70 a night, which means it's an excellent choice for guests who want to spend more on Cancun travel experiences, such as Cancun tours.
Airbnb options are great too when traveling as a small party.
Conclusion
Whether you're looking for a luxury place to stay or you need somewhere a little easier on your budget. You're sure to find hotels that fit the bill, with so many hotels to choose from, the choice might not be an easy one!
Restaurants in Cancun: all good for all budgets
Now talking about food, there are different types of travelers. There are the ones that care too much for food and are willing to spend more money on a nice culinary experience. There are also people for whom finding unexplored restaurants and cheap meals is a sport. Overall, for a variety of foodies, there should be a variety of options to choose from, and without exception, Cancun has it all. 
Restaurants in the hotel zone
High budget. As you can imagine, the hotel zone in Cancun is the most expensive side of Cancun. This is not necessarily a negative thing, sure, more expensive doesn't necessarily mean better. But bare with me, Cancun's hotel zone restaurants are well worth every penny. If you planned a luxury vacation, this area has it all. From Mexican to Indian food, and the best there is. You can check out one of our previous blogs where we share a little bit more on fancy restaurants in the Cancun Hotel Zone.
Restaurants in downtown Cancun
More budget-friendly. On the other hand, if you are to go downtown, you can find amazing burger places, tacos, Italian food, and all good stuff at reasonable prices. If you do go to this area of Cancun, keep in mind it's not all cheap and fun. You will definitely find a little bit of everything budget-wise.