This Christmas, Cozumel is going to be the number one destination in the Mexican Caribbean. Just like Cancun, and Cozumel, both towns are highly requested by tourists this winter. But, this holiday, Cozumel is more than a cruise destination, and here we'll tell you why. This island's natural, historic, and cultural richness extends for 29.8 miles along the Caribbean. From west to east, Cozumel is the third-biggest island in Mexico.
Check out Cozumel Travel Guide.
Remember the easiest way to get to Cozumel is by flying into Cancun Airport. Arriving at Cancun Airport you'll have to choose your transportation service type, we highly recommend you pick private transportation Booking your Cancun Airport Transportation you will travel in comfortable seats, in a private safe, and fast van, and the best thing is that you do not have to wait for your transport and there will be no stops on the roads.
Be aware that you also need to get tickets for the Ferry to Cozumel, and those are not included in the transportation costs, you can buy them once on site and the price is $300 pesos or $19 USD. On the island of Isla Mujeres only taxis operates.
Weather in Cozumel
With abundant rain during the summer, Cozumel's average temperature goes around 64.4° F.  This makes winter an amazing time to visit the island. As Cozumel is surrounded by the Caribbean's warm waters, you won't have trouble getting in the water. At the same time, this allows fresh ocean breeze all year long.
For those people seeking the sun and tropical winter vacation, the Caribbean is the go-to option. More specifically, Cozumel is the place to go when you are looking for extra relaxation and one-on-one time with nature. 
Amazing things about Cozumel
Fauna in Cozumel
If you are spending a day at Cozumel you're probably going to see curious animals wandering around the beaches. Even more, if you are staying at Cozumel, you're most definitely going to spot some funny creatures like:
Pigmeo Raccoon

Island Coatí

Picasombra Lizard

Cenzontle

Vireo
Remember, these are endemic creatures that live on the island. You must learn the regulations related to preserving wildlife in Cozumel. Try not to feed them, and be careful when you are downtown.
Things to do in Cozumel this Christmas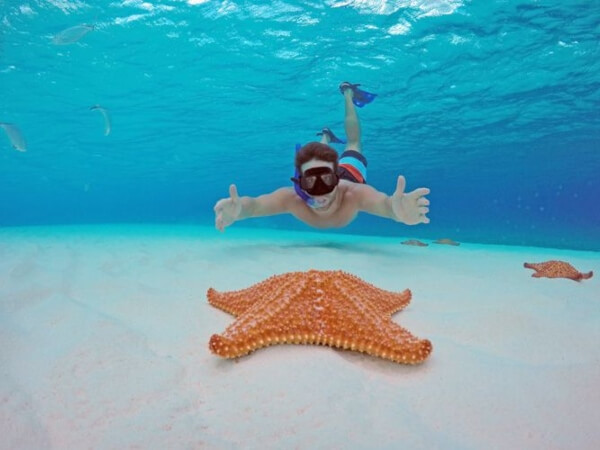 Did you know that Cozumel has more than 40 diving sites?! All from colorful coral reefs, and mysterious sunken ships, to the incredible limestone tunnels and caves that reach depths ranging from 10 to 100 feet. Everywhere you snorkel in Cozumel, you will spot tropical fish and various species of marine wildlife. Other water activities to partake in while in Cozumel include windsurfing, kite surfing, and surfing.

Another great activity in Cozumel does not necessarily include diving but getting aboard a yacht, catamaran, or even a transparent submarine or speedboat. Get to know the ocean in a different and new way! Each ride is unique and far from similar! Dare to explore the way you like to!

One fun thing to do in Cozumel, and one that is suitable for the whole family is the turtle release season. From May to November you can visit a turtle camp and help release sea turtles; or if you prefer to dive into the deep sea, dive or snorkel with eagle rays and giant manta rays from

December to March

, right on time for the holidays! You can also go in search of crocodiles and admire some of the 224 types of birds that inhabit Cozumel aboard a swamp boat in

Punta Sur.
Unique activities to do on Christmas in Cozumel
Christmas day

There were about nine Catholic churches, but on Christmas Day, you can go to the festively decorated Corpus Christi in downtown San Miguel to hear a traditional Christmas mass. On Christmas Eve, attend a party hosted by the resort at La Castilla, its oceanfront buffet restaurant. A great roast turkey dinner with all the fixings is served along with Mexican favorites with the brightly lit cruise ships as a backdrop.
New Year's Eve
We suggest you choose the one offered by Hard Rock Cafe Cozumel. Dance the night away to the music of a great live band. After dinner, eat the traditional dozen round fruits, which you have to eat before midnight. And that's when an avalanche of balloons and tons of confetti descend on everyone amidst the thick fake fog and the roar that heralds the New Year.
Hacienda Antigua
Take the Hacienda Antigua Tequila Tour, since tequila thrives at higher elevations like in Jalisco, Cozumel has no production facilities. There are rows of blue agave, replicas of the huge 10-year-old agave that produces the drink when cooked, the equipment used in the process, and many samples of different grades of tequila: white, golden, reposado, aged, and extra aged.
Chankanaab park
Another day, take a cab to Cozumel's other famous park, Chankanaab Park. The welcome parties are quite colorful. The park is actually located within the Cozumel National Marine Park, which is ideal for snorkeling and scuba diving. Sea Trek Adventure and SNUBA diving will offer any participant the opportunity to see not only the beautiful underwater flora and fauna.
Where to eat in Cozumel
Kondesa is located in the heart of Cozumel and is surrounded by an impressive jungle setting. Here you can dine under the stars and savor local ingredients which are mixed into original and delicious dishes. Our Kitchen presents a blend of modern and traditional Mexican cuisine representative of Mexico's thriving foodie scene with modern twists.
The Castilla Restaurant is dedicated to a buffet that alternates international and Mexican offerings. The other restaurant is Italian; there was also a pool bar serving snacks.
In fact, the restaurants around the International Cruise Terminal feature other cuisines for the many cruisers and sailors who come to Cozumel from all over the world.
Papito's Beach Club: At the Punta Sur Eco Beach Park, there is also a memorable lunch. Papito's Beach Club restaurant and bar serve fried fish, a good-sized fried fish served with fresh tomato slices, lettuce and onions.