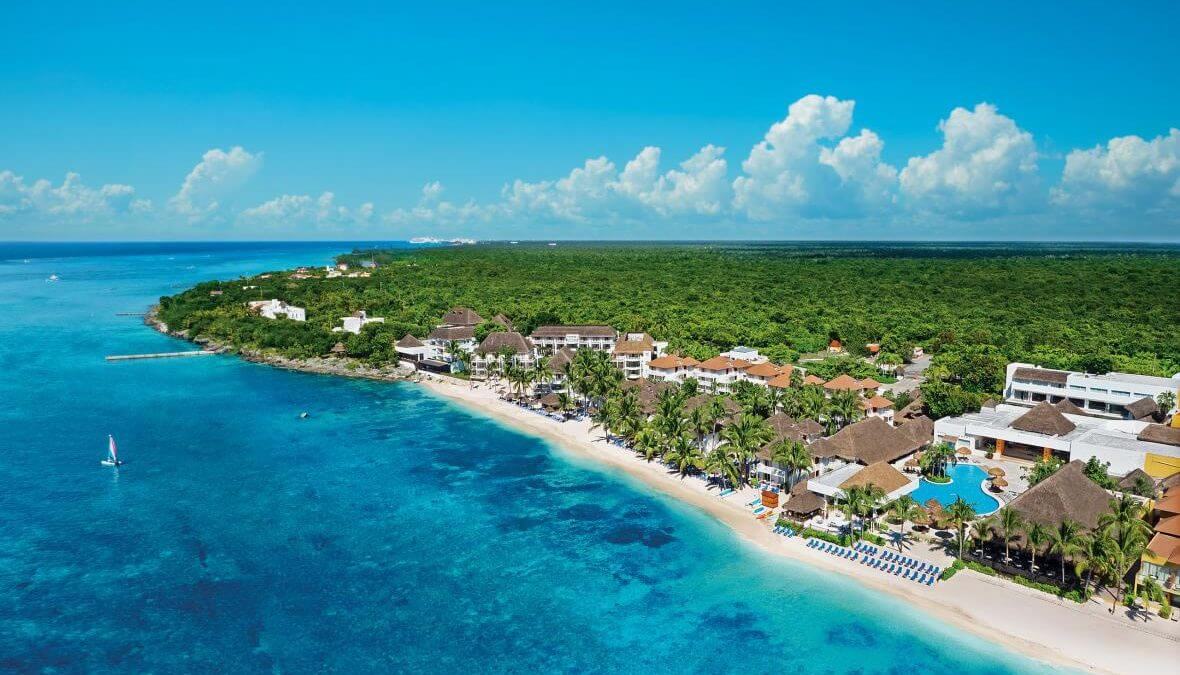 Overview
It is a Mexican island, the third largest and the second most populated in the country. It is located east of Mexico, in the Caribbean Sea, 62 km from Cancun. Cozumel was included by UNESCO as part of the World Network of Biosphere Reserves. The island stands out as a tourist destination, mainly for its sites dedicated to diving.
No place in the Caribbean compares to the coral formations offered by the crystal clear and warm waters of Cozumel! Considered one of the top five dive sites internationally. Thanks to its great marine biodiversity, it is considered an ideal place to practice diving, the large coral banks that form living underwater gardens are home to a rich and varied marine fauna.
In addition to offering dreamy landscapes, it has a wide variety of ecotourism activities such as zip lines, abseiling, kitesurfing, windsurfing, surfing, swimming with dolphins, snorkeling, fishing, golf, motorcycle rides, bicycles, canoes, kayaks. Places like the Chankanaab National Park, the San Gervasio Archaeological Zone, or the Atlantis submarine (which will take you through the bowels of the sea, are some of the things that will make you return to Cozumel.
If you travel from Cancun Airport you can take the Ferry to cross to the island in Playa del Carmen. The island is approximately 45 to 50 minutes away.
When to visit Cancun
Cancun weather and the surrounding area really shouldn't worry you about the weather, it's almost always with great sunshine during the whole day 365 days a year… But sometimes there can be rain, wind, or clouds. As a tropical destination, if it rains, it will more likely rain for some minutes and then the sun will be out soon again, or it can even rain with the sun out. This happens all the time in the Mexican Caribbean.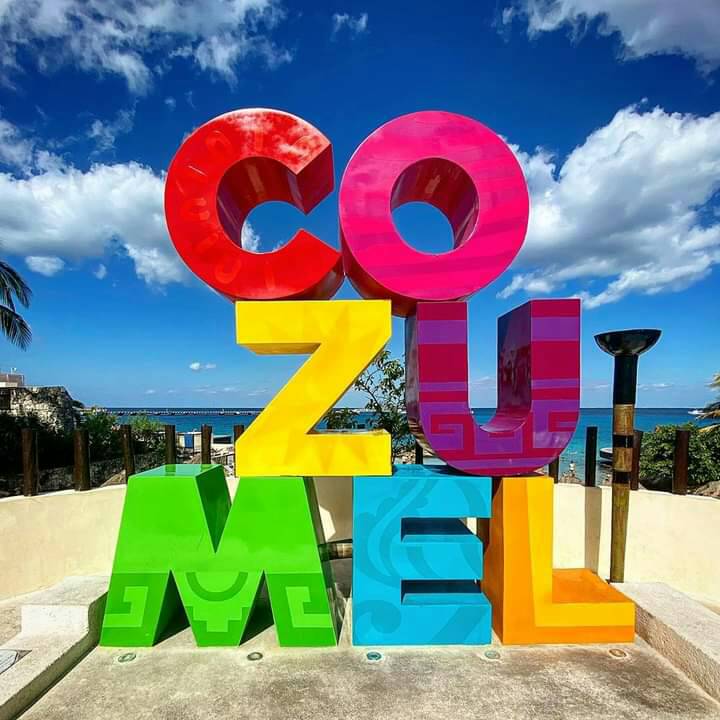 Things to do in Cancun
Beaches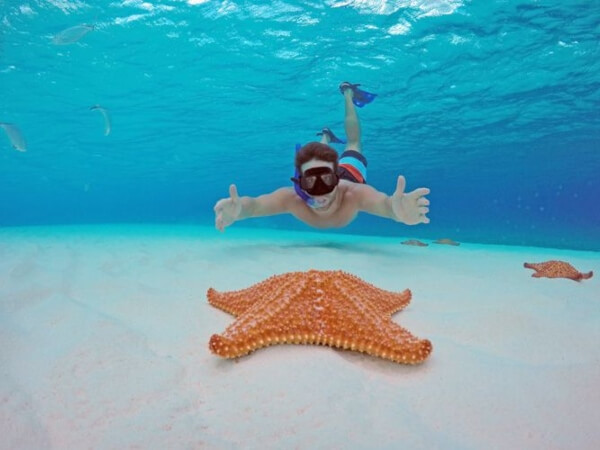 El Cielo beach Cozumel
El Cielo is a sandbank located 800 meters from the coasts of Cozumel. It receives its name because in this place you can swim and snorkel and see in the background a large number of starfish and some manta rays, the water is very crystalline, and in some areas, the water is so low that it reaches your knees only.
This site has become one of the favorite destinations of those who visit the island. Its crystalline waters and white sand make this activity something unique and unforgettable that you can practice both with family and friends.
This activity is recommended for all ages. In the boat you hire is the Captain and the guide who will take care of you once you go down to swim. The price of the tour already includes the snorkeling equipment, as well as fruit, drinks, water, and a snack for when you return from the ride.
Location: In front of the pier, Av. Rafael E. Melgar no 1, Centro, 77600 San Miguel de Cozumel, Q.R.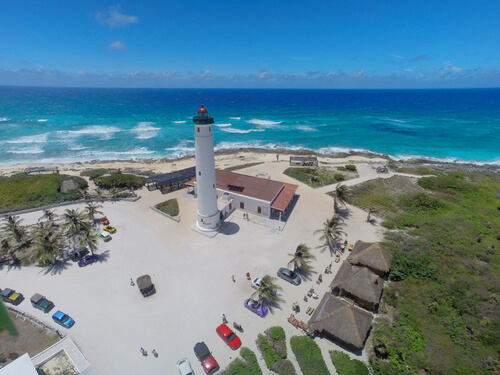 Punta Sur Eco Beach Park
The Punta Sur Eco Tourist Park is the largest protected nature reserve in Cozumel. ts wide beaches of fine white sand, its diversity of flora and fauna, its spectacular views from the Celarain lighthouse.
Among the activities you can find in Punta Sur Eco Beach Park:
Snorkel (with equipment included), Spa, Kayaks, Restaurants and bars
General admission includes:
Restrooms, Parking, Showers and Changing rooms, Life Jackets, Mayan Vestige, Observation Tower, Celarain Lighthouse, Navigation Museum, "El Tatich" Boat Ride, Hammocks and beach chairs, Observation Path, Beach Area.
Everything you need to spend the day in the largest nature reserve and the most beautiful beach in Cozumel.
The price for general admission is:
Adults $ 288 Pesos / $ 16.00 USD
Children $ 180 Pesos / $ 10.00 USD (4-12 years old)
Location: Highway Km. 30 South Matamoros North-Center-South, Guaycura, San Miguel de Cozumel, Q.R.
Hours Monday to Saturday from 9:00 am to 4:00 pm
(987) 87 21522 | (987) 87 20093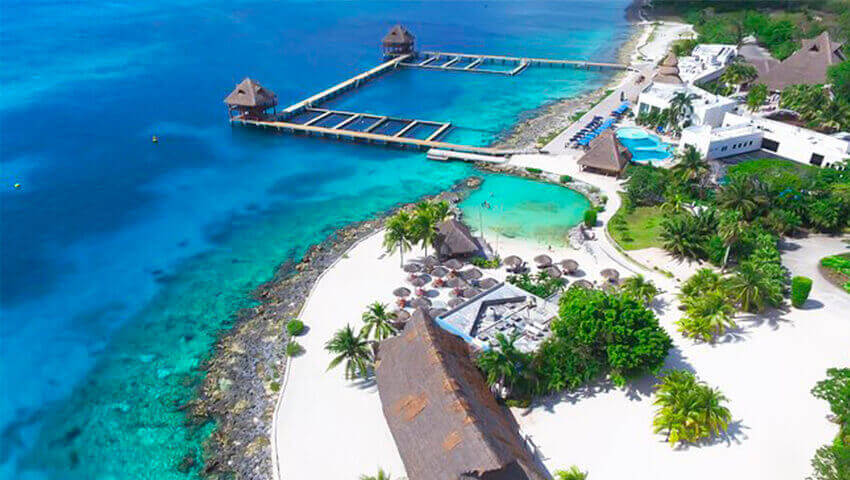 Chankanaab Adventure Park
Located within the Arrecifes Cozumel National Park. Enjoy our beautiful beach and go snorkeling or diving in the most beautiful reefs on the island. Many activities to choose from, such as:
Eco-Archaeological Tour
Sealion show
Crocodile and manatee exhibition
Snuba and Seatrek Tours
Dolphin Swim
Spa
Tequila Experience
Temazcal and Zipline.
Location: Carretera Costera Sur Km. 9, Zona Hotelera Nte., 77600 San Miguel de Cozumel, Q.R.
Hours Monday to Saturday from 8:00 am to 4:00 pm
(987) 87 21522 | (987) 87 20093
Where to stay
Best Hotels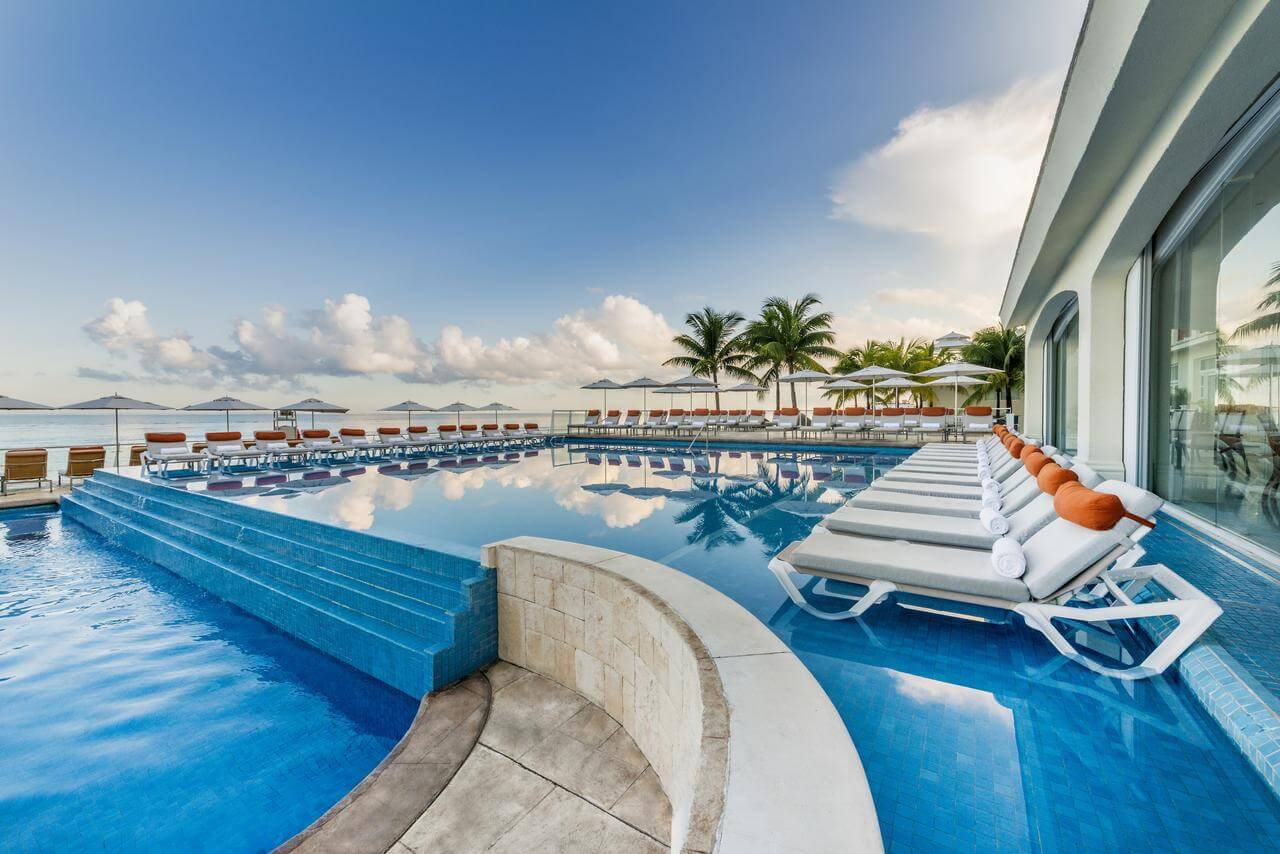 Cozumel Palace
In addition to providing the ideal combination of quality, comfort, and location, it offers a family environment with a wide variety of services. The all-inclusive resort has a concierge and room service. Plus, Cozumel Palace Resort offers a pool and free breakfast, providing a pleasant respite from your busy day. Free parking is available for guests with a car.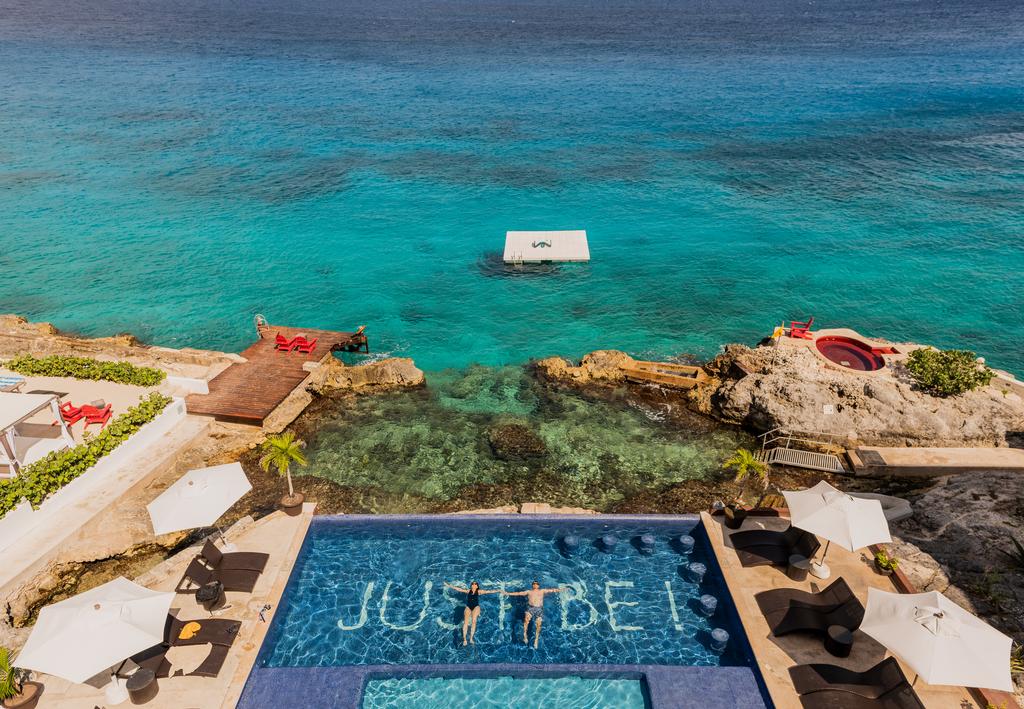 Hotel B Cozumel
You definitely choose this accommodation. Hotel B Cozumel is the only authentic and fashionable boutique hotel in Cozumel. It is located around an incredible natural bay, enjoying spectacular views of the Caribbean Sea from virtually any point. The boutique hotel offers an original and avant-garde proposal for travelers in search of new experiences. It is characterized by the fusion of contemporary design with the artisanal richness of Mexico.
The location of Hotel B Cozumel in the northern hotel zone is extraordinary; a quiet and exclusive area just 5 minutes from the center of Cozumel, the airport and the golf course. The property stands out for its natural bay, ideal for swimming and snorkeling right in the heart of the hotel, between the jacuzzi and the pie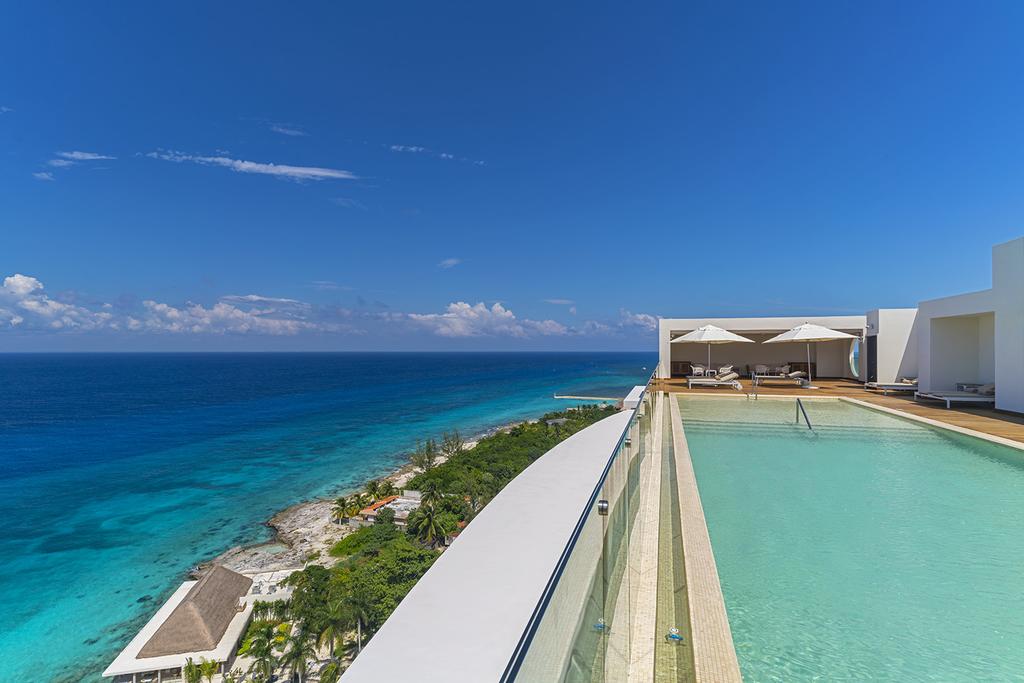 The Westin Cozumel
Explore your adventurous side with nearby activities such as scuba diving, boating and eco-tours. All of the boutique rooms, suites and cabanas offer breathtaking ocean views, while some also feature outdoor whirlpools and private plunge pools. Let your cares and worries disappear while lounging at their resort-style pool, surrounded by palm trees and sun loungers. For enhanced views, head to the Sky Lounge, the highest one on the island. On-site dining options include three unique restaurants, including Cuzamil, ideal for a romantic candlelit dinner for two.
El Cid la Ceiba
El Cid La Ceiba Beach is an all-inclusive resort in the paradisiac island of Cozumel offers the perfect getaway on the beautiful Mexican Caribbean.
Surrounded by beautiful turquoise water, the hotel has excellent gastronomic options and daily activities for the whole family. Book a tour to the city or dive into the turquoise waters of Cozumel and be mesmerized by the colorful life that lies underneath. El Cid Resorts has something for everyone!
In addition to their spacious accommodations, delicious on-site dining, and relaxing spa treatments, the Cozumel, Mexico beach resort also offers guests an ideal locale:
Just three miles from colorful downtown San Miguel
A few minutes' drive to Playa del Carmen by mainland ferry
Only six miles from the Cozumel International Airport
Three miles from Chakanaab Park
Kondesa Cozumel
An environment surrounded by nature makes this experience a must. Octopus toasts and lobster enchiladas, somewhat different but with an excellent presentation and flavor. Excellent attention and service apart from having affordable prices, without a doubt, recommended if you want to visit Cozumel.
Conditioning with Outdoor seating, Parking, High chairs available, Wheelchair access, Free Wi-Fi and Live music.
Location: 456 5th Ave between 5th & 7th Street, Cozumel 7760, México
Mexican and Seafood
Azul Madera Cozumel
Besides its beautiful architecture, its most recommended dishes are octopus and fresh seafood. A place full of color and flavor.
It has all the facilities such as Reservations, Outdoor seating, High chairs available, Wheelchair access, Full bar with wine and beer. Free Wi-Fi.
Location: Calle 3 Sur | between 5 y 10, Colonia Centro, Cozumel 77600, México
Seafood, international and Fusion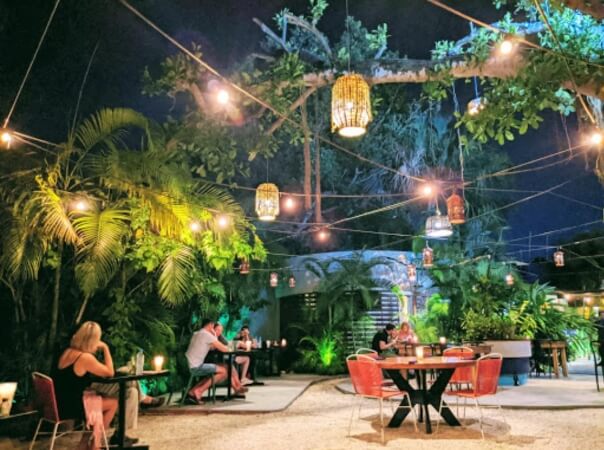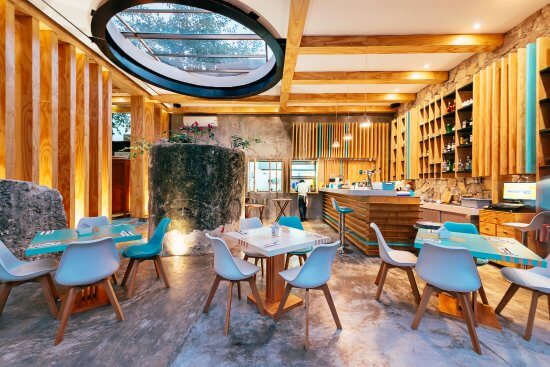 La Internacional Cervecería
Beer from all over the world and from Mexico. Comfortable place with all the variety of beers that you can find in Cozumel and in the world.
Plenty of space for groups and international food alternatives too. Live music and the best view from a very nice terrace. All beer, one place.
They have a super extensive menu of very varied beers and from different countries.
Location: Av. Rafael E. Melgar 590 Segundo Piso, Cozumel 77600 México
Coconuts Bar and Grill
Really cool place with an excellent view, on an ocean cliff. It is a great cabin, scandalously adorned and decorated with energy.
Pina colada is recommended, it is delicious and the margarita is somewhat strong but it is enjoyed with the atmosphere and location of the place.
Mexican and Caribbean dishes, rich to accompany with a fresh drink. It also has some endemic animal species in the region. An excellent atmosphere and service.
Location: Carretera Costera Oriental, 77645 San Miguel de Cozumel, Q.R.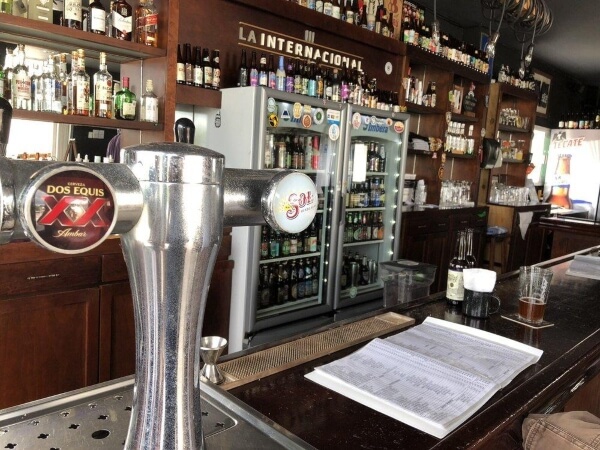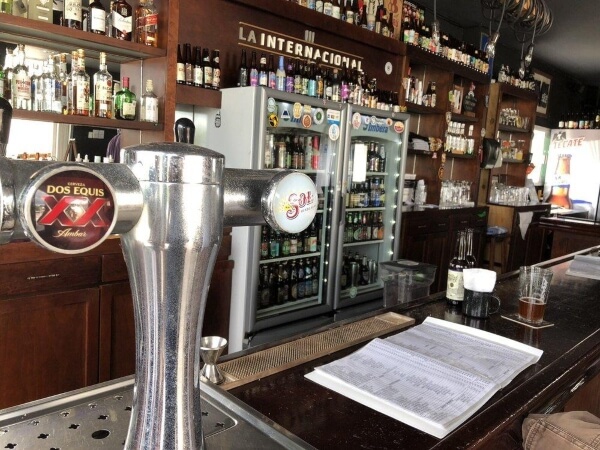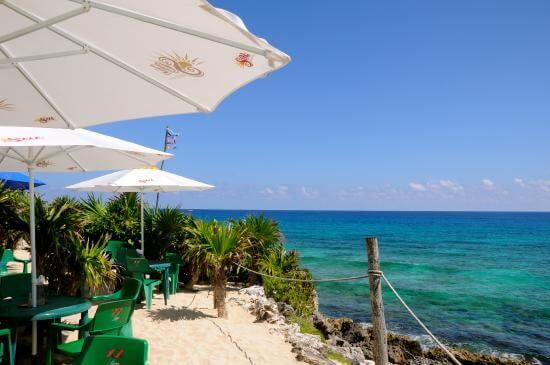 How to get around
Taxi
If you want to go around the hotel zone or move downtown you can take a taxi but know that if you take a taxi in the Hotel Zone, they tend to be expensive. Taxis are an easy and practical way to get around quickly and by yourself. What it's worth, we recommend using a taxi if you are going downtown or somewhere out of the hotel zone.
Public transportation
Public transportation is the most accessible method of transportation in the Hotel Zone. You can probably find a bus stop outside of your hotel, or very close. The bus routes can take you along the hotel zone and they operate from 6:00 am to 10:30 pm. R1 is the one you'll probably want to look for to take you anywhere inside the hotel zone.
Private transportation
Private transportation services are suitable for travelers who want to spend time getting to know the hotel zone or Riviera Maya without having to wait for transportation or having to pay every time. Private transportation has the advantage of taking you exactly where you want to be without you having to worry about driving.
Car Rental
Another option to move around the city is car rental, this is a more independent way of transportation. For people that feel comfortable driving in a new city, and if you have plans of exploring, this is a great option.