Which airports across the world are growing the fastest? From sun-kissed beach destinations to colorful mountain landscapes, discover which are the World's Busiest Airports and Their Destinations.
If you've ever been to Cancun International Airport, you might wonder if this destination leads to tourism worldwide. In fact, Cancun is the number one airport in the world with the fastest registered passenger growth. This is not a shocking result, as it has been for several quarters now. You should know that the Cancun Airport has been acknowledged as Mexico's busiest airport. Only by the end of last year, Cancun's major, Mara Lezama welcomed their 30th million passengers!
Demand for beach markets is coming in, and airlines have responded by adding many more seats. However, it is not always just demand which drives big market changes. Sao Paulo's Congonhas airport is busier because regulators expanded slot availability. In comparison, data from Cirium's Diio tool showed Moscow is much less busy for geopolitical reasons.

Fastest Passenger Growth?
Cirium Diio Mi™ gives an independent outlook of the global commercial passenger and freighter aircraft market. This group analyzes and covers more than 97% of all worldwide airline scheduled flights going back 20 years and looking forward 11 months. 
With this year's data, we could see, not only the growth but the contraction in Q2 in 2023, compared to 2019's, right in the pandemic.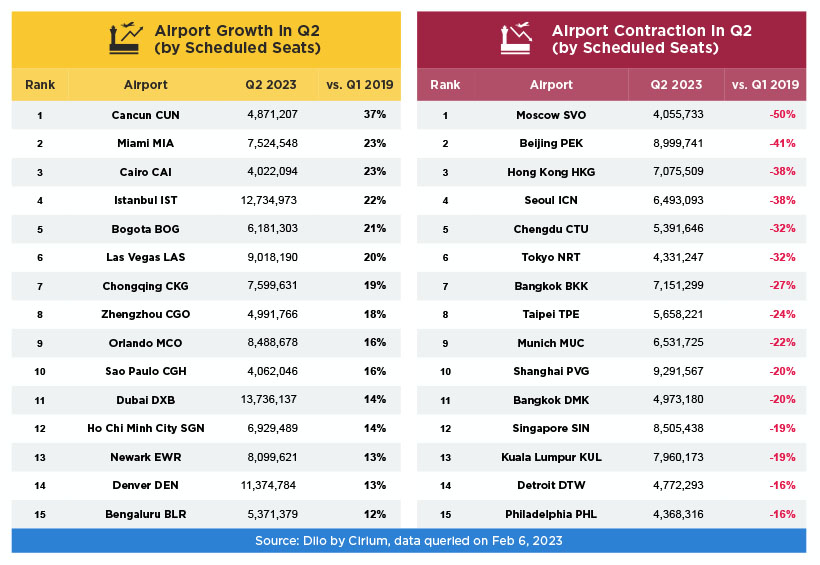 Mexico
Thanks to its attractive beach resorts, and proximity to the US market, Mexico is one of the world's most visited tourist destinations. Cancun is by far Mexico's busiest tourist destination, as airport schedule data from Cirium's Diio tool clearly shows. Other Mexican beach markets are San Jose del Cabo, Puerto Vallarta, Mazatlan, etc.
Spring Break is just a few weeks ahead and the most popular destination for U.S. travelers is Mexico — a country with stunning sandy beaches in the Pacific Ocean and the Caribbean.
In 2022, 13 million U.S. tourists visited this country. The top destination was Cancún and the Mayan Riviera, which received 2.4 million people, according to Mexico's tourism office.
American Airlines is Mexico's busiest foreign airline, but most major US carriers have a big presence in the market. This last year, with Mexico's Covid regulations being not severe, US tourism to Cancun didn't vary as much as in other countries that remained with their airports functioning. 
Cancun International Airport is a busy airport year-round, but during spring break, it experiences a significant increase in traffic due to the influx of students and tourists coming to the area. So we can expect some of this influence data for the rest of the next Q3.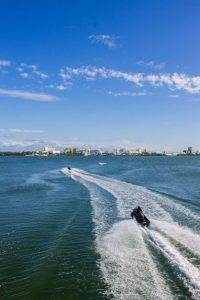 Spring Break rising the number of passengers
Cancun Airport sees a higher volume of passengers during spring break, which can result in longer wait times for security checks, immigration, and baggage claim. It's important to plan accordingly and arrive at the airport with plenty of time to spare.
It's no secret that due to the higher volume of flights and passengers, flight delays can be common during spring break. So if you are planning to spend spring break in Cancun, be prepared for potential delays and consider purchasing travel insurance to protect yourself in case of cancellations or delays.
Transportation from the airport to your accommodations can also take longer during spring break due to increased traffic on the roads. Consider booking your transportation in advance to avoid any potential delays or issues.
Conclusion
Overall, Cancun's fast passenger growth has some reason behind it, but other destinations are coming up and attracting people from all over the world. While Cancun Airport traffic can be busier during spring break, it is still a well-organized and efficient airport. We'll always recommend planning ahead and being prepared for potential delays or issues, so you can still have a smooth and enjoyable travel experience.