When traveling to a tropical destination, you are definitely looking for great activities to do. The most common are kayak, surf, snorkel, paddleboard, and diving. What about Snorkeling in Cancun?
Where to Snorkel in Cancun
Well, Cancun is located in a privileged area which is Quintana Roo, surrounded by the impressive Caribbean Sea. The state is home to amazing coral reefs with unimaginable marine life. One of the most important reefs is located in Puerto Morelos, just 20 minutes away from the Cancun Airport. 
So, if you are looking for Snorkeling in Cancun or Riviera Maya you must go to this small town. Puerto Morelos is home to the Puerto Morelos Reef National Park. Is part of the barrier reef called known as the Great Western Atlantic Reef Belt or The Great Mayan Reef, and belongs to the Mesoamerican Reef System, the second largest barrier reef in the world.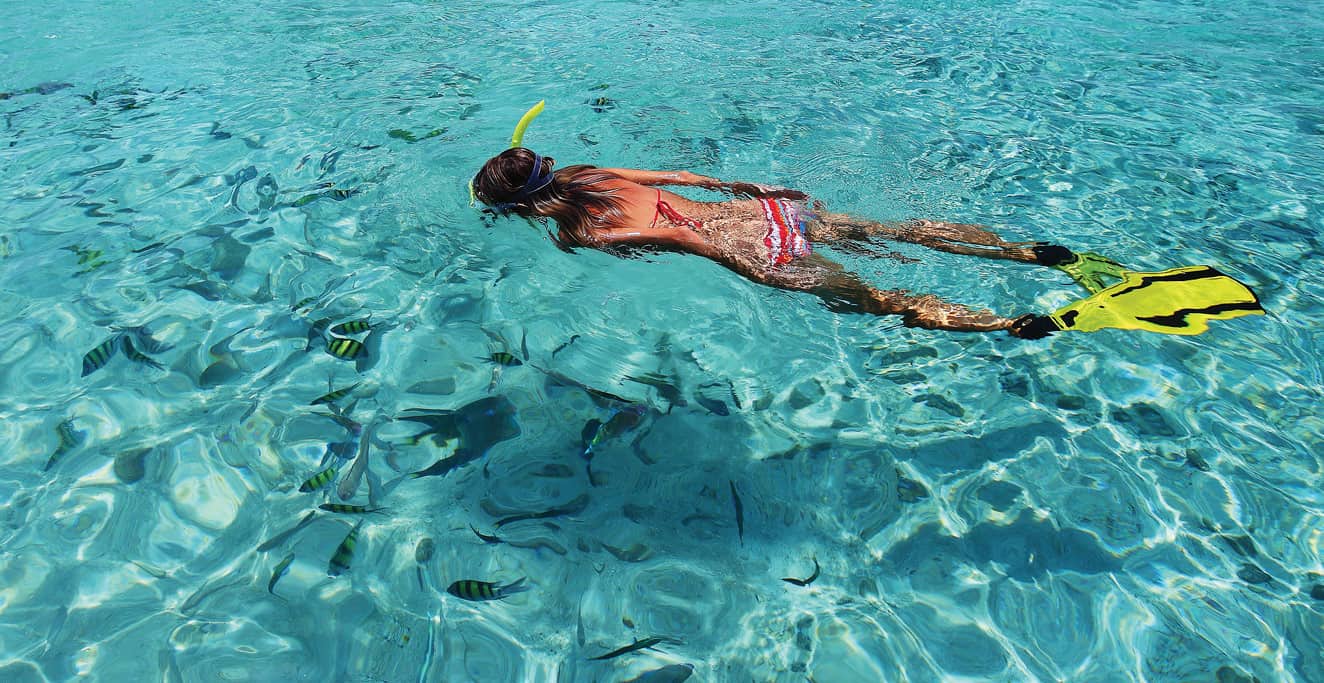 You can also find great snorkeling in Isla Mujeres; El Farito is one of the most common reefs on the Island. On the Island, you'll be able to visit the MUSA, which is a famous museum underwater. This breathtaking place has over 500 life-size sculptures used to promote coral life.
Appart from these, you can also try Chitales and Punta Nizuc reefs to have a great snorkeling experience in the Cancun surroundings.
If you happen to be around Costa Mujeres or Playa Mujeres, you could try El Meco, El Cabezo, Manchones, Sac Bajo and Cerebros Reefs.
Snorkeling in Cozumel
A beautiful Island is located near Playa del Carmen,  Cozumel is very popular for its diving experience. This magic place has white sand beaches, turquoise waters, and a wide variety of marine life. Travelers around the world used to visit Cozumel for diving, there are several tours that take you to the depths of the ocean. The Cozumel reef is part of the Mesoamerican Reef, the second-largest reef system on earth after the Great Barrier reef, which is located in the Atlantic Ocean.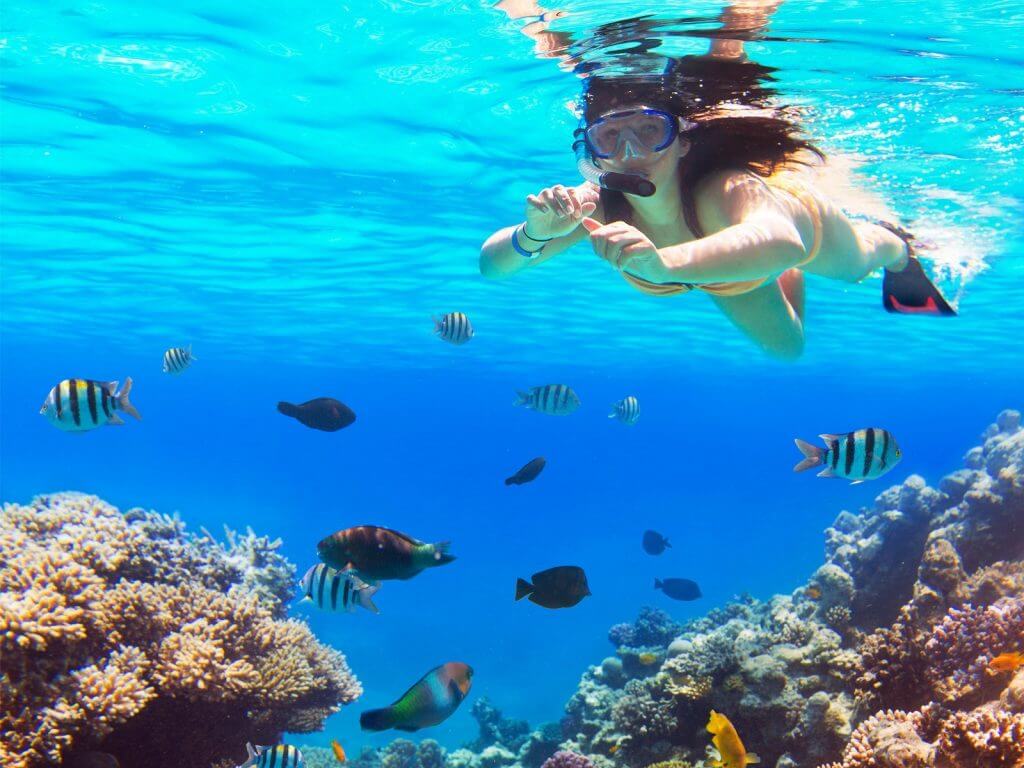 There are different reefs around Cozumel, the most common are Palancar Reef, Colombia reef, Paraíso, Chaankanab among others. Some tours in Cozumel include a visit to one of these marvelous sites to do snorkel.
Recommendations for Snorkeling in Cancun or nearby destinations
Make a deep research before your snorkeling experience.
Choose the location that most suits your expectations.
Book your tour. Bear in mind it is not possible to swim in a reef on your own due to the protection of these areas.
Wear off any sunscreen or makeup. These products can harm corals and marine life.
Don't grab nor touch starfish, coral reefs, and do not disturb fishes.
Make sure you are wearing your life jackets correctly.
Snorkeling in Cancun or Riviera Maya is considered an unforgettable experience. To swim into these marvelous waters of the Caribbean sea will be a moment you will remember for life. Hopefully you will spot turtles, an impressive number of fish, stingrays, and many more underwater species during your snorkeling time.
Popular Snorkeling Spots
Depending on where are you staying during your time around the Mexican Caribbean, you might want to explore some of most popular snorkeling spots around.
If you are staying in Cancun, consider visiting:

Chitales Reef
Punta Nizuc
MUSA

If you are staying in Playa Mujeres, consider visiting:

El Meco Reef
El Cabezo Reef
Manchones Reef

If you are staying in Isla Mujeres, consider visiting:

El Farito Reef
Playa Norte
Garrafón
Arrowsmith Bank

If you are staying in Costa Mujeres, consider visiting:

Sac Bajo Reef
Sunk Ship
Cerebros Reef

If you are staying in Puerto Morelos, consider visiting:

Rodman Reef
Radio Pirata Reef
Puerto Morelos Reef
If you are staying in Playa Paraíso, consider visiting:

Mayakoba Reef
La Poza
La Chimenea
La Poceta

If you are staying in Playa del Carmen, consider visiting:

Playa del Carmen Reef
Maroma Reef
Francisco I. Madero Reef

If you are staying in Cozumel, consider visiting:

El Cielo
Palancar Reef
Columbia Reef