Yesterday November 2nd, the route Amsterdam – Cancun was inaugurated by the KLM Royal Dutch Airlines, which will have 4 frequencies a week. Then, from December 19 to January 16th  it will increase to 5 weekly flights arriving at Cancun Airport.
The ambassador of the Netherlands indicated that this new route will make it easier for the inhabitants of his country to discover Mexico, especially the Mexican Caribbean and Cancun.
"It is good to note that flight connections are increasing between the Netherlands and the Yucatan Peninsula, this will strengthen even more the excellent bilateral relations between the Netherlands and Mexico, and we hope both countries continue to collaborate on topics such as water, renewable energy, and more," the ambassador said.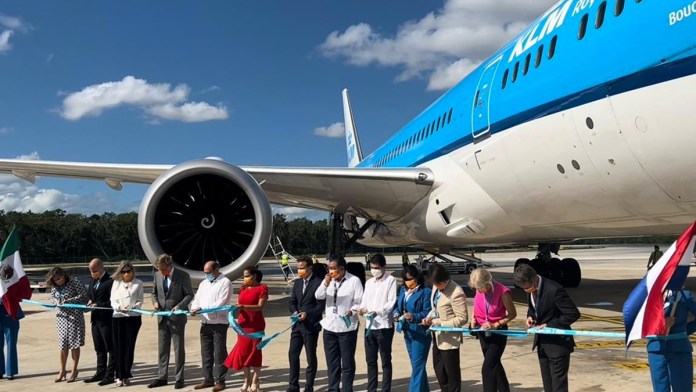 In addition, Guilhem Mallet, general director of KLM in Mexico, notified the flight landed using 25% of sustainable gasoline, which is made from used cooking oil, the first in Mexico from Air France KLM to employ that fuel in a flight, and that represents a decreased from at least 75% of greenhouse gas emissions.
The destination is strategically located, being the main entry point in the Yucatan Peninsula, one of the most important regions in the American continent.  We are very excited about this inaugural flight to such an important destination,
"This destination is strategically located as an entry point to the Yucatan Peninsula, one of the most important regions of the American continent. We are very excited that this maiden flight to such an important destination has sustainable aviation fuel, as it is a clear example of KLM's commitment to Mexico and sustainability, "said Guilhem Mallet, CEO of KLM in Mexico.
For this airline, there is a Boeing Dreamliner 787-9 for 294 passengers, which will make trips on Tuesdays, Thursdays, Fridays, and Saturdays, plus Sundays during December and January, which will arrive in Cancun around 3 the afternoon and will leave for Amsterdam at 5 in the afternoon.
Thanks for reading "New routes to Cancun continue to increase"
Check out the Departures and Arrivals at Cancun Airport