Introduction
You're about to go on vacation to Cancun, but you want to stay up-to-date on the latest news. What's going on with the traffic? Is Uber available in Cancun? And what's the weather like?
Don't worry, we've got you covered. In this article, we'll give you a breakdown of the latest news in Cancun, as well as tips on how to get around town. So sit back and relax, we'll take care of everything.
Cancun Weather and When to Visit
The weather in Cancun is hot and humid year-round, with temperatures averaging in the 80s. The best time to visit is from December to April when the weather is cool and dry. These days, the weather in Cancun has been heavy rain during the night and partially cloudy days. You can still enjoy outdoor activities, as you will have cool weather to walk around and visit, for example, archaeological sites or museums.
Cancun is a popular tourist destination, and the airport can get quite busy. Make sure to allow plenty of time to get through security and customs.
There are plenty of ways to get around Cancun, but traffic can be quite bad during peak hours. Uber is a great option, as it is affordable and reliable.
The Cheapest Time to Travel to Cancun
It's always a good time to visit Cancun, but it's especially affordable right now. Thanks to the influx of Uber and other ride-sharing services, the cost of getting around town has gone down. The high season is considered to be November and December. The cheapest month to fly to Mexico in February. 
So if you've been thinking about visiting Cancun, now is definitely the time to do it. Just make sure you book your flight and hotel in advance, as things are sure to get sold out closer to Springbreak and Summer.
Uber in Cancun: All You Need to Know
You've probably heard about Uber by now. It's a ridesharing app that has taken the world by storm.
Uber is finally available in Cancun, and it's a great way to get around the city. The app is easy to use, and you can see the estimated fare before you request a ride.
Uber is cheaper than a taxi, and it's a great way to meet locals and learn more about the city. Be sure to download the Uber app before you arrive in Cancun.
Traffic in Cancun and How to Avoid It
If you're planning a trip to Cancun, it's important to know the latest news about traffic in the area. Traffic can be a nightmare in Cancun, as major construction work is been done to the highway and main streets that connect the Cancun Airport to the rest of the Hotel Zone and Downtown Cancun. To avoid being stuck in traffic and long wait times at intersections, stick to the highway. Uber is also a great way to get around the city quickly, but make sure you're aware of the associated costs.
Other ways to avoid traffic include taking public transportation or booking a private transportation service in Cancun. This will allow you to travel within Cancun quickly and safely while avoiding any potential traffic jams.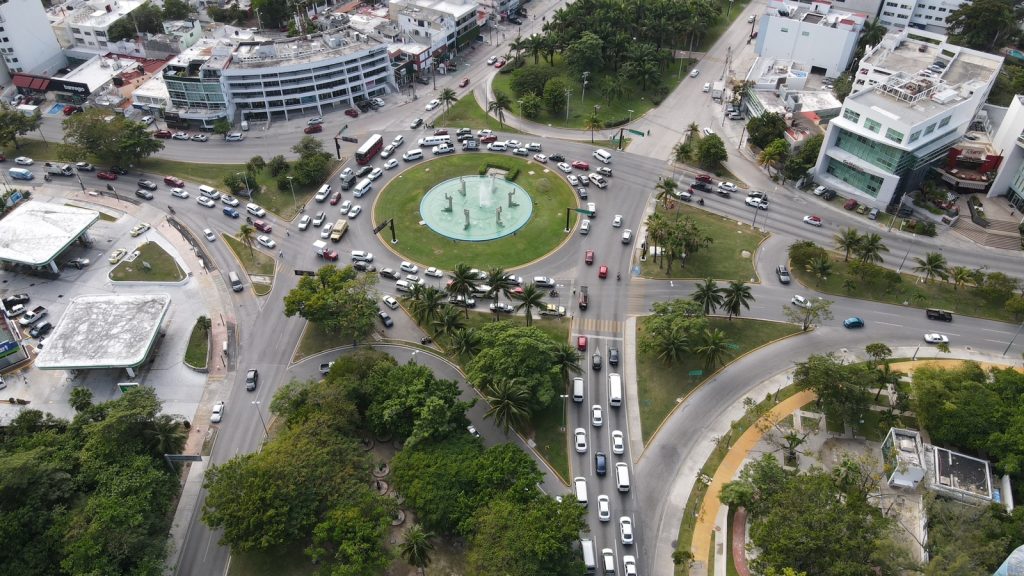 Getting From Cancun Airport to Playa Del Carmen
To get from Cancun Airport to Playa del Carmen, you have a few different options. The most popular way is by taxi, as it is the quickest way to get there. You can also take the ADO bus, which has multiple stops in downtown Cancun and runs every half hour. If you're looking for a convenient and affordable option, Uber is another great way to get from Cancun Airport to Playa del Carmen. It's one of the most cost-effective options, as drivers can often be found in high-traffic areas near the airport. There are also busses available from the airport to various destinations throughout Mexico, but these can take several hours and involve multiple transfers.
Getting From Cancun Airport to Tulum
If you're planning a trip from Cancun Airport to Tulum, the easiest way to get there is to book a private transfer. Cancun Airport Transportation services guarantee safety and fair prices, and can be ordered directly from the airport, or online before your trip (recommended). This is an easy and cost-effective option that takes about two hours depending on traffic. Alternatively, you can take a bus from the airport to Playa del Carmen.  Whichever route you decide on, make sure to plan your journey in advance so you don't end up stranded or lost after your long flight!
Conclusion
With all that's going on in Cancun, it can be hard to keep up! Luckily, we've got all the latest news and tips to help you get around town like a pro. Whether you're looking for information on how to get to Playa del Carmen or Tulum, or you're just trying to find the cheapest flights available, we've got you covered. Keep reading to stay in the know!