Hurricane season in Cancun has started and with it some cloudy days. It's rare for a hurricane to hit Cancun, but it's still possible during these months. For this, we wrote this Hurricane Season Information page. So if you happen to be in Cancun during hurricane season or are planning to travel during this time of the year, this post is for you.
When arriving at Cancun Airport during Hurricane Season, there's nothing extra you should do. These are just considerations in case you experience heavy rain or a hurricane during your stay in Cancun. If something goes wrong, everyone will be there to ensure nothing happens to you. For your safety, the Cancun Airport staff and everyone working in the tourist area are well prepared in case a hurricane hits the area.
On the other hand, there's nothing to worry about when it comes to the rainy season. It can actually be a good time to visit Cancun and the Riviera Maya. It often rains in the evening, meaning you can easily plan your days around it. The rain usually doesn't stick around for long, as the winds that blow over the peninsula are enough to blow it away.
When is hurricane season in Cancun?
In summary, the hurricane season in Cancun and the Riviera Maya runs from June to November. All the hotels and tour operators have procedures in place to ensure your safety. You can foresee hurricanes and prepare for their days in advance, and you'll be able to plan accordingly. If you travel during the rainy or hurricane season, you can still find things to do in Cancun. The weather tends to move quickly in the area, so it doesn't tend to rain for long. With a bit of planning and an open mind, you can travel to Cancun and the Riviera Maya at any time of year. It is a paradise-like place for an unforgettable vacation experience!
So what do you need to bring when you're here during hurricane season in Cancun?
As more Hurricane Season Information, we always recommend light clothes. Though the temperatures generally stay high enough, you can pack one raincoat or buy a disposable one here. There's no need to bring a lot of sweaters, you might be fine with just a light jacket or hoodie. The weather usually moves swiftly enough for you not to need it either, so it's up to when you get the first rains for you to consider it. 
Plastic bags always come in handy. Save your documents, passport, migratory card, etc, in a plastic bag or a waterproof sealed bag. It's always better to prevent this from getting wet or even ruined because of the rain.
Safety regulations: Early Warning System Tropical Cyclones SIAT-CT
The Early Warning System for Tropical Cyclones (SIAT CT) was developed to give us the ability to quantify, systematize, and coordinate our response and to react immediately to the urgent needs of the community, particularly personal safety, food and water supply, and temporary shelter before a natural disaster is imminent or has already occurred. The objective of the SIAT CT is to be a mechanism of alert and coordination that in a quantitative way generates an organized response of the National Civil Protection System to the threat of a tropical cyclone, mitigating the effects of this event.
This is what to do during Tropical Cyclones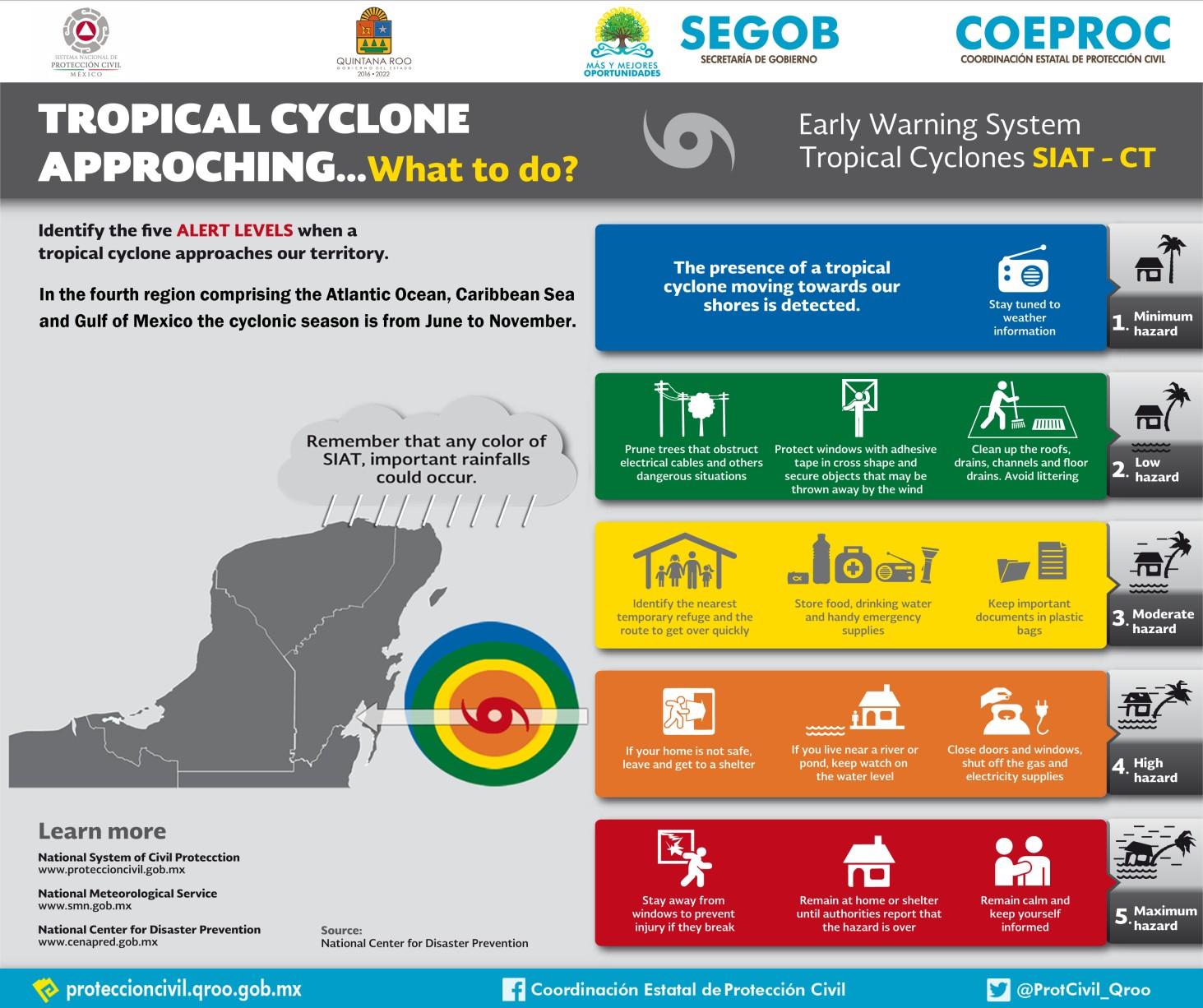 Source: System Summary from SEGOB