We tell you when is the best time to visit Cancun and why!
What worries the most tourists is when to travel. If you happen to have a free agenda and want to know what time of the year suits you best to vacation in Cancun, find out more about it in this article. Also, if you are forced to travel during the summer and winter seasons due to work or school, we still recommend you keep on reading so you know what to expect during that time of the year in Cancun. So without further ado, this is the best time to visit Cancun: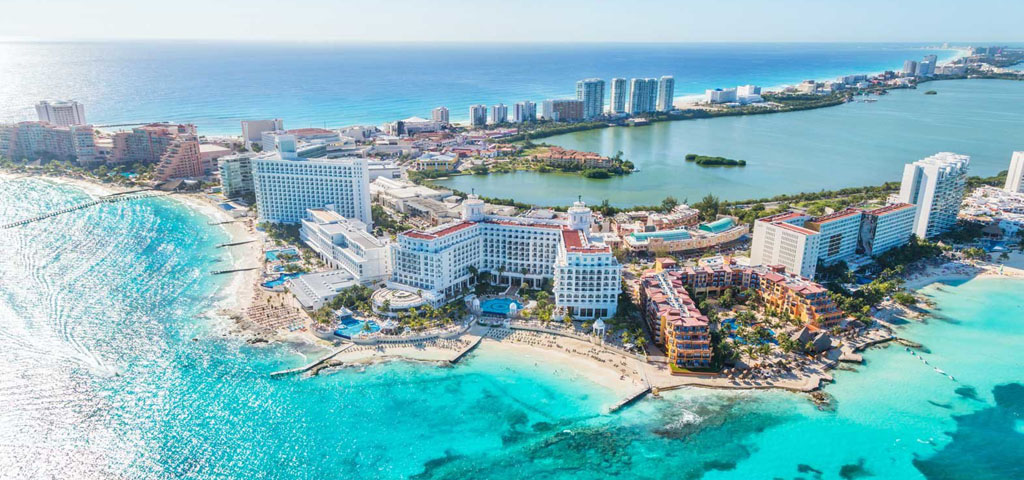 The best time to visit Cancun
The best time to visit Cancun is between November and March when the rainy season has passed and the hurricane season is yet to begin. March is perhaps the most ideal time to visit Cancun; it's the driest month, and humidity is low which will make the 34 °C (93.2 °F) temperatures slightly more comfortable.
The wet season in Cancun begins in June, with hurricanes and tropical storms more likely from September to October, although they can start as early as June. Even if you are visiting Cancun during the wet season, it is unlikely to rain for prolonged periods unless there is a tropical storm.
Rainy season
The rainy season in Mexico runs from late August to November. Although, you can have heavy rain in May and June. It's rare to get a full day of rain, however, as most showers only last for a few hours. We have to mention that the risk of hurricanes or tropical storms between June and November is much higher. So keep in mind that if you're traveling during this time of the year, sure there'll be fewer tourists but also possibly, a lot of rain.
Hurricane season
If you are worried about the hurricane season in Cancun, keep in mind that starting June and the end of November are likely to have this phenomenon. It's not common to have hurricanes, but it's possible. Hurricanes are more likely to occur during September, October, and November. During this time, hurricanes become more frequent due to sea temperatures being at their hottest. Though the risk of hurricanes directly striking a particular location is small it is worth being aware and keeping an eye on weather forecasts throughout your stay.
For more information on What to Do in case of a Hurricane and Hurricane Precautions, click here. 
Sunniest months
Many call it the season that you want to avoid. Since the sun is striking hot during the end of spring and beginning of summer. April through June happened to be the sunniest months of the year. Especially in May, it gets up to 37° C (98.6 °F) which it's a hindrance for many as they do their outdoor activities.
Conclusion
Though, the temperature of the sea varies very little throughout the year. If you're planning to go to Chichen Itza or other Archaeological sites, we recommend going during March or the hurricane season. Avoid crowds and get sunburned.
For those traveling during the hottest season, do wear sunscreen. Apply sun protection for your skin continuously throughout the day. Bring a hat and sunglasses, they always come in handy.
Here is Cancun's forecast, including humidity, rainfall, and sunshine information:
Average daily max (°F)
| | | | | | | | | | | | | |
| --- | --- | --- | --- | --- | --- | --- | --- | --- | --- | --- | --- | --- |
| Jan | Feb | Mar | Apr | May | Jun | Jul | Aug | Sep | Oct | Nov | Dec | Year |
| 86.9 | 89.9 | 93.7 | 98 | 99.5 | 96.8 | 95.5 | 95.5 | 94.4 | 91.2 | 88.3 | 86.7 | 93 |
Average relative humidity (%)
| | | | | | | | | | | | | |
| --- | --- | --- | --- | --- | --- | --- | --- | --- | --- | --- | --- | --- |
| Jan | Feb | Mar | Apr | May | Jun | Jul | Aug | Sep | Oct | Nov | Dec | Year |
| 75 | 72 | 66 | 65 | 66 | 76 | 78 | 79 | 81 | 80 | 78 | 77 | 74 |
Average total rainfall (mm)
| | | | | | | | | | | | | |
| --- | --- | --- | --- | --- | --- | --- | --- | --- | --- | --- | --- | --- |
| Jan | Feb | Mar | Apr | May | Jun | Jul | Aug | Sep | Oct | Nov | Dec | Year |
| 40 | 28 | 21 | 55 | 75 | 186 | 144 | 172 | 200 | 140 | 45 | 38 | 1144 |
Average daily sunshine (hrs)
| | | | | | | | | | | | | |
| --- | --- | --- | --- | --- | --- | --- | --- | --- | --- | --- | --- | --- |
| Jan | Feb | Mar | Apr | May | Jun | Jul | Aug | Sep | Oct | Nov | Dec | Year |
| 5.0 | 5.0 | 6.0 | 6.0 | 7.0 | 6.0 | 6.0 | 6.0 | 5.0 | 5.0 | 5.0 | 5.0 | 7.0 |
Average wind speed (mph)
| | | | | | | | | | | | | |
| --- | --- | --- | --- | --- | --- | --- | --- | --- | --- | --- | --- | --- |
| Jan | Feb | Mar | Apr | May | Jun | Jul | Aug | Sep | Oct | Nov | Dec | Year |
| 5.3 | 5.7 | 6.7 | 7.0 | 6.7 | 5.9 | 5.0 | 4.8 | 4.3 | 4.7 | 4.7 | 4.6 | 5.5 |
Source: Met Office, https://www.metoffice.gov.uk/