When you are on vacation sometimes is difficult to set up everything to get the perfect days, and traveling with kids will make it even harder. But don't get frustrated since there are many options to enjoy real vacation time with your children.
First of all, you need to book an all-inclusive resort, most of these accommodations are family-friendly, and also fully equipped for kids.
These are our top 5 kid-friendly hotels in Cancun
Seadust Family Resort
Panama Jack Resorts Cancun
Crown Paradise Club Cancun
Moon Palace Cancun
All Ritmo Cancun Resorts and Waterpark
All of these hotels are offering a wide variety of activities for children. Most of the all-inclusive resorts have a Kids club on their facilities except adult hotels clearly. Your kids will be fascinated with the tons of play games, toys, and video games in the club, there is also personnel at the kids club providing activities and games for them.
While you are resting in some hammock, drinking your favorite cocktail your children will be safe and having fun with other kids. Although the kids club has a schedule, there are also nanny service with extra cost in most of the hotels, you might consider if you want.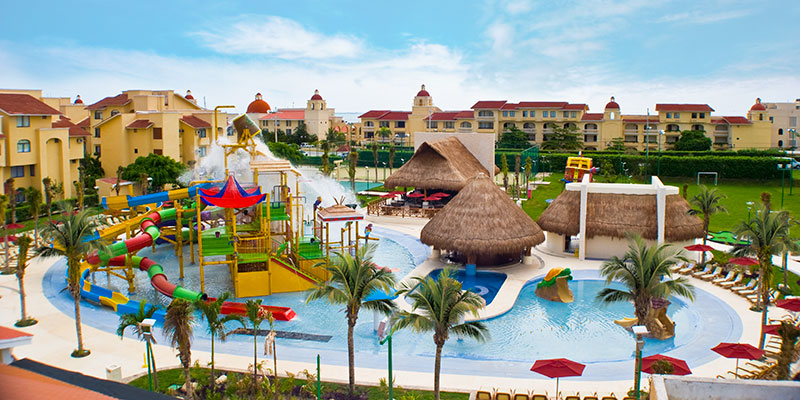 During your stay in an all-inclusive, you can also do great activities with your kids, like enjoying the pool, or the beautiful beach. And don't forget the entertainment team that will be cheering you up with activities in the pool or in the recreative areas. Talking about food, many restaurants have a kids menu for the little ones so you don't have a problem feeding them.
Activities for kids in Cancun and Riviera Maya
Cancun and Riviera Maya are highly tourist destinations with tons of eco-parks and theme parks, extreme activities, and tours. When you travel with children you want them to be safe while having fun, so they can't do all of the activities mainly the extreme ones since they are only kids, but many parks have adapted lots of activities so they can enjoy them as well.
Xel-ha
It is an all-inclusive natural water park, located between Playa del Carmen and Tulum. Xel-ha offers beautiful sceneries and a huge area for snorkeling. There is a kid's zone so they can play for a long time. There are also zip-lines, diving from cliffs, and more adventure in this amazing place.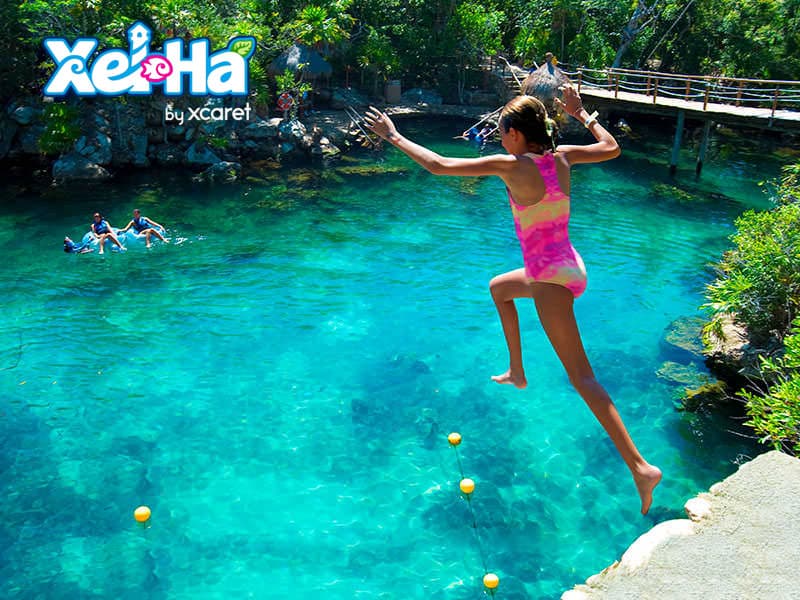 Xcaret
Perfect for all the family, is a theme park with tons of activities and wonderful landscapes. At Xcaret, you can find amazing animals, an aquarium, a butterfly farm, and an aviary. The most representative of Xcaret is its Mexican folklore all over the park, and the spectacular night show. But there is a beautiful river and a gorgeous beach where you can practice snorkel.
Ventura Park
Being at Cancun's Hotel Zone you can't miss this incredible site, it is a water park but includes more than water activities. At Ventura Park, you'll find all the fun in just one place. There are different worlds where you can get maximum fun, Wet n' Wild, Aaah!Ventura, Fun World, Underworld, and Grandprix. Through these worlds you will find, a roller coaster, ziplines, bungee, climbing walls, a virtual world, go-karts, and of course the best water attractions such as a wave pool and slides.
Tours in Cancun
There are several tours around Cancun and Riviera Maya if you are traveling with children we recommend the following: Isla Mujeres, it is a friendly tour perfect for all the family, you will be taken to Isla Mujeres on a boat admiring the Mexican Caribbean, then you'll go for snorkeling, and a visit to the island to finally eat some fresh seafood in a popular restaurant.
Kids friendly beaches in Cancun
Langosta beach in Cancun, its waters are shallow and clear, there is a water park over the beach called "Float Fun Cancun" It consists of 300 inflatable modules connected to each other,  you will find circuits with balance rollers, trampolines, bridges, swings, platforms to throw yourself and walls to climb.
Playa Tortugas is another great spot for families and children, the beach at Playa Tortugas is calm and shallow what makes it perfect for kids. There are some restaurants on the shores where you can get a delicious meal, enjoy the beach, and relax in the sand.
As you can see there are many ways to keep your kids entertained, while you also enjoy this beautiful paradise!