Book your Cancun Car Rental at the Cancun International Airport and safe time and money. Car Rental in Cancun and the Riviera Maya is a really good option if you want to go exploring and also depending on how many people you would be. If you are not sure you want to rent a car, you ca always book a private transportation here. At the Cancun Airport we have different car rental companies you can choose from and you can see them at: Car Rental Cancun Airport.
Renting a Car at the Cancun International Airport is really easy and this can be a really good option if you want to go exploring the area of Cancun and the Riviera Maya.
There are places that you can visit with your car rental that would be otherwise a little more expensive when taking a tour. These places may be archaeological ruins like Tulum, Coba, Chichen Itza, going to La Ruta de Los Cenotes in the Riviera Maya next to the town called Puerto Morelos. Renting a car would also be really helpful to visit the cities and taking your own pace, you can visit cities like Puerto Morelos, Playa del Carmen, Tulum Town and more…
Check out the: Cancun Airport Car Rental Companies.

Should You Rent a Car in Cancun?
Depending on your budget and trip we recommend you rent a Car in Cancun Mexico. Booking a car rental in Cancun will give you lots of benefits. Cancun International Airport houses the most important Car rental companies in Mexico and Latin America, you'll be able to find what best suits you. You should rent a car if you want to know all the places that Quintana Roo offers there are several options for visiting. Cancun, Holbox, Isla Mujeres, Puerto Morelos, Playa del Carmen, Tulum, Bacalar, and more. You can also visit Yucatan, with places such as Chichen Itza and Valladolid.
Where to go in Cancun with a car rental?
Because of its proximity to great destinations around it, Cancun has a beautiful location. Cancun is situated in southern Mexico's Yucatan Peninsula. It's a brilliant idea to rent a car at Cancun Airport to reach most cities and destinations in the Riviera Maya. You can trace a roadmap to travel freely around Cancun, depending on how many days you have to complete your itinerary. Due to their central position, we suggest you stay in Puerto Morelos or Playa del Carmen.
While staying in Playa del Carmen, which is just an hour away from Cancun Airport, you can easily travel to Tulum, the famous destination in the Riviera Maya, this small town is home to the iconic Mayan ruins on the coastline of the Mexican Caribbean, as well as fantastic cenotes in the heart of the Maya, just an hour from Playa del Carmen to get to Tulum. You can also find charming small towns like Akumal, the turtle sanctuary, Puerto Aventuras, Xpu-ha, and more along this path. There are wonderful beaches around them, those areas are full of spectacular spots and surprising activities.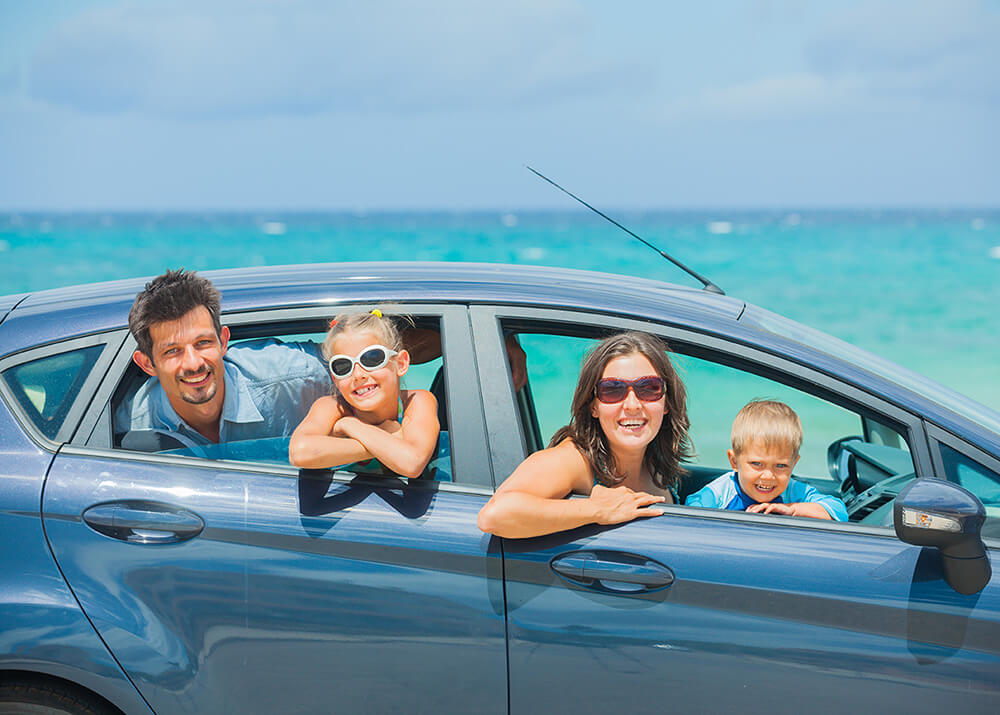 With those turquoise beaches and a wonderful environment, full of great resorts and great things to do, you can't resist visiting Cancun. And also Isla Mujeres which is just 50 minutes from the airport in Cancun. This lovely island is ideal for a relaxing day on the beach, snorkeling, and more. On your Cancun tour, these are the key places you must visit.
Car rental for road trips in Cancun
If you are one of those who love road trips we recommend you to Renta a car in Cancun Airport bound for Yucatan where a wonder of the world is located. Chichen Itza, with its impressive archaeological site and famous Kukulkan Pyramid. A road trip to Yucatan includes delicious food, astonishing landscapes and colonial towns such as Valladolid, Tizimin and Izamal. All these places are 3-5 hours from Cancun.

Bacalar is another road trip to do, the town is 5 hours from Cancun Airport it offers unimaginable landscapes in the iconic Lagoon of Bacalar. You'll see different tones of blue at this place that's why it's called "The 7 colors lagoon". There are several activities to do here like Kayaking, Paddleboard, you can go sailing over the lagoon taking the traditional tour. Bacalar is a very nice town, it provides a relaxing atmosphere and tranquil days at the lagoon. Highly recommended it will definitely worth renting a Car in Cancun Mexico.