Cancun Airport >> Airport Info >> Cancun Airport Map
Cancun Airport is very simple to use once you know how it is set. That is why we are giving you here a couple of maps that can be helpful for you. First of all, the Airport is located on the main road (Cancun – Chetumal) over all the Riviera Maya, it is very easy to get there. It took only 20 minutes to get there from Cancun Downtown.
The first Cancun Airport Map is from its streets where you can see the main distribution of the terminals around, from terminal 1 to 3. The terminal 4 is located a little further from these 3. 
On this image, the main highway going towards Cancun or the Riviera Maya is on the left-hand side. The terminal 2 and 3 are close to each other, the terminal 1 is an FBO dedicated to only private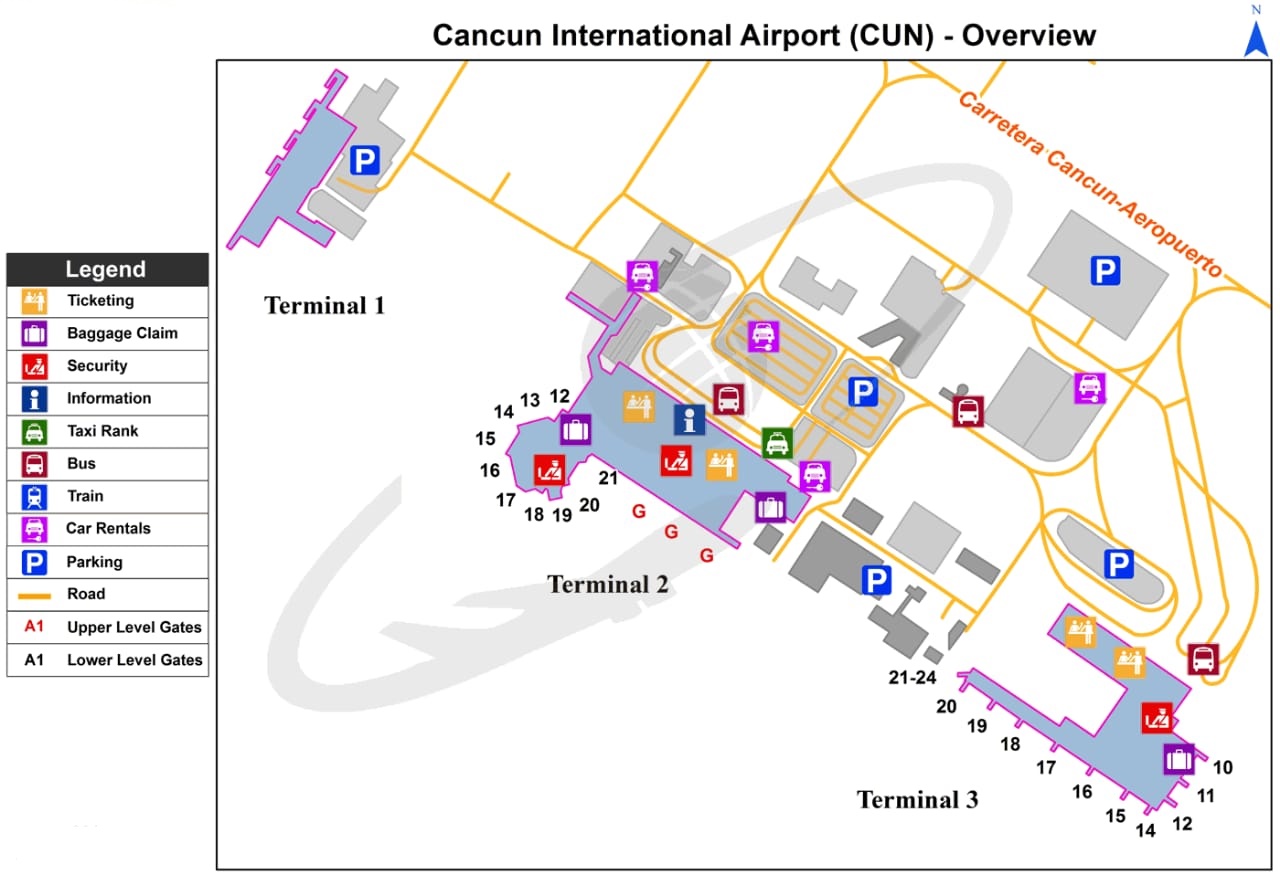 Cancun Airport Map Terminal 2
Here on the second Cancun Airport Map, you can see the terminal 2, it shows you where you can go for each process of your arrival or to take the bus or taxi at the Cancun Airport when arriving on terminal 2.
Cancun Airport Map Terminal 3
The following map is of Terminal 3. If you are arriving from the USA, this is the main terminal you'll be using, make sure to have all your documents ready for Immigration.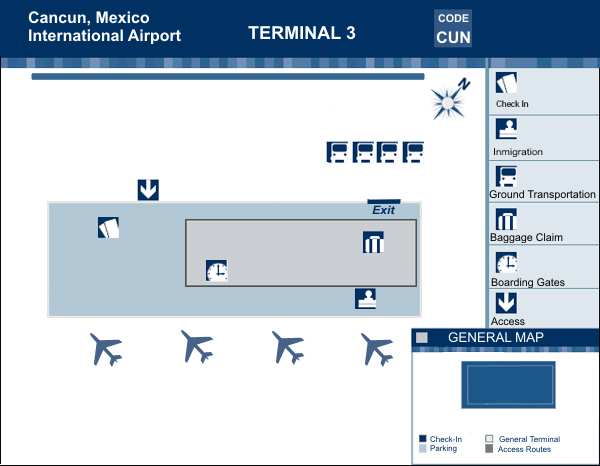 Cancun Airport Map Terminal 4
Terminal 4 is the newest terminal, it has comfortable waiting rooms and all the basic services. Aeroméxico; Air Europa; Air France; Air Transat; Condor; Frontier Airlines; Interjet; Lufthansa; Southwest Airlines; Sun Country Airlines; Thomas Cook; Thomas Cook Scandinavia; Virgin Atlantic, y Westjet. All of these are the official airlines in terminal 4 at Cancun Airport.
Cancun Airport Arrivals
Find out the latest Cancun Airport arrivals, stay tuned with our flight tracker. Make sure the flight is on-time or delayed
Cancun Departures
If you are about to leave the Mexican Caribbean stay informed with your departure flight. Be sure your flight is on-time or delayed. Check out the Cancun Airport Departures.