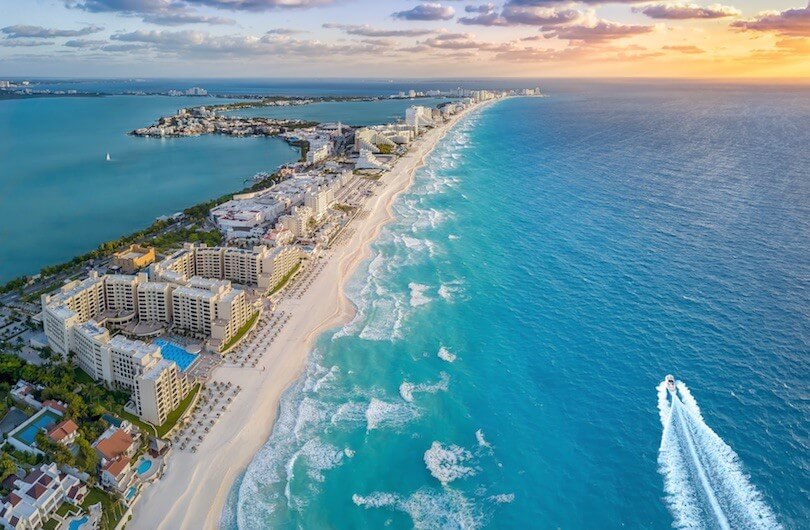 Overview
Tulum Quintana Roo offers a wide variety of activities and magic places to see. This small town is surrounded by  Mayan mysticism and a fantastic jungle. Discover all the hidden gems in Tulum.
Tulum has a lot of eco-friendly hotels and resorts, most of which are considered "Eco Luxury" trying to balance Nature with glamour. But still one of the best things about Tulum is its pristine waters and its white sandy beaches that run for miles and miles, making it a great place to go jogging on the beach or just relax lying on the sand.
As we said, Tulum is home to the Tulum Ruins, a beautiful Mayan Archaeological Site with the best Ocean View of all. The main building of the site is right in front of the water and visiting this place is a must for anybody staying anywhere in Cancun or the Riviera Maya. For this you can check our the Tours you can do especially the Tulum Tour.
History
The coast consisted of unexplored mangler, virgin jungle, and beaches. You'll be surprised, but Cancun was initially called "Kan Kun", which means "nest of snakes" in Maya. 
It was in 1969, Mexican president, Gustavo Díaz Ordaz, commanded the National Bank to create a National Plan of Tourism. 
The initial objectives of the project were to open up a road from Puerto Juarez to the island, design a Master Development Plan, and build a provisional airstrip (located in the area designated for city development, at the site of present-day Kabah Avenue, in front of the Ecological Park).
When to visit Cancun
Cancun weather and the surrounding area really shouldn't worry you about the weather, it's almost always with great sunshine during the whole day 365 days a year… But sometimes there can be rain, wind, or clouds. As a tropical destination, if it rains, it will more likely rain for some minutes and then the sun will be out soon again, or it can even rain with the sun out. This happens all the time in the Mexican Caribbean.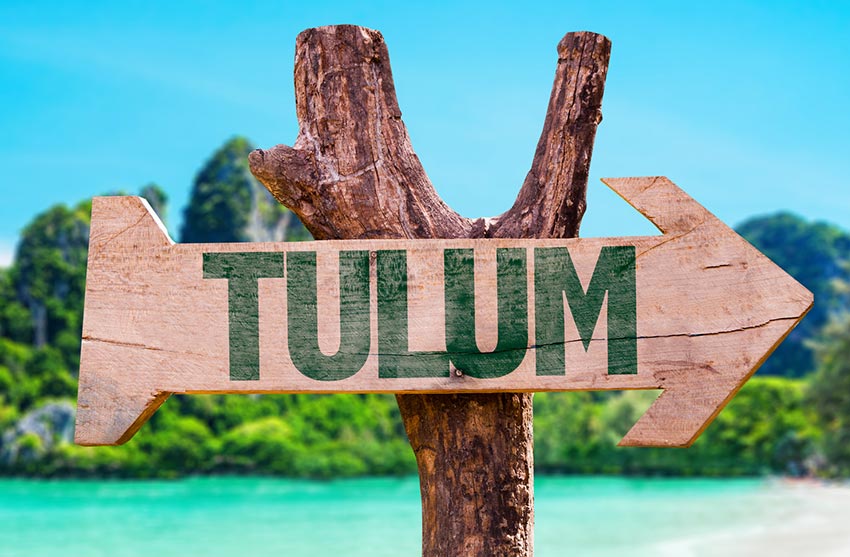 Things to do in Tulum
Tulum has a wide variety of activities that you can do. We will show you the most important places and activities that you must not miss on your trip. As a tropical destination, you couldn't leave Tulum without visiting a cenote or one of its amazing beaches.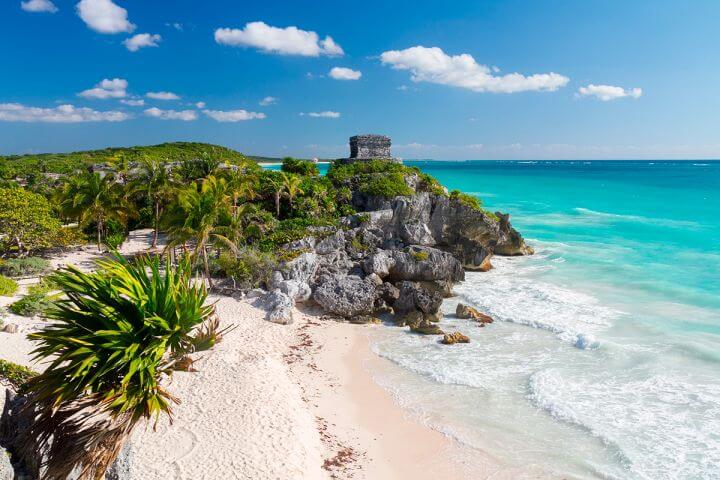 Tulum Mayan Ruins
This is probably one of the reasons tourists decide to get to know Tulum. The incredible Mayan ruins, unique in the world, located on the shore of the incredible Mexican Caribbean. At the archaeological site, you will be able to see different types of buildings, we highly recommend you to take a guided tour to get all the knowledge about the magnificent place. There are stairs that take you to a beautiful beach surrounded by big rocks, which makes this place a real paradise. Be prepared with your sunscreen, hat, and bottle of water because the weather is usually very warm.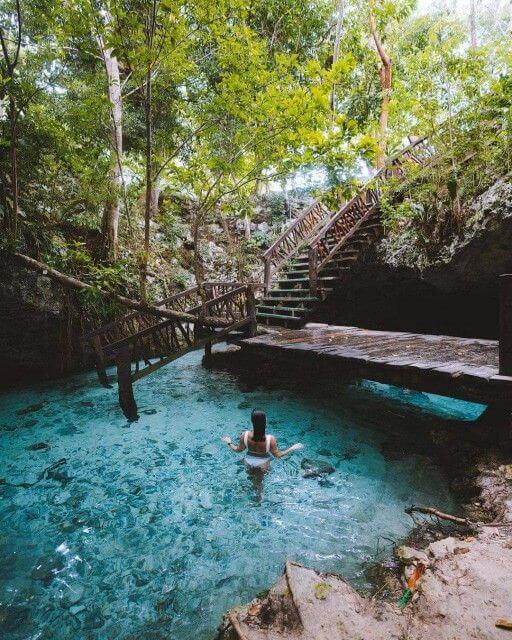 Cenotes
The Riviera Maya and the Yucatan Peninsula are full of beautiful cenotes and Tulum is no exception. We recommend you to visit the Gran Cenote, which is indeed a big, beautiful sinkhole, that's part of a system of underground rivers in the Yucatan. It is a nice place to spend a couple of hours cooling down from the Tulum heat. If you have never been to a cenote this is a good option, you will love it! It has beautiful clear water, with a unique kind of blue. Besides you can see some fishes and turtles around the cenote. There's a small shop selling drinks and snacks. You can bring your own food inside and there are picnic tables available. We recommend bringing your own snorkel set to the Gran Cenote but there are also rentals available.
The Gran Cenote is located 5 km from Tulum Village & 7 km from Tulum Ruins so it's an easy day trip. You can choose to walk, going on a bike or take a taxi.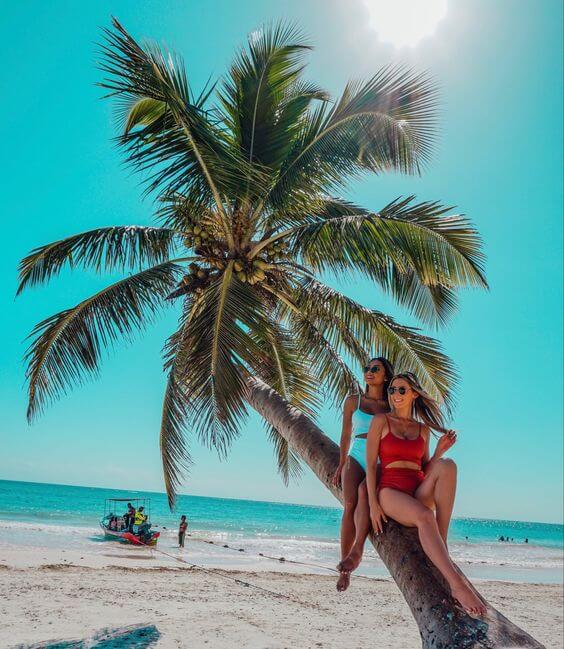 Playa Paraiso
Playa Paraiso is located in the heart of Tulum, the hotel zone. This beach is one of the most famous with its turquoise waters and palm trees, perfect to spend the whole day by the shore of the beach with friends. Kids and Family will have so much fun.
Caleta Tankah
You will love this place!  Caleta Tankha offers a beautiful beach with the clearest and blue water. It also has a plus with a beautiful cenote in there. In this way, you will have two attractions to enjoy the place. Caleta Tankah is just a few minutes from Tulum town on the main highway Tulum - Chetumal is very easy to get. At this amazing place, you can relax. You have to consider that the entrance is not free at Caleta Tankah but definitely will be worth it!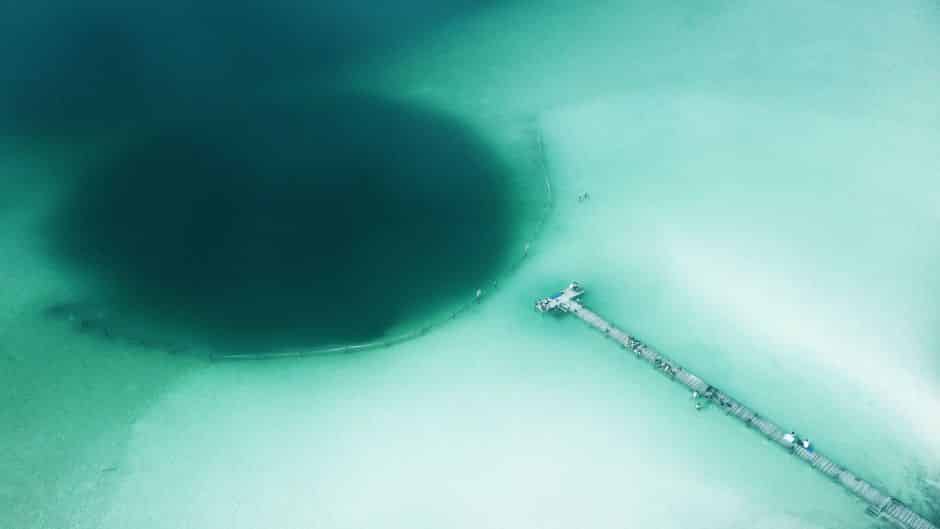 Laguna Kaan Lum
If you thought that Tulum was only Playa and cenotes you are very wrong. At this point, Tulum has literally everything! A lagoon is available to discover, and it is just 15 minutes away from Tulum downtown. What makes Laguna Kaan Luum special is the color of the water and the fact the center is a deep cenote. Some say the center is about 80 meters (262ft.) deep. You can tell the color contrast between the center of the lagoon and the sides. The entrance is very cheap so it is a good option for everyone!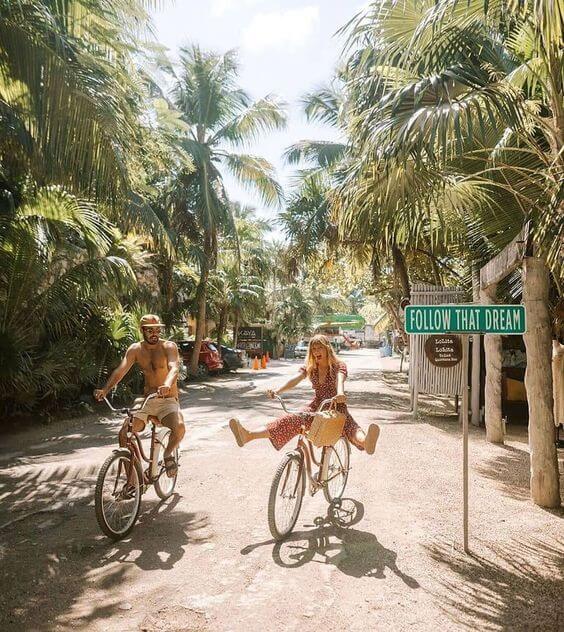 Ride a Bike
An activity that you cannot miss doing the bike tour on the Tulum coast, delighting by beach scenery. Also on the road, there are many cute places where you can have an ice cream or a refreshing drink
Nightclubs and bars
Although Tulum is a small town, it also has many options for fun. Nightlife will amaze you, there are some nightclubs and bars where you can spend a great night. You can also check the full list of Bars in Tulum here.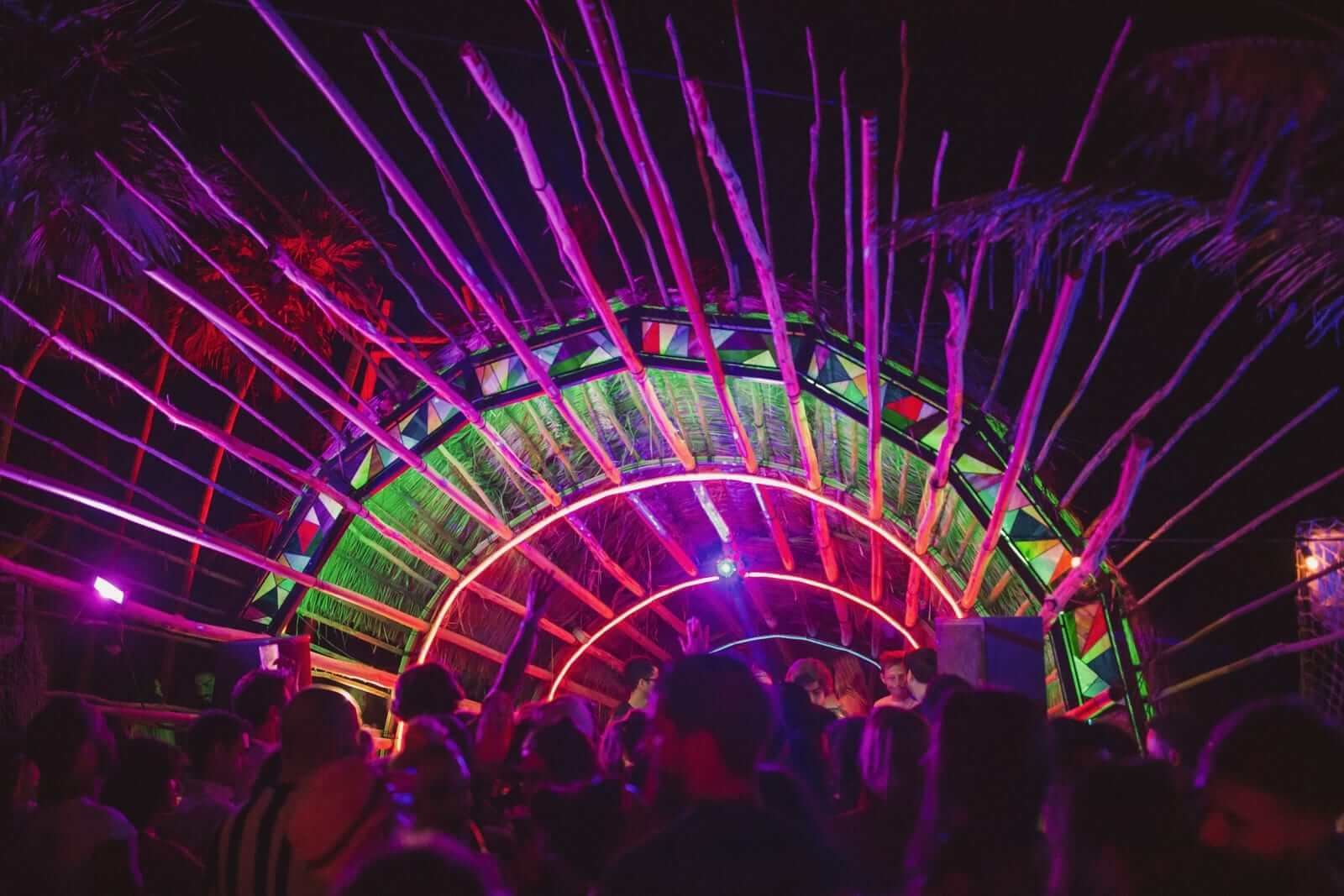 Papaya Playa Project
Famed for its hedonistic monthly full moon parties, PPP is something of a legend on the Tulum party scene. Held on the Saturday night nearest the celestial full moon, expect the town's chicest party people to come out and play. Models, artists, trendy tourists, and Tulum cool kids dance to tracks spun by some of the world's most famous superstar DJs.The Tulum party scene is quite an intimate affair, but Saturday nights at PPP are the biggest social event on the calendar.
Where to stay
Tulum offers a wide variety of hotels for everyone! From the most luxurious to the most economical hotels. Whatever type of accommodation you choose, you will still enjoy the Magic of Tulum. Now we are going to show you the best hotels in the Tulum area.
Tulum Luxury Resorts
Jashita Tulum
A unique luxury resort in Tulum, Jashita Hotel is located on two hectares of beachfront property surrounded by unspoiled nature. And with only 30 luxurious suites, Jashita Hotel offers privacy and exclusivity for all guests. They offer two types of pools; an adult-only swim pool area allows tranquility and personal space for guests who simply want to daydream quietly by the pool. And also there is a child-friendly swimming pool for families with children, which provides another refreshing area where children can play. For guests who need some time to relax both the body and the mind, our yoga studio and SPA are open daily to pamper you night and day.
Besides, you don't have to worry about food, Jashita offers a unique restaurant. They have a variety of special dishes, a combination of Italian Mexican and international cuisine. Room service, concierge, Snorkel equipment, Kayaks, and many more facilities are available in this amazing place.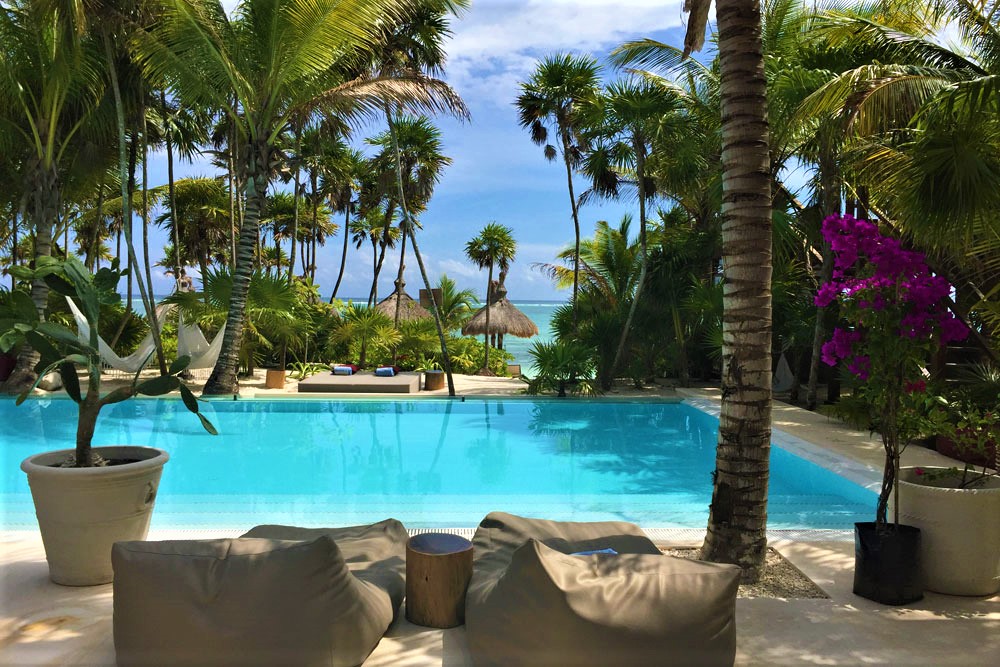 La Valise Tulum
This is the place to enjoy beauty, peacefulness and uniqueness. They preserved the magic of a Tulum private beachfront villa and bungalows, but added an ode to Mexican art and craft, wood in all its forms, offering comfort, surprise, and daydreaming. With its beautiful rooms and stunning beachfront views it makes the most picturesque stay on the beach in Tulum.
All rooms have handcrafted furnishings, free Wi-Fi, safes, and tea and coffee-making facilities. Rustic jungle bungalows have open-air showers, and terraces with jungle views. Airy seafront rooms include en-suite bathrooms and hammocks. Room service is available and daily breakfast is included for all guests. Delight yourself in Nu Tumult, their magnificent restaurant with amazing dishes to have the best-tasting experience. And also a beach bar restaurant to enjoy a great meal, they prepare typical Mexican and Mayan specialties for you near to the beach. Do not miss the opportunity to live a luxury experience in the best eco-chic destination of Mexico.
The Beach Tulum
This exciting, unique beachfront accommodation features Deluxe rooms, Junior Suites, and Rooftop rooms with fantastic amenities, all perfectly located on the sandy beach of Tulum. The minimum age allowed is 18.
The Beach Tulum Hotel offers 28 rooms with the perfect amenities in an eco-friendly style. Live the best experience in one of the 8 Junior Suites, or choose an equally lovely Deluxe or Rooftop. Use of beach beds and beach areas in front of rooms is for the exclusive use of the guests. Each air-conditioned accommodation includes free WiFi and a seating area. Guests can enjoy full breakfast either in the Ziggy's restaurant which also serves drinks and snacks or Fresco's restaurant which is available too.
Spend your dreamed vacation in The Beach Tulum, enjoying the beach, or maybe relaxing in the pool with a tasty drink. Take advantage of the Yoga classes and a gym day. The Beach Tulum has everything to live near nature and discover the Mexican Caribbean.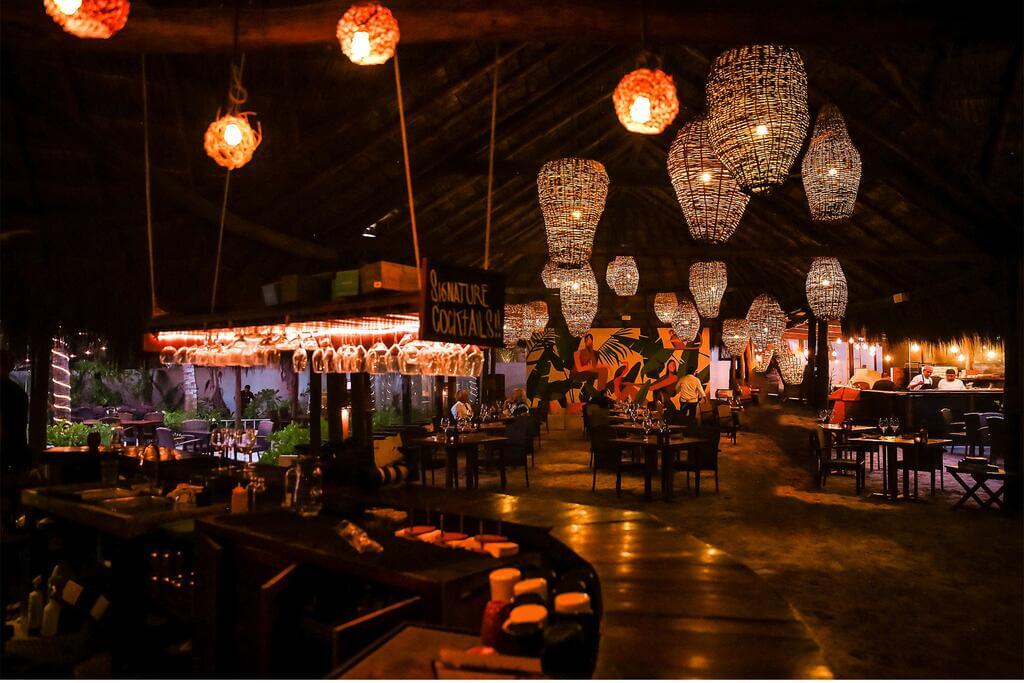 Tubo Tulum
Tubo Tulum Hostel boasts an original and eco-friendly concept of creating its facilities using large concrete tubes as chambers. Tubo Tulum Hostel is surrounded by a tropical garden and features a large kitchen that all guests can use to cook and prepare their meals. Both tents and tubes have a double size mattress, and electricity, a bulb light plus a plugger. The shared bathrooms are fully equipped with several sinks and showers. A well-rounded experience. Free WiFi, free parking,  pets allowed, air conditioning are some amenities, and a shared kitchen is available too.
Surrounded by jungle in the Riviera Maya, this quirky hostel is 2 km from Terminal Autobuses Tulum ADO, 3 km from ancient ruins at Parque Nacional de Tulum.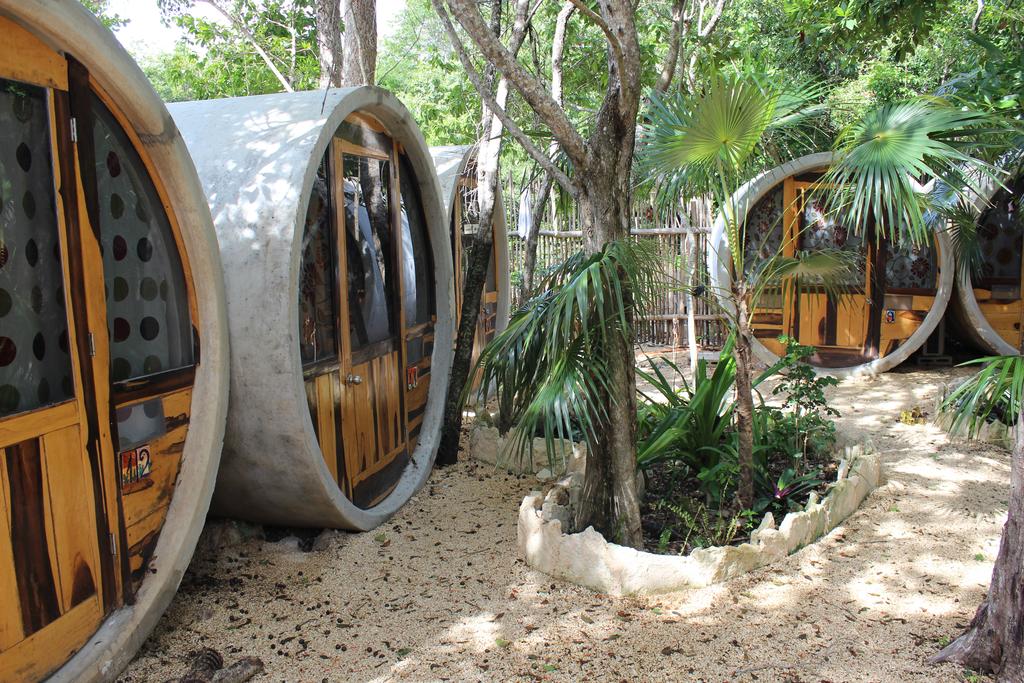 Hostel Babel
Hostel Babel opens its doors in a large and renewed place in the city center.
The property is located 3km from many attractions such as the Tulum National Park, Tulum Beach, Mayan Ruins, and The Gran Cenote. Don't miss out on the opportunity to visit the MonkeySanctuary or 'Ecopark Adventures' Tulum has amazing views of the Caribbean.
All the bedrooms have been recently remodeled to offer natural lighting, private bathrooms, A/C, new beds and mattresses, Wi-Fi, and large lockers. They also have a fully equipped kitchen and all the facilities for travelers.
Without question, Hostel Babel is an excellent option to save money and stay in a great place, near to town and a lot of places. Breakfast is included and they have some options to entertainment like Board games and Puzzles, besides nights get fun with many more attractions in there. As we know hostels are very well known for their facilities to know people from all over the world, and Hostel Babel is not the exception.
Hostel Aldea Tzunun
Aldea Tzunún is a unique place in the center of Tulúm. Its design, textures, and natural colors of the materials used to transport you to space away from routine, where you can relax in the morning and enjoy the parties organized by the hosts at night.
At Aldea Tzunun they love the idea of receiving people from anywhere in the world, they promote the cultural exchange and the interaction between friends and strangers, you will never forget your stay at Aldea Tzunun where you will take new experiences. Aldea Tzunún has an excellent location to places of interest for you to party, services, banks, hospitals, etc.
Aldea Tzunun has a tour desk, a bar, free WiFi throughout the property, and a garden. The guesthouse provides an outdoor swimming pool, karaoke, and a shared kitchen. Each room has a shared bathroom, while selected rooms come with a patio and others also offer a garden view.
Azulik
Azulik is one of the most famous hotels on Instagram, travelers around the world want to discover this magic place. Azulik is a private, adults-only beach resort and Mayan Wellness Center. This hotel offers more than a room, definitely is a revolutionary experience. The aim of the place is that you can relax and reconnect with nature. The architecture and the design of the place will just blow your mind along with its magnificent gastronomy which mixes different traditional foods like Japanese and Mexican.
Each of their 48 villas is built in harmony with the Mayan jungle and the Caribbean Sea. With no electric light, A/C, or television, they present nature as their main amenity, setting the perfect mood for a romantic getaway.
Azulik offers a magical experience, serving breakfast and lunch. Also a beach bar, a wonderful spa & beauty center. They offer traditional Mayan massage and healing therapies, medicinal herbal baths and the traditional Mayan-sweat-lodge temazcal treatment. The units have a unique Mayan mosaic bathtub where you can have a special invigorating bath in rich mineralized cenote's water, which is considered as sacred water within Mayan culture.
Reconnection takes on a new meaning in a place where nature, art, and ancestral wisdom coexist. This sanctuary welcomes all who wish to find peace in a space blessed with magical surroundings. Azulik is absolutely the perfect place for couples, to spend the best vacations merged with peace and healing, enjoying the moment and making nature your best friend or pending a romantic night, beholding a sky full of stars, secluded from the city crowds, only hearing the sound of the ocean waves.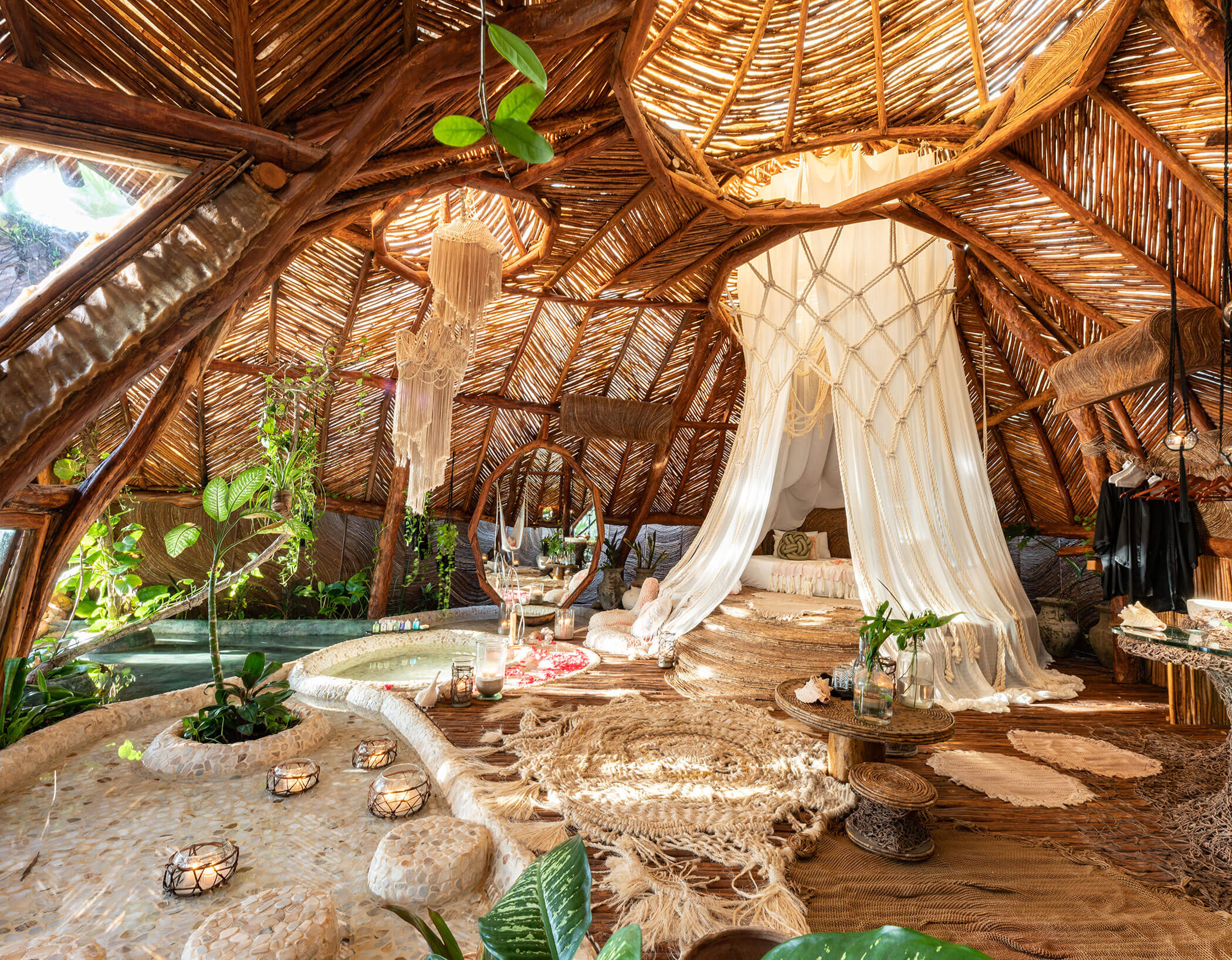 Tata Tulum
Perfect for couples who are looking for a unique place where they can rest and spend great sunsets surrounded by the crystal clear waters of Tulum. TATA Tulum is an exclusive and luxurious adults-only beachfront hotel in the heart of mystical Tulum, Mexico. The aim is that you can make your stay at TATA an experience to remember forever. The place has 7 towers each with 3 levels and a diverse category of room types that encompasses the whole Tulum experience.
You can choose Garden View, Ocean Front Deluxe, or even Jungle View. All with amazing views. TATA also offers to the guests a great beachfront bar with original, handcrafted cocktails based on local spirits and a restaurant with a variety of delectable Mexican dishes, many of which are cooked over an open-fire grill. A comfy terrace, rooms with a private bathroom, a 24-hour front desk, airport transfers, room service, and free WiFi throughout the property.
Mi Amor Colibri Boutique Hotel
Mi Amor is the perfect twist on a timeless era known for it's the playful decor and flawless design. Elegantly nestled upon a small rocky outcrop where the sea serenades the shoreline, Mi Amor's playful decor, and design invites you to ignite your spirit and kindle your soul, awaken the senses, disconnect, reconnect, be free.
Mi Amor Colibri Boutique Hotel offers 17 air-conditioned rooms. Beds feature Egyptian cotton sheets and premium bedding. This Tulum hotel provides complimentary wireless Internet access. And also is only for adults.
At this accommodation, you can relax and get lost in the pure beauty of the Caribbean sea. Taking a dip in your private plunge pool or enjoy a live DJ session drinking cocktails in the infinity pool.
A restaurant, free continental breakfast, spa services, and concierge services, an outdoor pool, and a bar/lounge are just some of the amenities that Mi Amor offers to all their guests. It is located in one of the most prestigious areas of Tulum, right in the heart of the hotel zone.
Best Hotels for Friends
As we said before, Tulum offers different options to stay. It is a great option to meet new friends from all over the world And is full of amazing and cheap hostels around downtown. It is a great option to meet new friends from all over the world. We are very sure that you can enjoy the destination no matter where you book. Memories and live life to the fullest.
Mayan Monkey
Mayan Monkey is a beautiful hostel that offers a lot of amenities more than others with a new concept of hospitality. Mayan Monkey Hostel in Tulum provides adults-only accommodation with a restaurant, a bar, and a garden. Among the facilities at this property are a 24-hour front desk and a shared kitchen, along with free WiFi throughout the property. The accommodation provides entertainment staff and luggage storage space. At the hostel, each room is fitted with air conditioning and a private bathroom. A continental breakfast is available daily at Mayan Monkey Hostel Tulum.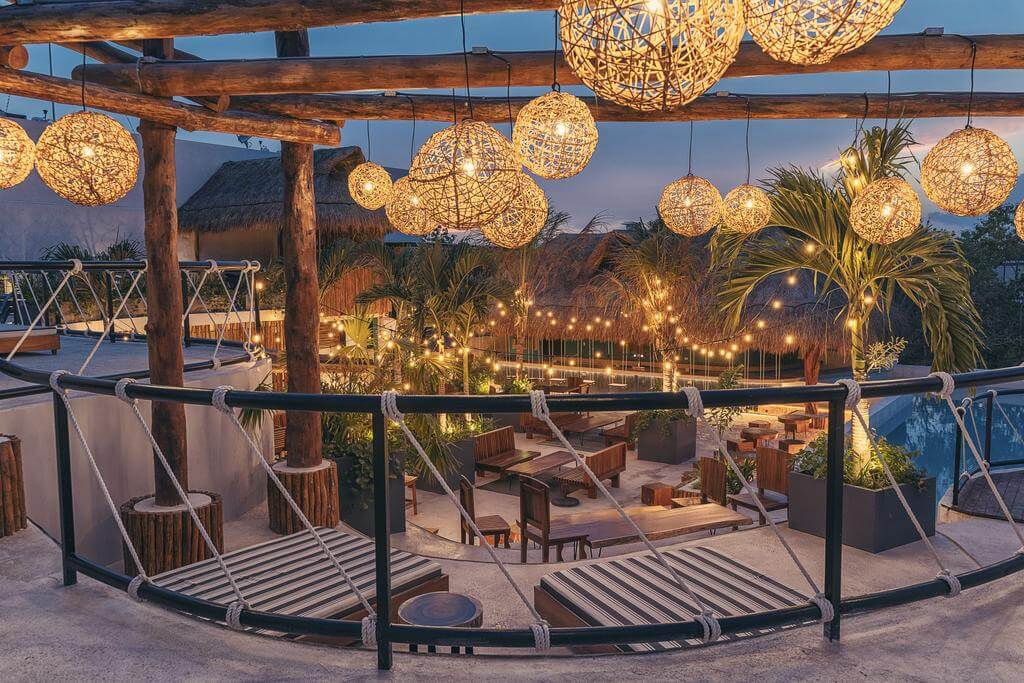 Cabanas Tulum Hotel
This hotel is located on one of the nicest beaches in Tulum, Mexico. The hotel offers a secluded location, guest rooms with free WiFi, an on-site restaurant, and the Ziggy's Beach Club.
Rooms at Cabanas Tulum include hammocks on the private terrace. Some rooms are located directly on the beach. Some rooms feature a private rooftop terrace with a hot tub.
Fresco's offers international cuisine and has a children's menu. Hotel guests can enjoy the beach club amenities, as well as cocktails and beers.
The bilingual staff at Cabanas Tulum can arrange tours to nearby eco-friendly attractions like Sian Ka'an, a natural biosphere, or tours to sightseeing the cenotes, the natural underground pools, or travel to the archaeological sites nearby including Cobá, Chichen Itza and Ek Balam.
Perfect to spend the best vacation with friends, with its Ziggy's Beach Club which is located right next to, The Beach Tulum & Cabañas Tulum. The beach area provides sunbeds for sunseekers and tables for comfortable lunches under palm trees. If you want to join it later or in the day, you can take advantage of the  Happy Hour or the daily live music sessions until 9 pm.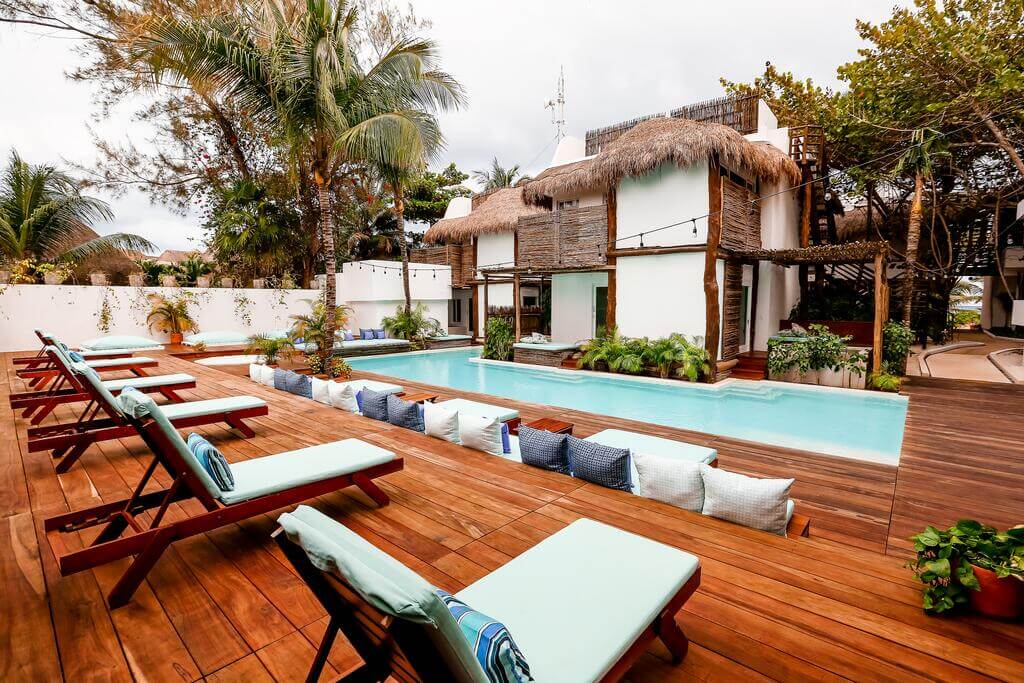 Dreams Tulum Resort and Spa
This beautiful all-inclusive family resort in Mexico will leave you in awe. Explore family-friendly attractions like the ancient Mayan ruins and the Xel-Ha natural aquapark in the historical town of Tulum, or lounge by the pool or on the beach with a refreshing chilled beverage or tropical cocktail.
Dreams Tulum's magnificent Mexican colonial architecture blends tastefully with an upscale contemporary design where every room offers a private and furnished terrace or balcony, marble bathroom, daily refreshed mini-bar, and 24-hour room service.
As an All-inclusive resort is full of all the amenities that you can imagine, and it has infinite activities to enjoy the destination, especially for kids. Kids' pool, Fitness center, Spa facilities, Kids' meals, snack bar, Bar, and Restaurants are just some of the benefits that Dreams Tulum Offers. And also you don't have to worry about entertainment with all the activities in the resort-like: Tennis equipment, water park, kids' club, Nightclub/DJ, Entertainment staff, Ping-pong, Playground, and Golf course. Definitely the best family resort in Tulum.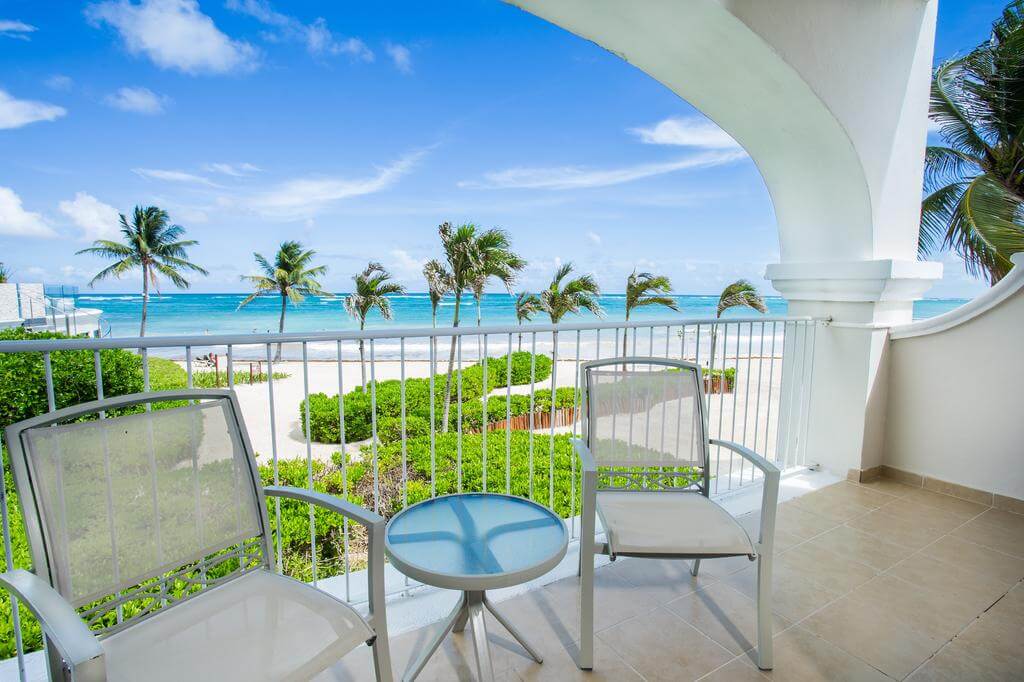 Where to eat
Mexican cuisine can be seen represented anywhere in the country. We are sure that you can enjoy some delicious tacos, and many more dishes in any city in Mexico. As a tropical destination, Tulum is famous for its seafood dishes. Usually, they can be enjoyed on the shore of the beach in one of the many restaurants located in Tulum.
We would like to recommend some cool options at your stay in Tulum.
Matcha Mama Tulum
You can't leave Tulum without visiting this place, it is the most instagrammable spot in Tulum. Matcha Mama is a Vegan Snack Bar. It's fresh, and delicious, and they have endless options for breakfast, lunch, and dinner.
They serve everything from raw juices, smoothies & kombucha to smoothie and açai Bowls, as well as ice creams, granolas, matcha teas and foods, and other light threats. Everything is made fresh in front of you, and while they only have 6 swings to sit on, they have a to-go option.
La Coqueta Tulum
A nice place to spend a great meal with friends. La Coqueta is a Mexican restaurant located in Tulum, it offers a variety of dishes, great flavor and the best atmosphere in the town.
In La Coqueta, they are specialists in combining all the flavor of each ingredient to make delicious dishes. They will make your meal a pleasure trip, with a relaxed and comfortable atmosphere.
From the typical snacks and street food to special and seasonal dishes, this place will be one of those you can return to again and again and always find something new.
Bak's Restaurant Tulum
BAK' by Harry's is a tribute to the union between the cosmos and the earth. The concept is a celebration of the civilization and wisdom that surrounds Tulum, generating a completely new imaginary world that accompanies the essence of the restaurant and honors the close relationship between culture and haute cuisine.
They offer a whole sensory experience immersed in a magical atmosphere. The menu includes some of the finest meats cuts in the world, and the most exotic seafood brought fresh from their place of origin, under the depths of the oceans, seas, and rivers around the world.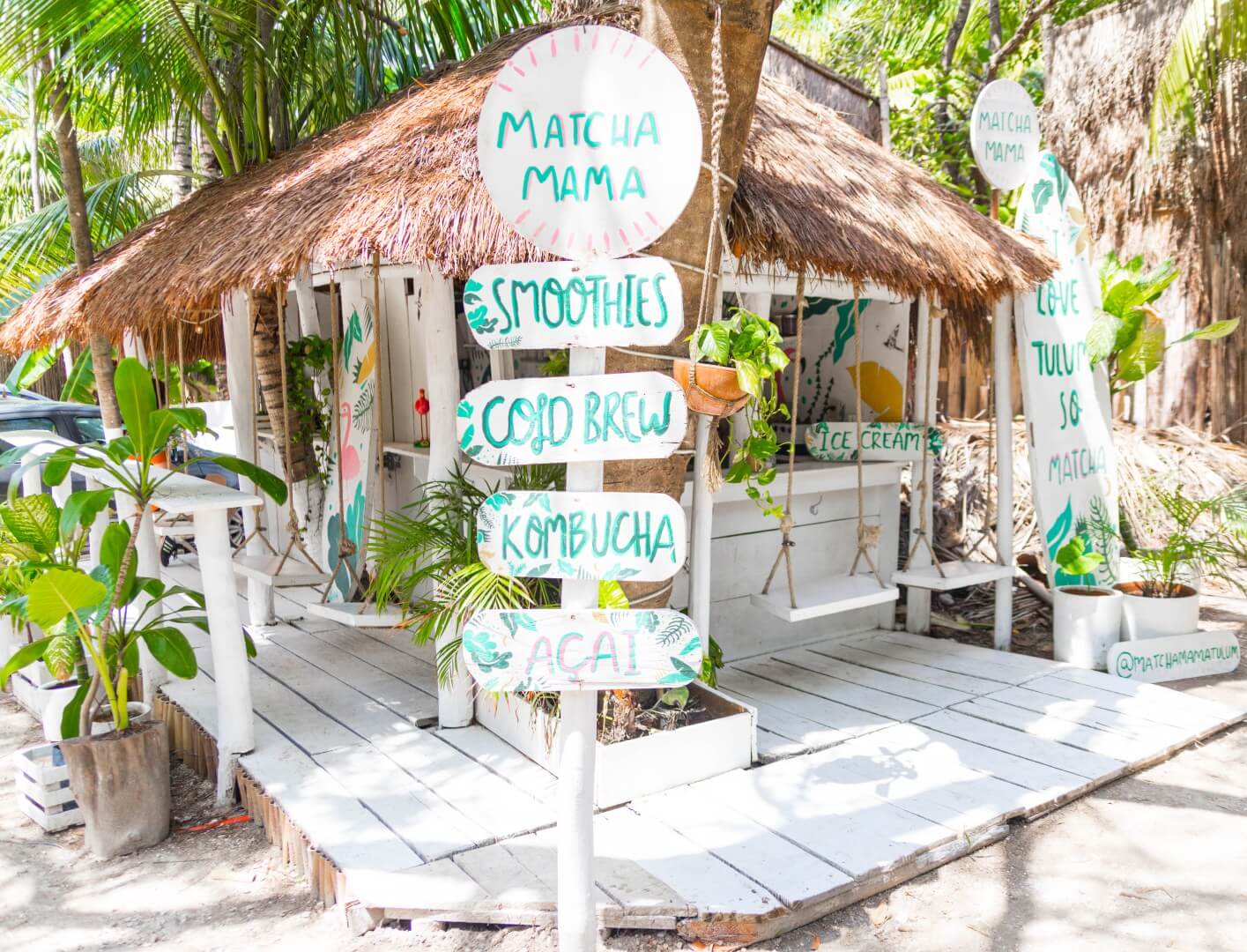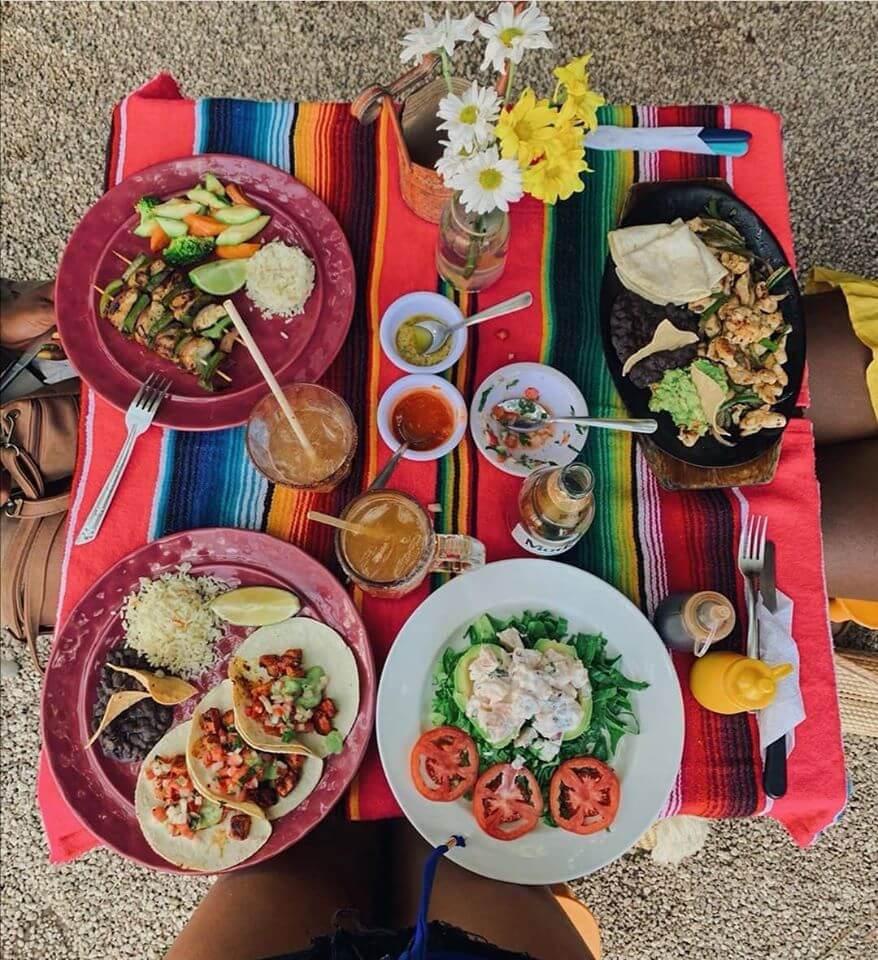 How to get around
Taxi
If you want to go around you can take a taxi but know that if you take a taxi. Taxis are an easy and practical way to get around quickly and by yourself. What it's worth, we recommend using a taxi if you are going downtown or somewhere out of the hotel zone.
Bike Rental
This is probably the easiest method of transportation in Tulum. It's fun and not expensive, as you get to explore with more freedom!
Private transportation
Private transportation services are suitable for travelers who want to spend time getting to know the hotel zone or Riviera Maya without having to wait for transportation or having to pay every time. Private transportation has the advantage of taking you exactly where you want to be without you having to worry about driving.
Car Rental
Another option to move around the city is car rental, this is a more independent way of transportation. For people that feel comfortable driving in a new city, and if you have plans of exploring, this is a great option.