NEW Hotel Alert in Cancun
In the past year, we've heard of the upcoming luxury hotel. The new RIU Palace Kukulkan in Cancun has announced its opening on the coming November 26, 2022.
This new adult-only Riu Latino Hotel is surrounded by the hotel zone atmosphere. It will be ideal for groups of friends and couples looking to get away and have a good time nonstop.
With access to the most beautiful beaches, it is the perfect paradise for a dream vacation in the Caribbean.
This Cancun hotel is for adults only and is an option to enjoy a vacation as a couple or with friends, offering RIU's 24-hour all-inclusive service.
For those seeking luxury and innovative services, check out the in-room TVs that can stream your favorite content from your mobile device, and room service will feature menu enhancements.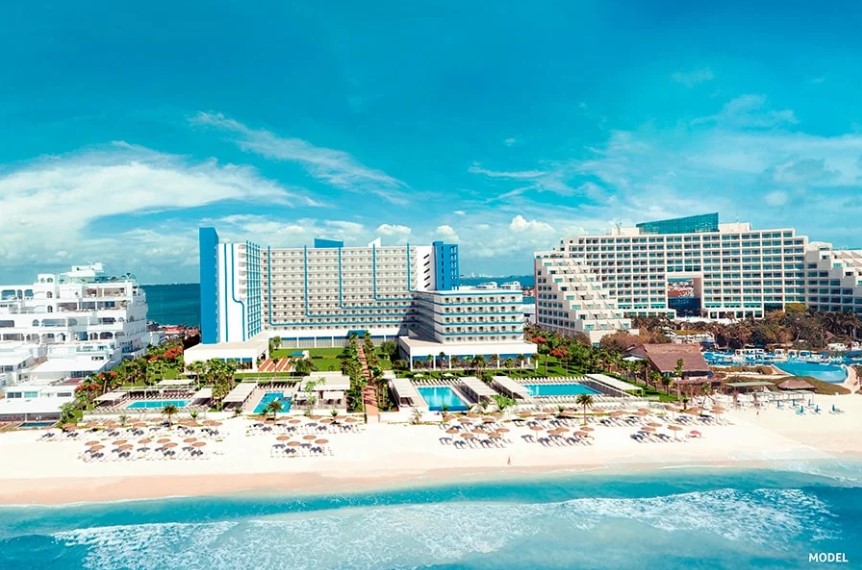 About the RIU Palace Kukulkan
The hotel also offers Elite Club by RIU, which includes premium room locations, access to premium branded beverages at select bars, enhanced in-room liquor, an upgraded mini-bar with snacks and a bottle of wine, confirmed late check-out, in-room aromatherapy, an exclusive welcome gift, and exclusive check-in area and Elite Club wristband.
The beachfront setting provides everything travelers want out of a vacation. Drinks and snacks are available 24 hours a day, and guests can enjoy the Splash Water World water park with a variety of slides as well as five swimming pools. Those looking for entertainment will enjoy the nightlife at the Pacha nightclub and four restaurants offer visitors a variety of cuisines.
The resort features the new Mixologist lobby bar, a new burger bar at the pool, a wine menu, upgraded bedding, new in-room TV casting so that guests can stream their favorite content from their devices, and an upgraded Capuchino Bar and room service menu.
Elite Club by RIU
The hotel also offers Elite Club by RIU, which includes premium room locations. Also, access to Premium-branded drinks at selected bars, upgraded in-room liquor, an upgraded minibar with snacks, and a bottle of wine. Guests can confirm late checkout, in-room aromatherapy, an exclusive welcome gift, and a dedicated check-in area and Elite Club wristband.
The new resort boasts a large stretch of beach and six outdoor pools, two with swim-up bars, and offers ultimate rest and relaxation for couples.  Including to this, is the on-site spa with a steam room, relaxation pools, and therapeutic massage treatments.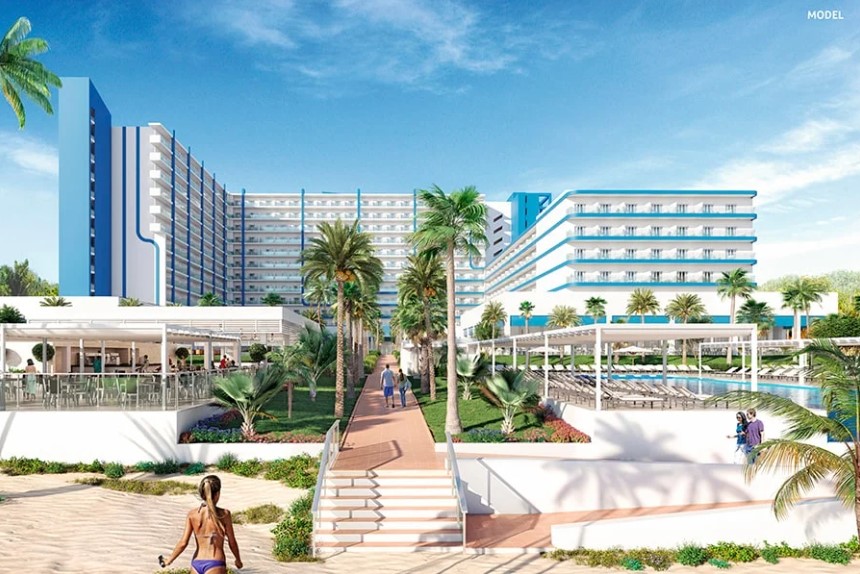 Other amenities at RIU Palace Kukulkan
Vacationers with a penchant for health and wellness will enjoy the resort's modern fitness facilities and daily fitness programming with RiuFit.
The resort offers several water sports to try, including kayaking, snorkeling, and catamaran rides along the Caribbean Sea. In addition to unlimited access to the on-site Splash Water World water park. Vacationers can also take in live music and shows, day and night entertainment, and dancing at the resort's own nightclub.
With exclusive RIU-Topia inclusions with every booking such as welcome cocktails and in-room mini-bars re-stocked regularly. Customers can also look forward to unlimited reservation-free dining at six on-site restaurants. You'll find food from Asian specialties at Geisha to Italian favorites at Milan and poolside bites at Pepe's Food grill.
At the end of the night, guests can retire to spacious accommodations with courtyard and oceanview rooms, two-bedroom rooms, and swim-out rooms, one of the most recent room categories available at select new RIU properties.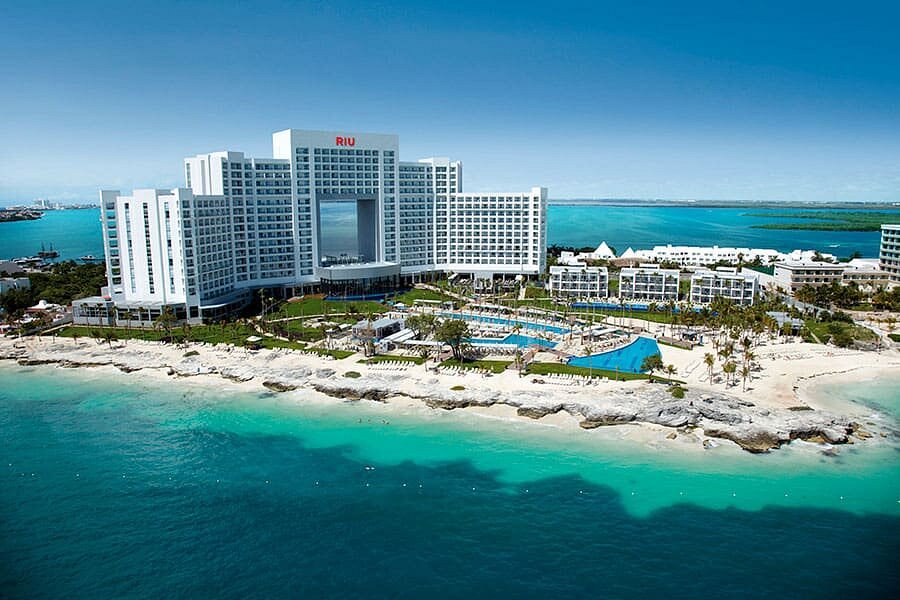 RIU Palace Hotels
What is this category of RIU Hotels? If you're already familiar with the Riu Palace theme, you'll know this is the most sophisticated category of all the RIU hotels. It's, designed to make guests feel like royalty. Each RIU Palace is located on the beachfront, with excellent service and modern facilities.
You can trust that this category adds an extra touch of luxury, excellence, and sophistication to the most relaxing of experiences. These hotels display meticulous architectural design in the most beautiful natural settings. The RIU Palace Hotels guarantee guests a relaxing stay where they can enjoy spa and wellness facilities, sports and leisure activities, as well as great options at their different buffets and theme restaurants.
You can find these resorts all over the world. From Europe to Central America, RIU Palace Hotels, assure the best vacation for every visitor.
RIU Hotels in Cancun
Is in the paradisiac city of Cancun where you can enjoy the sunlight next to crystalline waters. It is no doubt why RIU Hotels has other 7 hotels in Cancun. 
Rooms in the hotel are meticulously designed and offer everything you need to make you feel at home and maximize your leisure time. Riu Palace Hotels are ready to cater to any desire: a glass of champagne, some delicious canapés, a bubble bath, 24-hour wi-fi throughout… all this is easily within your reach due to our excellent balance between quality and price.
You might also like: The Best of the Best Hotels in Cancun