Here's what you need to know about the Maya Train
Updated July 2022
The grand Tren Maya or Maya Train is estimated to start properly functioning by 2024. But this controversial project is set to give locals and visitors a new experience of the Peninsula. In this article about the Maya Train: Everything you need to know, we tell you the plans behind connecting people with different towns, cities, and sites in the region like never before.
Vision
The Mayan Train is a social transportation project. One that seeks to defend the land, create social equity, and open the peninsula to countless development opportunities, without undermining the rights of its inhabitants.
The Mayan Train is linked to civil society, communities, the private sector, and the inter-institutional committee agencies, in the three levels of government, to ensure that the project is the detonating element of the integral social development of the southeast.
Benefits
Particularly, it is expected to benefit the tourism sector by optimizing connectivity, with which it is expected to reach an economic revenue of 16,000 million pesos; increase the stay of tourists, by generating 8% more tourist nights in the area; as well as it is estimated to reduce up to 46% the travel times in the area. In spite of diverse opinions, the Mayan Train has been launched and is expected to be completed in 2024.
The Mayan Train will travel at a maximum speed of 160 kilometers per hour and will have 19 stations, although according to the Fondo Nacional de Fomento al Turismo (Fonatur), others could be added at a later date: Palenque, Chiapas. Boca del Cerro, Tabasco. This will make it more accessible and easier to travel.
More places to visit
More exciting is the new kind of travel experience it will provide regular visitors and new ones alike. So as fat as the Maya Train: Everything you need to know goes, it's pretty sweet to imagine how tourists will experience traveling to the Caribbean from then on. Flying to Cancun will involve a new traveling experience.
If estimates are correct, tourists will now be connected with as many as 190 individual cultural sites, archeological zones, or tourist attractions. 46 Mayan sites will be accessible, as well as 14 of Mexico's "Magical Towns," which are villages or towns noted for their cultural significance or beauty.
Cancun, along with the likes of Playa del Carmen and Tulum, is an incredibly popular destination for sun-seeking vacationers but suffers from a lack of connectivity with the wealth of cultural attractions in its surrounding area. The vast majority of visitors to the region have their sights set on an all-inclusive resort in the hotel zone and rarely venture out unless on an organized tour.
The new railway project, The Maya Train, is set to change all that. The sprawling 948-mile line will connect Cancun with the entire peninsula with ease, offering tourists and residents alike the chance to explore the region with independence, transforming the landscape for the industry. The line will pass through the states of Quintana Roo, Yucatan, Chiapas, Campeche, and Tabasco.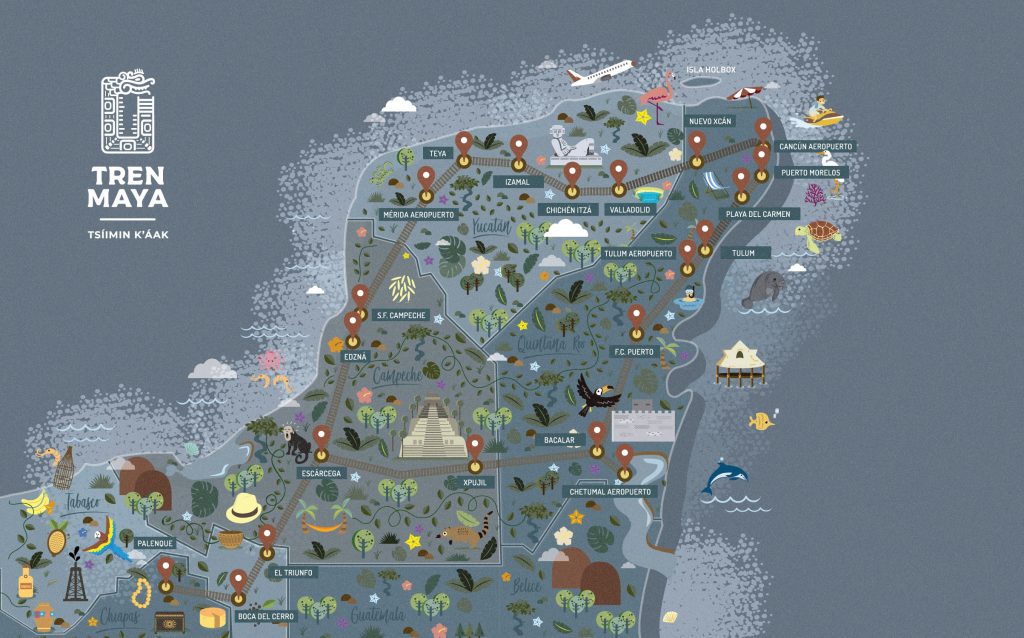 Some concerns
Environmentalists and historians have scorned the seemingly rushed development of the Maya Train. Many claim the construction in some areas is bulldozing through valuable undiscovered Mayan archeology zones, destroying pieces of Mexico's cultural heritage.
Many of these caves were also sacred places for the Mayan civilization and could also be valuable archeology sites. Others have highlighted the destruction of rainforest areas in the region. Mexico's government is often accused of cutting corners for financial benefit, and it appears to have wrangled its way around any further roadblocks by declaring the project a "National Security Project".
Despite these accusations, the government's official site regarding the Tren Maya proves to have made a public consultation with different indigenous groups and environmental specialists about the project before it started. The site also states the environmental responsibilities and how they are planning to preserve and reforest the areas.
Environmental impact
The total number of tree species to be removed will be rescued and relocated according to the program presented in the MIA on June 16, 2020. 5 shrubs, 3 herbaceous, 0.1 epiphytes, and 0.1 individuals of the NOM-059-SEMARNAT-2010 standard will be removed per hectare.
In addition to this, it's expected to reduce pollution as the train is the most efficient and least polluting transportation model. It seeks to generate a new territorial development model that conserves and makes sustainable use of the ecosystem services of the southeast.
Stops and Stations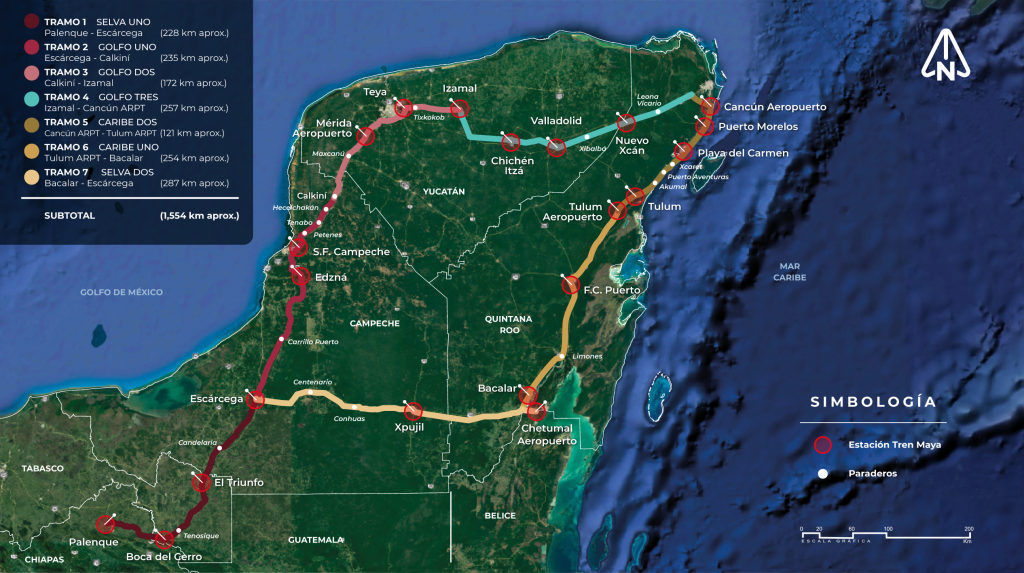 The eight sections included in the construction of the project are as follows:
Section 1: Palenque - Escárcega (228 km approx). 
Section 2: Escárcega - Calkiní (235 km approx.).
Section 3: Calkiní - Izamal (172 km approx.)
Section 4: Izamal - Cancún (257 km aprox.)
Section 5 North: Cancún - Playa del Carmen (49.8 km approx.)
Section 5 South: Playa del Carmen - Tulum (60.3 km approx.)
Section 6: Tulum - Bacalar (254 km approx.)
Section 7: Bacalar - Escárcega (287 km approx.)
Section 1:
Stationes:
Palenque, Chiapas
Boca del Cerro, Tabasco
El Triunfo, Tabasco
Stops:
Tenosique, Tabasco
Candelaria, Tabasco
Section 2:
Station:
Escárcega, Campeche
Edzná, Campeche
San Francisco de Campeche, Campeche
Stops:
Carrillo Puerto, Campeche
Tenabo, Campeche
Hecelchakán, Campeche
Calkiní, Campeche
Section 3:
Station:
Mérida Aeropuerto, Yucatán
Teya, Yucatán
Izamal, Yucatán
Stops:
Maxcanú, Yucatán
Tixkokob, Yucatán
Section 4:
Station:
Chichen Itzá, Yucatán
Valladolid, Yucatán
Nuevo Xcán, Quintana Roo
Stops:
Xibalbá, Yucatán
Leona Vicario, Yucatán
Section 5 Norte:
Station:
Cancún Aeropuerto, Quintana Roo
Puerto Morelos, Quintana Roo
Playa del Carmen, Quintana Roo
Section 5 Sur:
Stations:
Tulum, Quintana Roo Tulum Aeropuerto, Quintana Roo
Stops:
Xcaret, Quintana Roo
Puerto Aventuras, Quintana Roo
Akumal, Quintana Roo
Section 6:
Station:
Felipe Carrillo Puerto, Quintana Roo
Bacalar, Quintana Roo
Chetumal, Quintana Roo
Stops:
Limones, Othón P. Blanco, Quintana Roo
Section 7:
Station:
Xpujil, Campeche
Stops:
Conhuas, Campeche
Centenario, Campeche
*Note: Stations and stops may change due to operational considerations.
For more information visit the official site for the Maya Train Project: https://www.trenmaya.gob.mx/