Hilton Garden Inn Cancun Airport is here!
You heard right! The first hotel located directly at the Cancun Airport is now open! Hilton Garden Inn Cancun Airport is just a walk away from Terminals 2 or 3 and is open to welcome all tourists.
Governor of the State of Quintana Roo, Carlos Joaquín González, inagurated The Hilton Garden Inn last March. The governor highlighted the importance of investing in this destination site and being able to offer more and better spaces for comfortable and safe stays.
"I appreciate the investors and businessmen's trust to give Quintana Roo a chance to keep growing. Without a doubt, you have been making and generating richness that ends up giving a better job opportunity to a great number of local families to increase their incomes", the governor pointed out.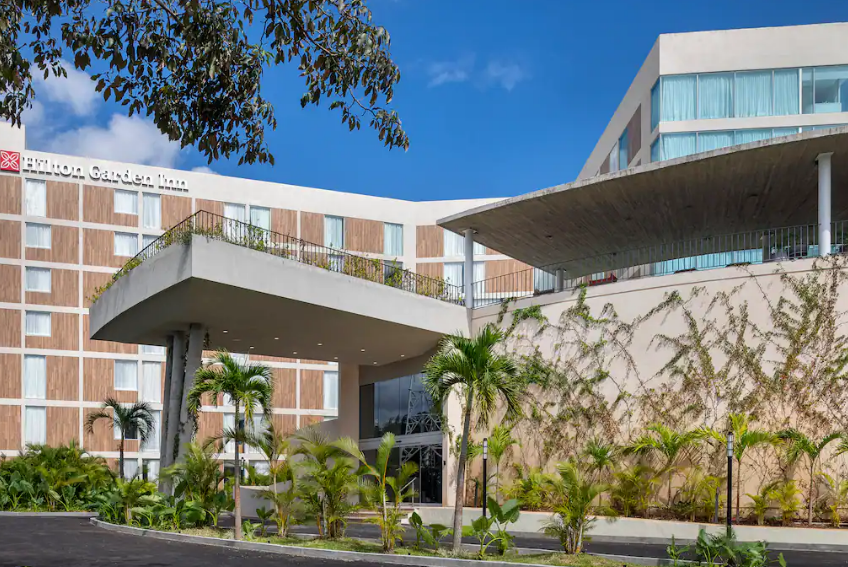 Treat yourself to the Hilton experience. With 186 rooms to offer, an outdoor pool, an open-air restaurant, and more, Hilton Garden Inn Cancun Airport is the first hotel to be connected to the Terminals of the Cancun International Airport. Hilton Garden Inn Cancun Airport generated over 540 jobs during construction and other 100 permanent jobs. This has made Hilton Hotels very satisfied and everyone has been amazed by this huge Hotel brand since it already has over 80 hotels in Mexico.
The location allows guests to easily walk to the Airport or schedule a free shuttle from the hotel to the Terminal. It takes about 5 minutes to drive from the hotel to Terminal 2 of the Cancun Airport. It also has close access to the Cancun-Tulum Highway and Downtown Cancun. Take private transportation and within 20 min, find yourself in the Hotel Zone or ready to take a ferry to Isla Mujeres.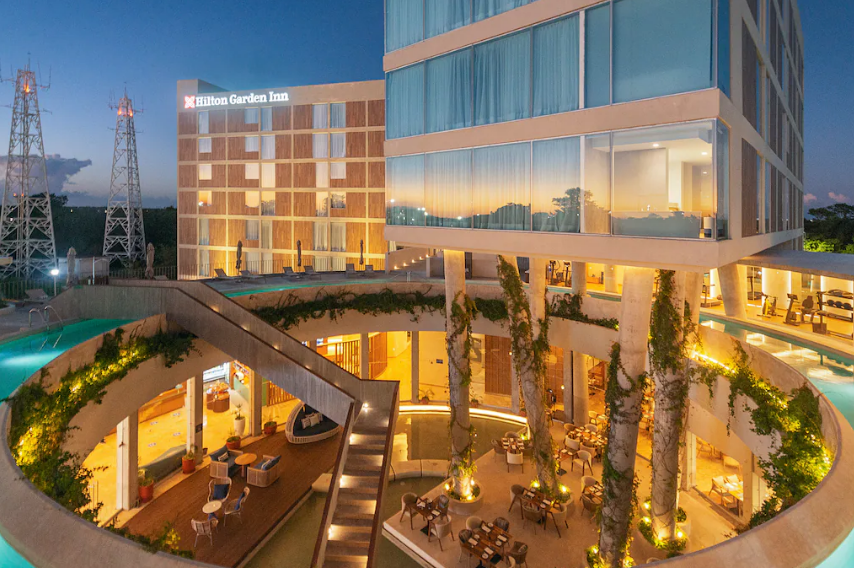 A great new option to stay!
This is hotel is great news for anyone coming on a business trip near the airport. Tourists with connecting flights and visitors, in general, have another option to stay. If you have hours to spare but not enough to get out of the airport, Hilton Garden Inn is a great option for you. You can relax, take a nap and grab a bite in a place that, I assure you, won't feel like the airport at all. Don't worry about running late to take your flight, be close and ready! This hotel is perfect if you are not staying in Cancun and have visited other locations in the Riviera Maya. For example, if you are coming from Playa del Carmen or Isla Mujeres and your flight happens to leave very early in the morning, you can come to Cancun Airport a day before and stay at the Hilton Garden In. Just enjoy its easy access and proximity to one of the busiest International Airports. No more waking up extra early and coming in late. Let the shuttle take your bags and check in to your flight as soon as you want.
Who could ask for more on vacation if you can jump from the pool to the plane in just minutes! This is how you take advantage of every second of your stay in Cancun.
And just so you know more about the Hilton legacy and where's heading… Just at the beginning of last year, the Conrad Tulum Riviera Maya also opened! And by the end of that year, in December 2021 Hilton opened Hilton Cancun All Inclusive Resort with 715 rooms and only 16 km (10 mi) away from the Cancun Airport and 30 km (18.6 mi) away from the Hotel Zone.
The Hilton Hotel is a world-leading company with 18 world-class brands. Together they gathered over 6,700 hotels that sum up more than 1 million rooms in 122 countries. Mexico is their 5th most important one due to the number of visitors and demands it gets.
The Hilton company has announced that by the course of 2022, they'll open Conrad by Hilton with 350 rooms and Hilton Tulum with 750 rooms. All, besides finishing the Waldorf Astoria in Cancun, with other 178 rooms.
On another note, if you happen to be a guest at the Hilton Garden In Cancun Airport go check out our previous entry where we share a few neat places to visit near the Airport.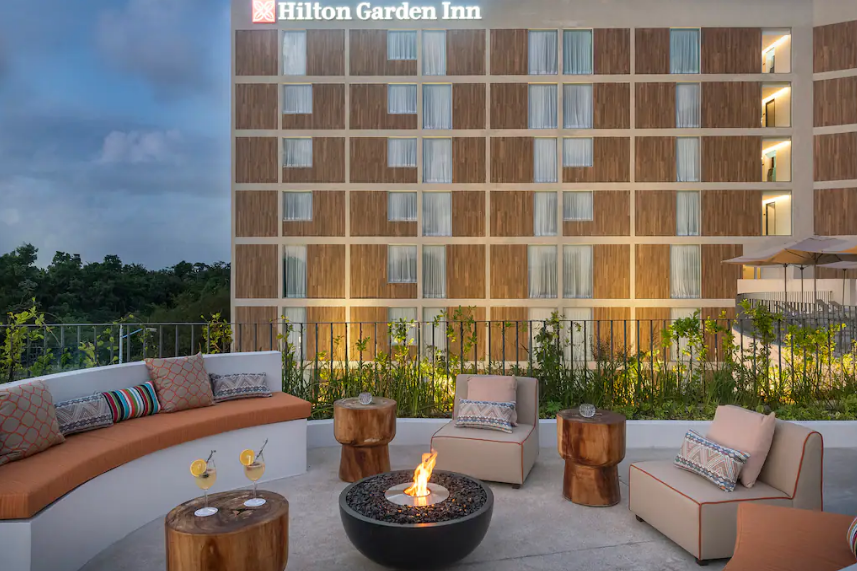 For more information go to Cancun Airport Hotel.