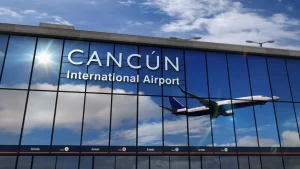 Cancun International Airport, a vibrant hub at the heart of Mexico's Yucatan Peninsula, has not only become the primary gateway for travelers seeking the enchanting beauty of Cancun but has also positioned itself as a thriving nucleus for international tourism. With a remarkable surge in passenger numbers arriving from diverse corners of the globe, this airport has set itself apart as a prominent player in the nation's aviation landscape. As we delve into the airport's dynamic growth story, we'll explore the key drivers behind this meteoric rise and its pivotal role in enhancing connectivity to the captivating destinations of the Riviera Maya, Yucatan, and the surrounding areas.
Cancun International Airport 
Cancun Airport receives a substantial number of international passengers with direct flights to various destinations in the United States, Canada, Europe, and some Latin American countries. 
It's situated 16 kilometers from Hotel Zone's entrance and 20 kilometers from Cancun Downtown. Cancun Airport boasts four well-equipped terminals, providing travelers with multiple options for reaching their hotels, including taxis, Shuttles, Private Transportation, ADO buses, and car rental services.
It makes travel more convenient, whether you're heading to Cancun, the Riviera Maya, Archaeological Sites like Chichen Itza, or cities in the Yucatan Península.
Impressive Tourism Growth at Cancun Airport 
The International Cancun Airport remains the number one with international tourism increasing each year. In the past September, despite being a typically slow tourist season, a remarkable 63 percent of international airport passengers reached their destinations in Cancun. Between January and September, passenger traffic at the airport surged by almost one million compared to the previous year. This growth has led to the expansion of routes, enhancing air connectivity for one of the region's most vital airports, connecting with over 111 cities in the state of Quintana Roo.
In addition, Cancun Airport has a strategic location in the Yucatan Peninsula where there are many popular destinations to visit like Cancun, Playa del Carmen, Tulum, Riviera Maya, and Cenotes located within. 
According to Grupo Aeroportuario del Sureste (ASUR), the Cancun Airport is the leader national level due to its tourist international increase. 
The Maya Train Connection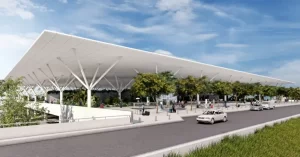 The Maya Train is an ambitious new project with tremendous potential to enhance travel for both tourists and locals in Cancun and the Riviera Maya. Excitingly, the latest update reveals that the Maya Train will be seamlessly integrated with all four terminals at Cancun Airport, greatly expanding the transportation options available to passengers.
The Maya Train could be finished on December 1st this year. 
Conclusion
The growth story of Cancun Airport is nothing short of remarkable. Even during the traditionally slow tourism month of September, it defied expectations, with 63 percent of international passengers reaching their coveted Cancun destination. This international hub, positioned strategically on the Yucatan Peninsula, serves as the anchor for travelers exploring not just Cancun but the entire Riviera Maya. With the rapidly progressing Maya Train project, set to interconnect with Cancun Airport's four terminals, the future is brimming with exciting transportation possibilities. This initiative, slated for completion by December 1st this year, promises not only ease of travel but also a new era of tourism exploration in Cancun and the Riviera Maya. It's evident that Cancun Airport is not just a point of arrival; it's a conduit to the boundless beauty and adventure that this region holds, cementing its position as a national leader in international tourism.