Grupo Xcaret is an enterprise in Cancun and Riviera Maya which founded Xcaret, Xel-Ha, and many more eco-parks in the Mexican Caribbean area; it also founded Xailing: the Xcaret Ferry services.
After several years providing amazing experiences for tourists coming to Cancun, Grupo Xcaret announced its launch of ferry services from Cancun to Isla Mujeres and vice-versa. They named the ferry project Xailing, following their custom of naming their brands with an X at the start of the name.
Xcaret Xailing is another way to get by ferry from Isla Mujeres to Cancun and vice-versa. The boats are modern, have open areas and air-conditioned cabins so the trip is as comfortable as possible. Ferries arrive at Embarcadero Isla Mujeres by Xcaret, right in the middle of Cancun Hotel Zone (km 4.5). From Cancun Hotel Zone, tourists are able to reach both Cancun Downtown and a wide range of hotels suiting all tastes.
The way to obtain ferry tickets is actually easy. Travelers would just have to choose trip dates and voila. Crossing to Isla Mujeres with modernity was never so easy!
What's included in the ferry ticket purchase?
Once you get your tickets, you get access to several services and amenities offered by Grupo Xcaret and Xcaret Xailing. These are:
Sea transfer (single or round-trip ticket).
Round trip tickets paid based on the tourist rate give free access to the Scenic Tower of Cancun.
Open WiFi.
Restrooms usage.
Seats and spaces specially designed for wheelchair users, pregnant women, and elder travelers.
Baggage pieces storing area.
Traveler insurance.
Pet-friendly area.
What's recommended when using Xcaret Xailing services?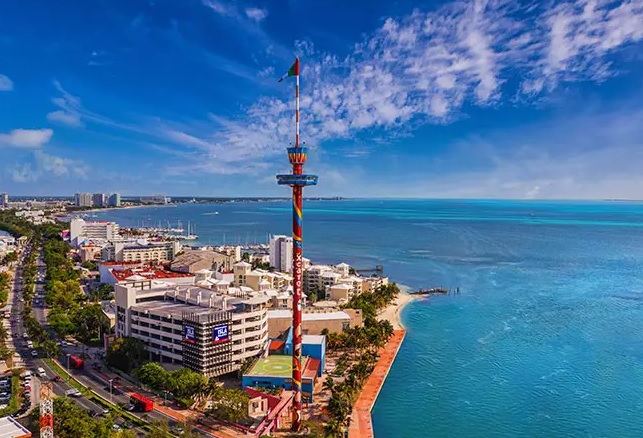 Like with most services out there, there is a list of recommendations so you can get the most out of your purchase and a worry-free experience can be guaranteed:
Ferries have restricted areas, which are for staff only. While you stay off the limits, no scold nor advice will cause any problem.
Remain on your seat unless it's necessary to stand up.
Be ready at the boarding area before your departure time. It's a good practice to arrive with enough time so you can check any luggage piece(s) if necessary.
If you prefer to be in the air-conditioned cabin, avoid being wet or full of sand. Else, you'll be asked to use the open-air area.
Bring your proof of purchase printed on undamaged paper.
Wear comfy clothes, a cap, and biodegradable sunscreen.
Show up at least 30 min before boarding time. Bear in mind that spaces are subject to availability (FIFO mechanism).
Under-age users must travel with an adult. (+18 YO)
Extra info
As Xcaret Xailing is subject to maritime authorities and laws, it must follow certain regulations, such as:
If there is bad weather, authorities, via the Port Captaincy, will tell if it's safe to navigate.
It's mandatory that minors are accompanied by an adult so they can use the service.
All crew instructions and guidelines must be followed for individual and family safety purposes.
In case you booked the transportation, confirm the pick-up (and/or drop-off) time and place.
Ferry tickets are valid 6 months from the chosen date, in case any change is needed.
Cancun Scenic Tower
The Scenic Tower stands on Embarcadero Isla Mujeres by Xcaret, placed at km 4.5 of Cancun Hotel Zone. It's a beautiful experience. The capsule will take you 80m up high doing 360° rotations so you can enjoy amazing Caribbean Sea and Nichupté lagoon views, so as the beautiful beaches of Cancun from the heights.
Its great location allows users to look at Isla Mujeres, off the coast of Cancun, contemplate the turquoise shades of waters, and the mangrove area in the lagoon. A perfect place to get impressive pictures and enjoy an unforgettable experience.
What can you see at Cancun Scenic Tower?
Cancun Scenic Tower offers an incredible panoramic view from the heights of the best beach destination in Latin America. In a slow move, get 360° views of Cancun Hotel Zone and the green and turquoise tones of the nearby water bodies.
Access included
A great thing to know is that access to Cancun Scenic Tower is included when purchasing ferry ticket at Xcaret Xailing with the tourist rate.
Ready to try Xcaret ferry services?
For more information, visit: Xailing