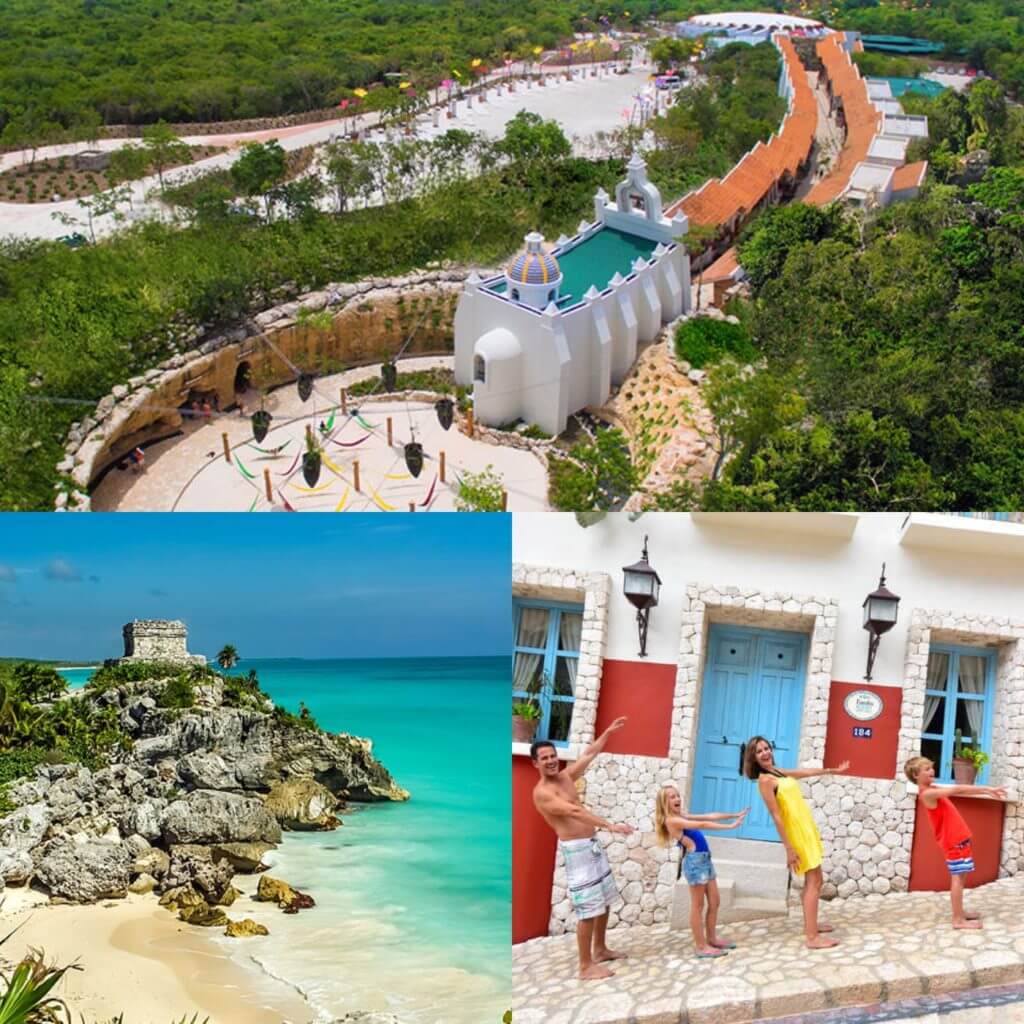 Tulum Xenses Tour
 Tulum & Xenses Park! the best match for your next trip to the Riviera Maya. In addition to exploring an ancient Mayan city, you will enjoy stunning visual, auditory, olfactory, and tactile stimuli in an extraordinary park. This is an unforgettable experience in the Riviera Maya.
Come visit the mystical Mayan city of Tulum, admire its prehispanic buildings and its unbeatable location, on the shore of the Caribbean Sea. Later you will attend a feast for your body and mind at Xenses Park, where you will enjoy more than a dozen of attractions that will challenge the way you perceive reality.
Entering Xenses is like experiencing daydreaming: here you can fly like a bird, cross a river of mud that will cover you from head to toe, take a relaxing break while you feel the rain on your face, and walk through passages filled with optical illusions, fanciful shapes and colors which when combined will alter your perception of space and dimensions.
Duration: 7 hours                Available: Mon, Tue, Wed, Thu, Fri, Sat
Included
Admission to Tulum
Guided tour of Tulum
Admission to Xenses Park
Five-hour experience with activities and optical illusions that will challenge your senses
Xensatorium area
Sensorial area
Use of lockers, restrooms and showers at the park
Round-trip transportation
Not Included
Any food or beverages
Photo or video services
Handicrafts, clothes or souvenirs
Extra Info
Some activities are not recommended for persons with heart problems, fear of heights, claustrophobia, those who get dizzy easily, persons with recent surgeries, back pain or who weigh more than 300 lbs. The zip-lines have a minimum height requirement of 4.5 ft and a minimum weight requirement of 88 lbs. Some activities are not recommended for pregnant women.
Children under 5 years old have free admission
Children 5 - 11 years old get half off the adult ticket price. An official ID must be presented at the park's ticket booths. In case the parents fail to show an official ID, the rate for children will be applied only to those kids who are between 3 and 4.5 ft high
Some activities include water areas with a depth between 3.6 and 4.2 ft. For these activities, children under 4.2 ft tall who can't swim must be accompanied by their parents at all times
The activity that involves a zip line is recommended for children 5 years and older, since the harness must fit properly
Suggestions
Wear comfortable clothing, a swimsuit, and water shoes
Bring an extra change of clothes and a towel
Your sunscreen lotion & insect repellent must be free of the following chemicals to be used in Xenses: benzophenone, etilhexil, homosalate, octyl methoxycinnamate, octyl salicylate, octinoxate, oxybenzone, butyl methoxydibenzoylmethane (sunscreen & insect repellent free of all these chemicals can be bought at the park)
Remember to bring cash or a credit card to purchase souvenirs or snacks
Visitors with a disability should always be accompanied by a family member or friend that can assist them at all times