Cancun Airport >> Destinations >> Puerto Aventuras >> Puerto Aventuras Travel Guide
Puerto Aventuras Is one of the most important areas in terms of tourist development in the Riviera Maya, as it consists of 3 main bays: Fatima, Chan Yu Yum, and Chac Hal Al; in which you could do all kinds of activities such as swimming with dolphins, visiting sea lions, observing different species of birds, marine fauna, snorkeling, paddle surfing, Jet-Ski and water skiing, and many others.
It has an excellent location with easy access to other popular places within the area such as Xcaret, Xel-há, Playa del Carmen, Tankah, and Xpuha.
Traveling from Cancun Airport to Puerto Aventuras, the estimated time is 59min (76.1 km) and 15 min from Playa del Carmen
Beaches 
Fatima Bay
This beach is undoubtedly listed as one of the best within the Mayan Riviera, The wide diversity of marine life adds an element of discovery and adventure to essential vacation activities, such as swimming, diving or fishing sports.
Chac Hal  Y Chan Yu Yum
This place has become one of the main attractions coming to Puerto Aventuras. A top destination for diving, snorkeling, and kayaking.
To the north of the beach, you will find a rocky area and a cove where you have the possibility to appreciate a large amount of fish that live there. This same cove also connects with the impressive "Cenote Manatí", one of the most important in the region.
It has a beach club which you can access with an access fee of 500 pesos per person (refundable) for the minimum consumption of 200 pesos.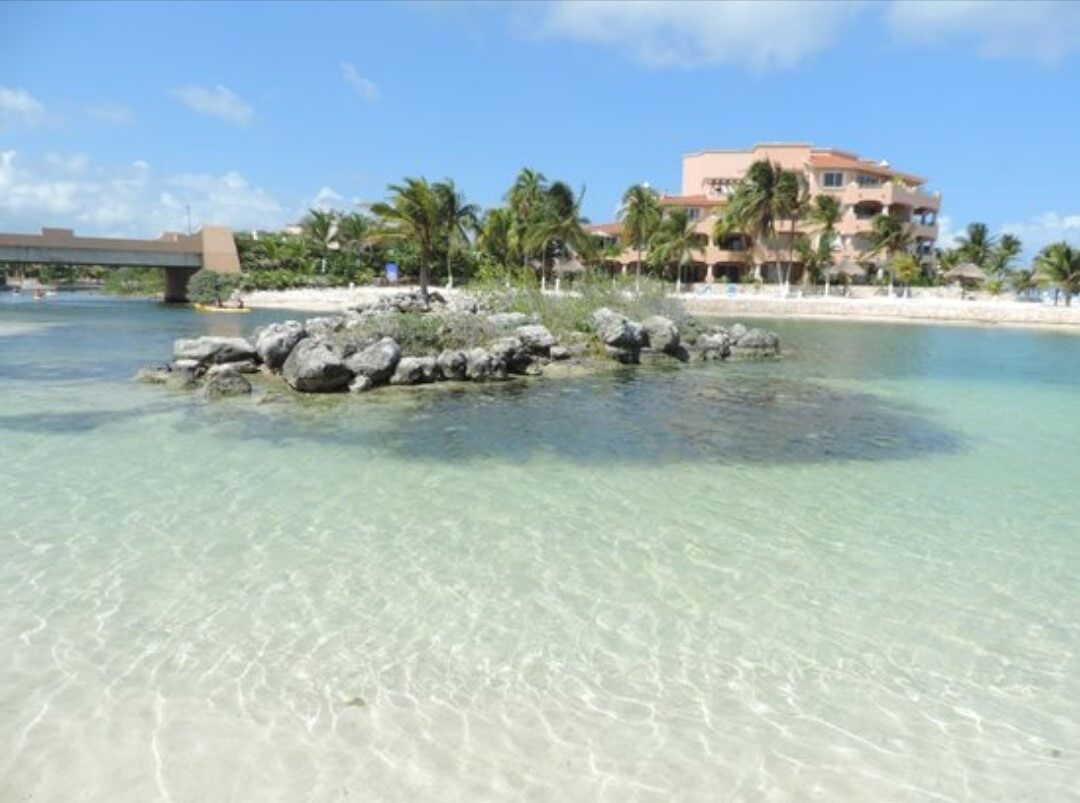 Blue Cenote
It is located in the Riviera Maya, Quintana Roo, Mexico. Located 3 Km from Puerto Aventuras. The special thing about the Blue Cenote is the fact that it is open, which means it is not in a cave and is more shallow in places than other cenotes. It has amazing crystal clear waters and it's surrounded by the jungle. This is the perfect location to have a refreshing day near to Puerto Aventuras.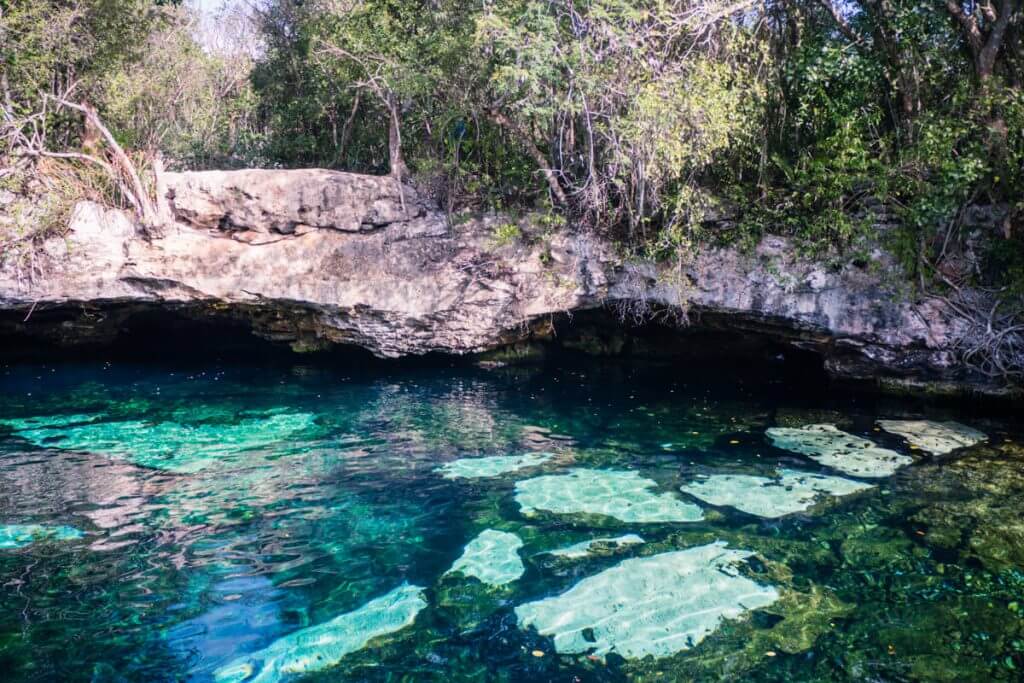 Some rules to follow:
Use biodegradable repellent and sunscreen
No smoking allowed in the cenote
Deposit the trash in the boats
Do not introduce alcoholic beverages
Pets are not allowed
Manatee Cenote
It is a magical place where you can dive and snorkel, it is called Cenote Manati since it was previously the place of many of them. You should definitely visit this place, is full of nature and fantastic turquoise waters.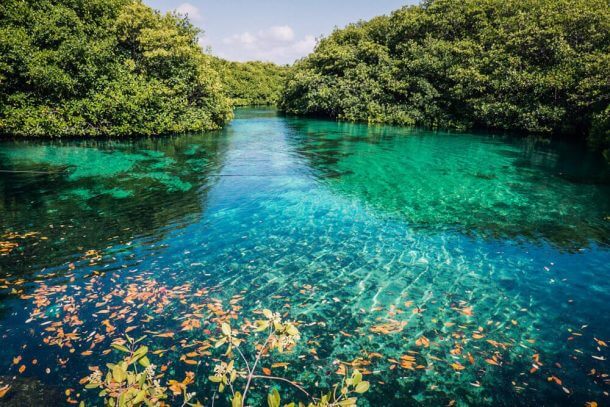 Kantun Chi
It is an ecological park with 5 incredible cenotes and a wonderful underground river located in Riviera Maya, Mexico. You can enjoy an unparalleled experience by enveloping all your senses by exploring its majestic crystal clear waters; Let yourself be carried away by the tranquility, mystery, and beauty of the jungle that surrounds this magical place.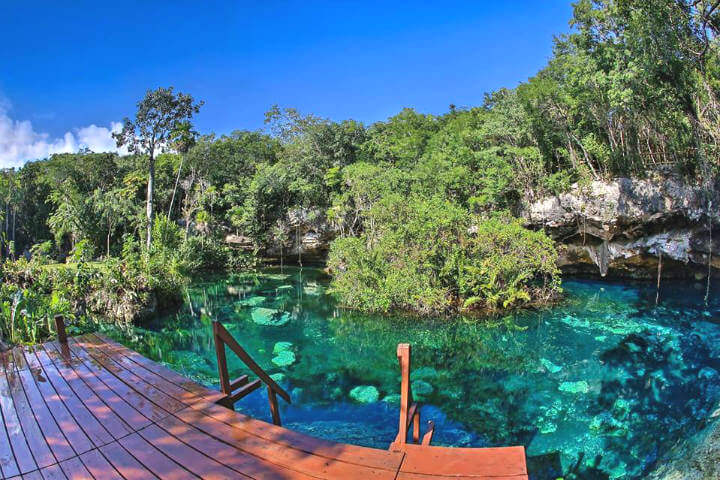 Best Restaurants
La Palapa de Marlon
It is known as the best place in Puerto Aventuras to have breakfast, as it is a good option to combine it with activities at the Dolphin Discovery Center. The restaurant is located in the marina and offers a view of the boats that enter and exit, as well as the dolphin shows.
Specialties: Octopus to the devil, ceviches, fishmongers, shrimp shake.
Makito Fusion
This restaurant is characterized by the fusion of different cultures creating a unique experience of traditional Thai and Japanese food.
It is located in Puerto Aventuras a few steps from the jetty offering spectacular views.
Japanese, Seafood, Sushi, Asian, Thai
Suitable for vegetarians, Vegan options, Gluten-free options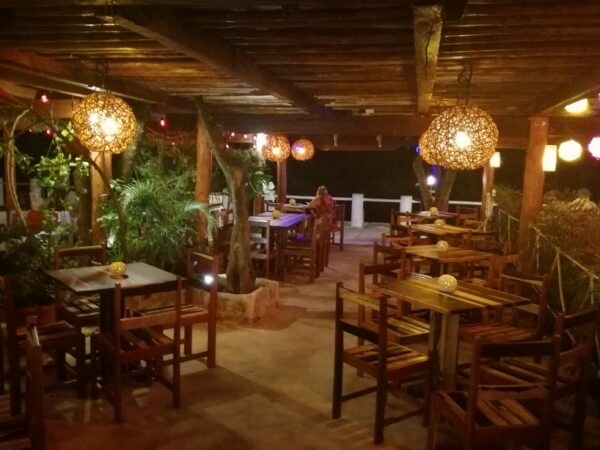 Hippos Marina Lounge
It offers a wide variety of breakfast, lunch, and dinner favorites, from Eggs Benny to Shrimps Diablo prepared next to your table. Each meal is created from scratch with only the freshest and highest quality ingredients from bread and pasta along with weekly specials such as Paella, Baby Back Ribs.
Location: Calle Bahía Xcacel, Marina Shopping Center, Puerto Aventuras 77733 Mexico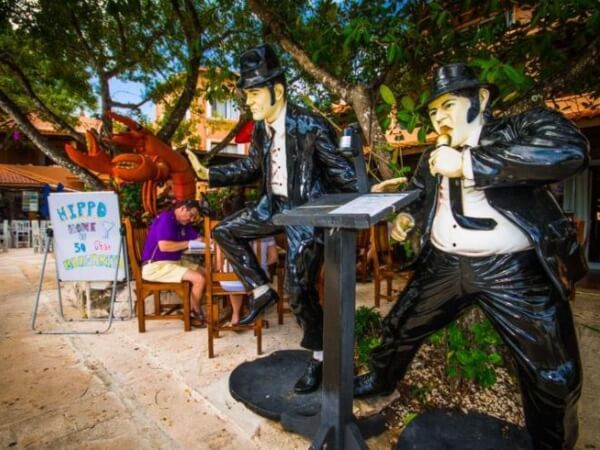 Bars
Latitude 20
Latitude 20, a waterfront Bar-restaurant in Puerto Aventuras is centrally located in the center of some of the best and most popular resort properties in the marina village of Puerto Aventuras, Mexico. The food at Latitude 20 prepared by co-owner Danny Sanvincent, is amazing with the garlic shrimp, jerk chicken, guacamole, and chips and chicken quesadilla favorites among most visitors. The food is prepared with fresh ingredients and served hot by the friendly staff.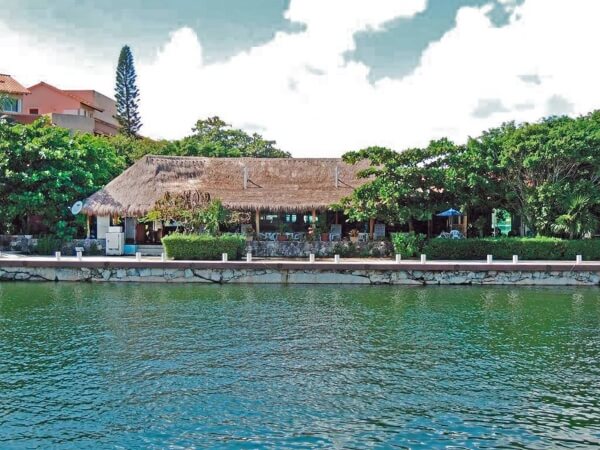 The Pub
Sit outside under the umbrellas overlooking the marina and enjoy the unique selections and fun atmosphere that you'd expect from a British beer joint at The Pub in Puerto Aventuras. The restaurant is known for its excellent service and is ideal for all occasions, serving up a large, eclectic menu with ice-cold beer, wine, and liquor, along with a few authentic British pub fare favorite
Hotels in Puerto Aventuras
Hard Rock Hotel Riviera Maya
This amazing hotel has 1, 264 rooms exclusively for adults. For its modernity and unique style, it is considered one of the 5-star hotels and Gran Turismo within Puerto Aventuras, during your stay you can enjoy the different amenities that the resort has, as well as the incredible culinary experiences offered you in the 9 restaurants and the best first-class cocktails.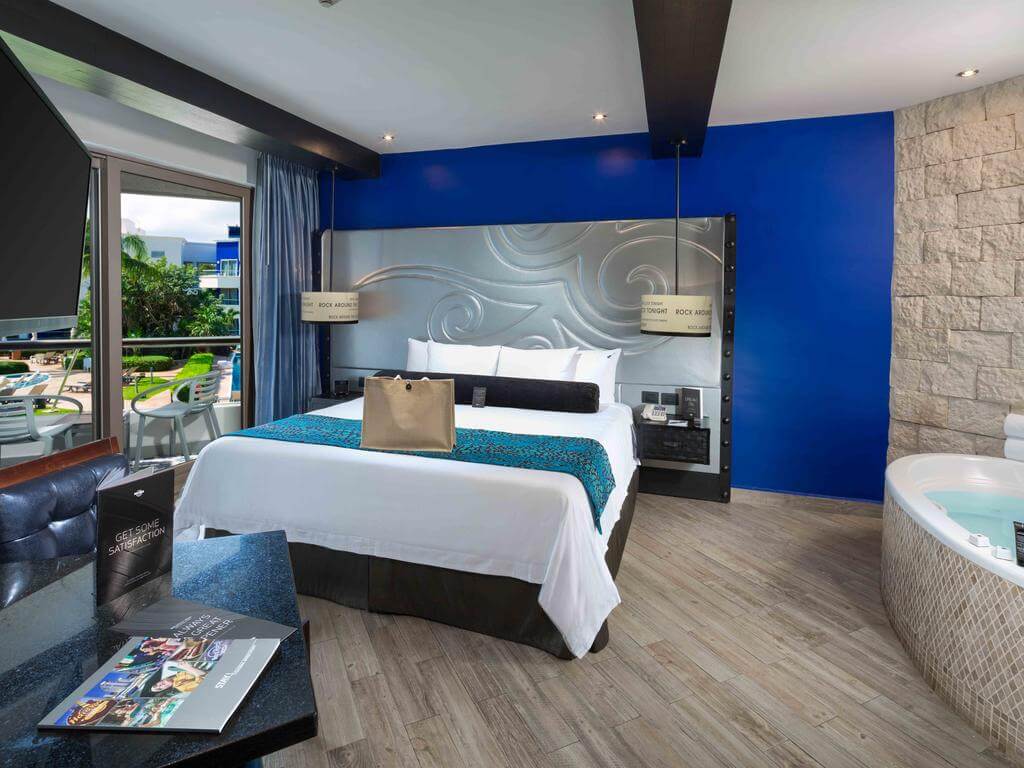 Catalonia Yucatan Beach
The hotel has 472 rooms that are distinguished by their Caribbean decoration and spaciousness, as well as having the best views of the port; it is located in one of the most central and touristic areas of Puerto Aventuras, where you can find a marina for yachts, golf courses, typical restaurants of the region, treasure markets among other things.
Another thing you can't do is the 7 restaurants that the resort has being all haute cuisine, bars, nightclubs, sports activities, kids club and daytime and evening entertainment.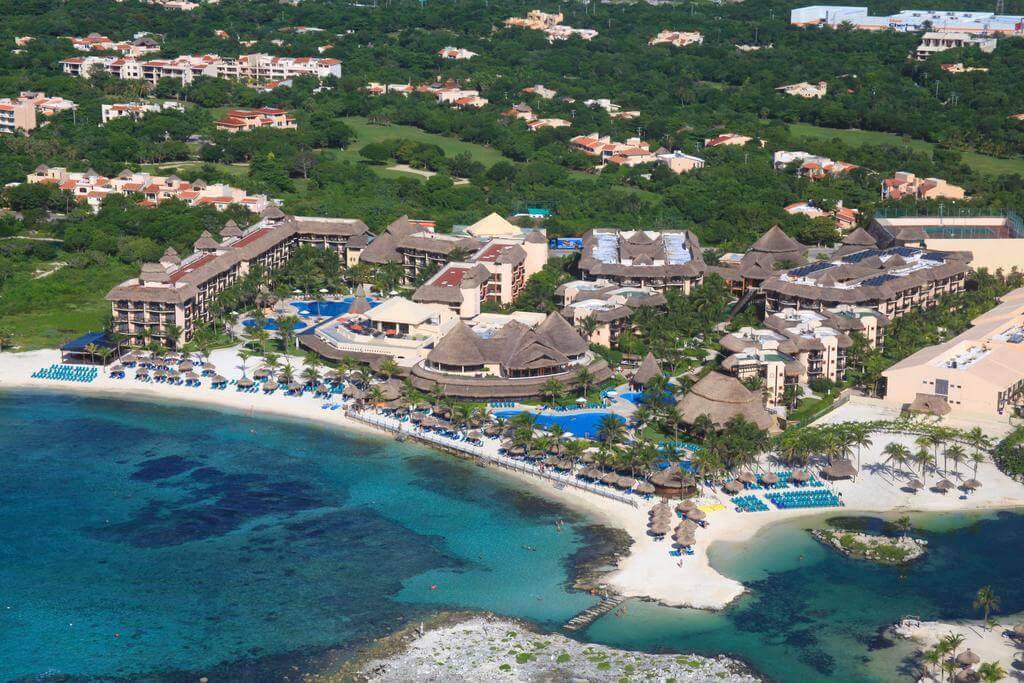 Transfer Time: traveling from Cancun Airport to Catalonia Yucatan Beach the estimated time is 1h (77.2km).
Barcelo Maya Palace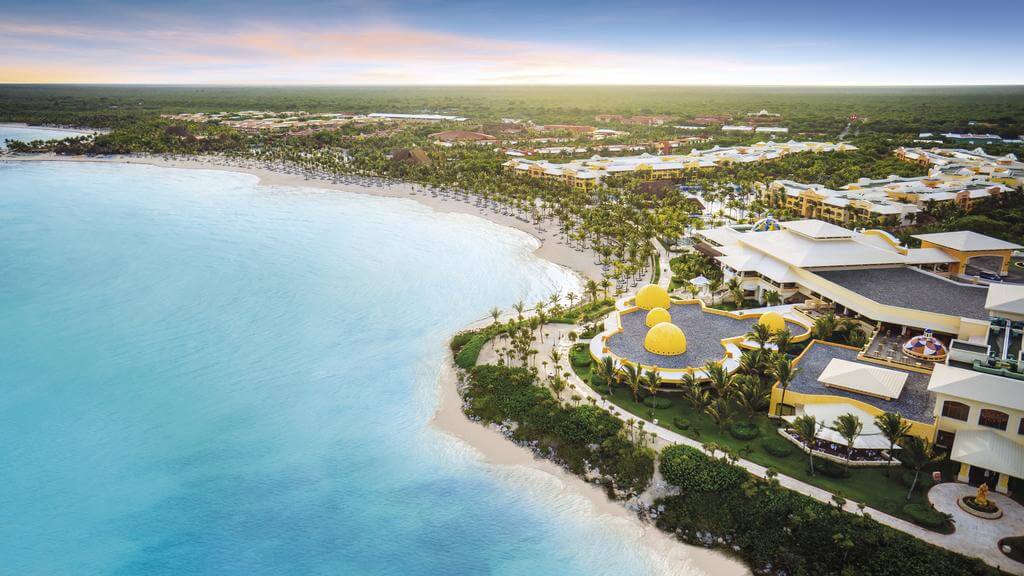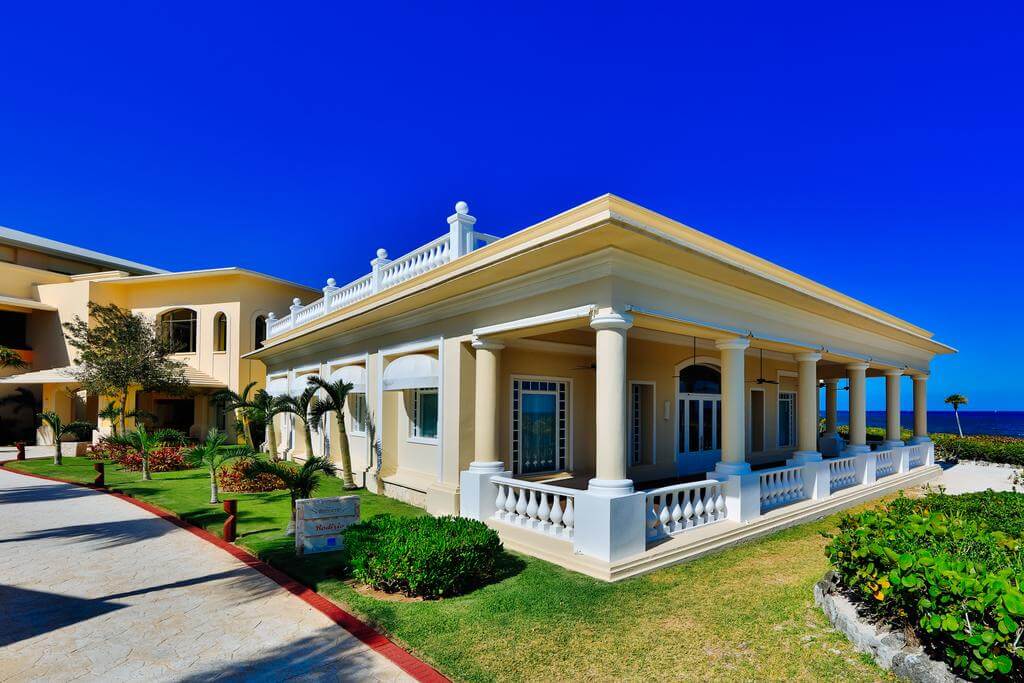 It is located in one of the most exclusive bays of Puerto Aventuras. This adults-only hotel has an authentic Mexican touch in terms of its design and architecture. All of its rooms are Junior Suites or Suites which are equipped, have 3 exclusive swimming pools, one for adults, and the other with a water park. The resort offers a wide and varied gastronomic offer including 2 buffet restaurants with the international and national food and 3 great a la carte restaurants and a grill.
From Cancun Airport to Barcelo Maya Palace s it is 1h 7min (84.5 km)
B&B Mom's House
B&B Mom's House is just 150 meters from Puerto Aventuras Beach and a 10-minute walk from the marina. It has a huge garden and swimming pool. A free American breakfast is served each morning.
It has various facilities such as Free Parking, Air Conditioning
Sun terrace Outdoor pool (all year) Outdoor pool Area TV / shared lounge Diving, Golf course (within 3 km) Fishing deck Outdoor pool, Snorkeling.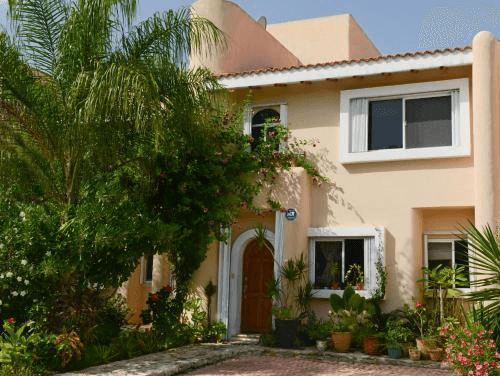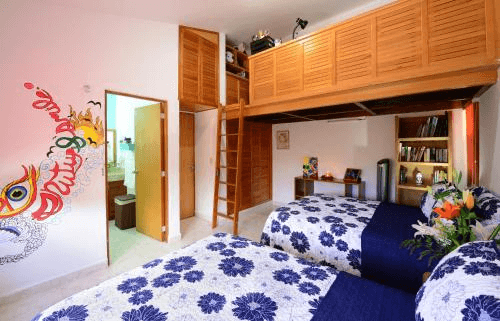 Puerto Aventuras - Coral Maya Condo Hotel
This hotel is located in one of the best locations in Puerto Aventuras as it has different facilities for you to enjoy outdoor activities. This spacious apartment features air-conditioned bedrooms, a bathroom with shower, a spacious living area, a dining area, and a kitchen and a patio. The kitchenette includes kitchenware, a gas stove, an oven, a microwave, a refrigerator, and a coffee machine. Dishwashing services are available.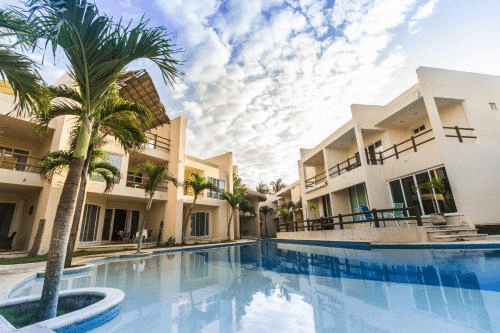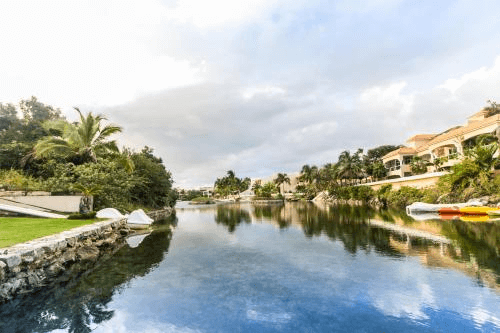 Villas Picalu B&B Boutique
Villas Picalu B&B Boutique is located in one of the best areas of Puerto Aventuras, and just 15 minutes from Playa del Carmen. It offers its guests many amenities and attractions including restaurants, shops, a dolphinarium, as well as different free tickets to the beach to relax and snorkel or fish.