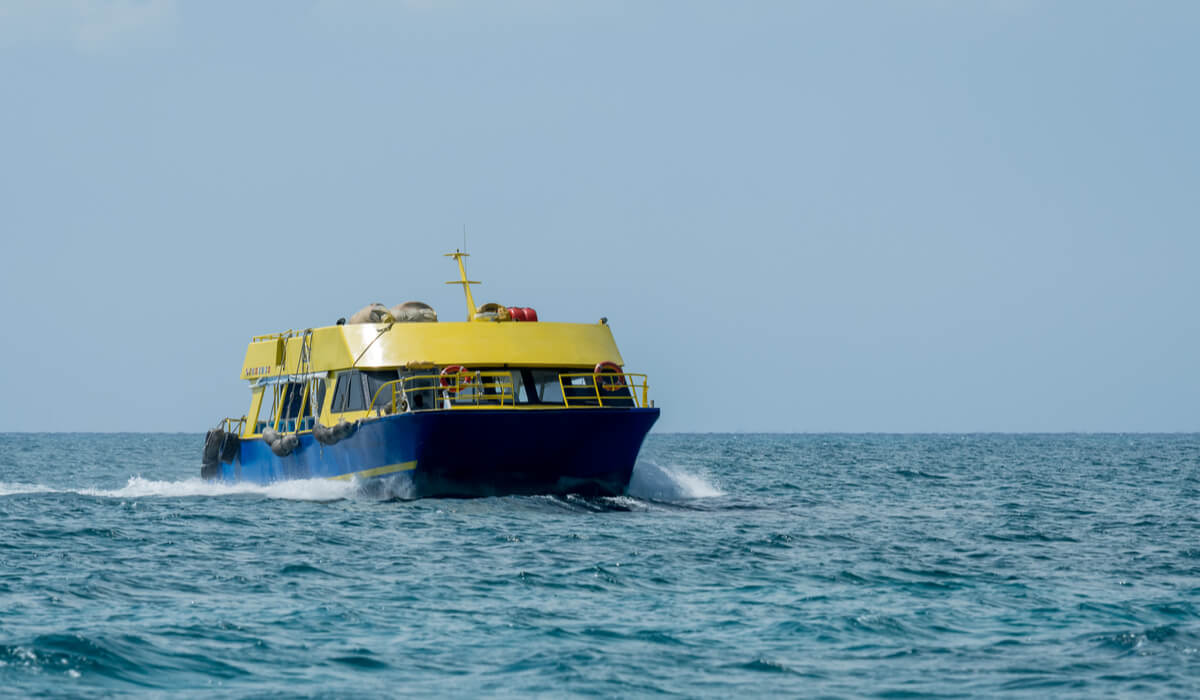 Ground & sea transportation to Cozumel
You won't have to worry about transportation in this Tour. Find the best price for an amazing travel experience.
Discover everything this wonderful Caribbean island has to offer! Besides the ferry from Playa del Carmen to Cozumel, this Tour includes ground transportation from Cancun and the Riviera Maya to the ferry terminal in Playa del Carmen.
The Cozumel ferry takes about 45 minutes to get from Playa del Carmen, time you can use to take a nap or to decide what Cozumel tours you want to do. There is an air-conditioned area or you can go upstairs to the open air deck to enjoy the breeze and the spectacular view of the Caribbean Sea.
There are many activities to do in Cozumel, it has a wide variety of reefs that you can't miss!
Duration: All day   Available: Mon, Tue, Wed, Thu, Fri, Sat
Included
Round trip ground transportation from your hotel (or meeting point) to the ferry terminal in Playa del Carmen and back in an air-conditioned van
Round trip maritime transportation from the ferry terminal in Playa del Carmen to Cozumel and back in a ferry with an air-conditioned area and an open-air deck
Not Included
Any beverages
Any kind of food
Tours and activities in Cozumel
Ground transportation in Cozumel
Photo or video services
Souvenirs, handicrafts, clothes, etc.
Any other product or service not mentioned on the inclusions list
Tips
Extra Info
Your pick-up schedule is sent by email after booking
Pick-ups start at 7:00 depending on the location of your hotel or meeting point
For travelers staying in some hotels in Cancun the meeting point is Plaza La Fiesta Cancun, in the Hotel Zone. Please reach us by dialing the toll-free number shown on our home page to know if the pick up service is available at your hotel or if you have to go to a meeting point, and also to know the location of such meeting point (make sure to call in advance)
Important: We will not take you back to your hotel if you're staying in a property located past Playa del Carmen (coming from Cancun), in Riviera Maya. Your pick-up & drop-off services will not be at the hotel lobby but at our meeting point in Plaza Antigua, on Avenida 10 Sur in Playa del Carmen, almost at the entrance to Playacar.
Children under 5 years old travel free
Children from 5 to 10 years old pay a special rate
Suggestions
Bring enough cash and a credit or debit card since you have to buy food and drinks throughout the day, and pay for ground transportation and other services in Cozumel
Bring a towel and a bathing suit
Bring your own snorkeling gear (you can rent it in the island, too)
Do not bring heavy backpacks
Wear comfortable clothes, shoes or sandals, and sunglasses
Wear a cap or a hat
Remember to use biodegradable sunscreen
Bring your camera
Kids should be supervised at all times