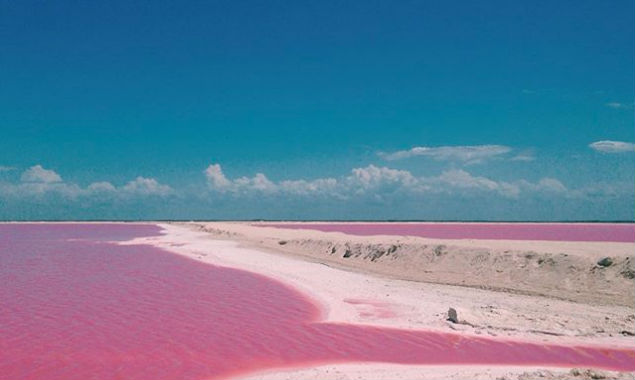 Las Coloradas Yucatan
Yucatan is near Cancun and it offers amazing landscapes and wonderful activities to do. This Yucatan day trip from Cancun brings you the very best of nature, history, and culture in one incredible excursion. You'll explore the famous pink lakes of Las Coloradas, Yucatan, the rosy glow against the blue sky is something extraordinary to witness. The Rio Lagartos Biosphere Tour brings you into the heart of the mangrove in a boat ride for bird watching and crocodile spotting, the flamingos running on water is sure to delight!
After a delicious lunch, you'll explore the Mayan ruins of Ek Balam, one of the best-preserved sites in all of Yucatan. Climb the Acropolis for incredible views from the top and marvel at the pristine carvings and artwork that has stood the test of time.
Duration: All day      Available: Tue, Thu, Sun
Included
Bilingual guide
Round trip transportation
Box Lunch
Lunch
Guided Tour of Las Coloradas and Rio Lagartos
Free time in Ek Balam
Not Included
Any other activities in Cancun or Yucatan
Souvenirs, handicrafts, clothes, or any other product or service not mentioned on the inclusions list
Tips
Beverages
$5 USD fee for nature reserve conservation to be paid in cash
$5 USD docking fee to be paid in cash
Extra Info
Your pick-up schedule and more details will be sent by email after completing the booking process
Suggestions
Wear comfortable beachwear, water shoes and closed-toe shoes
Bring an extra set of clothes, a bathing suit and a towel
Your sunscreen and/or insect repellent should be 100% biodegradable
Bring a credit or debit card and some cash to pay for any other service not mentioned on the inclusions list