Cancun is a perfect place for you to renew your vows. It is one of the most attractive destinations for romantic getaways anyway. With miles of unspoiled white beaches, turquoise water, rich nightlife, luxury resorts, and fantastic nature, everyone visiting here instantly wishes never to go back. Another great thing that makes this place ideal for renewing your vows is its romantic properties for all budgets.
So, if you and your partner plan to renew your wedding vows in Cancun, this article will tell you why it's the perfect place for such an occasion. Additionally, we'll share some of the best resorts in the area to help you and your partner tailor your upcoming big day. After our article, you'll only have to book your stay and transportation to one of its gorgeous resorts.
Cancun is a perfect place for you to renew your vows – Why?
The thought of renewing the vows with your spouse must be filling you with excitement. You two represent such a significant change in the modern world, as divorce rates are higher than ever. So, it would be best to plan and make this experience a magical one.
And, who knows? After you've experienced this fantastic Caribbean Sea location, you might decide to move to Mexico. You might immediately start looking for international movers, leave your US home and stay in Mexico for good. Trust us. You wouldn't be the first ones. So many people who came here for tourist reasons got enchanted by Cancun's environment and way of life!
The reasons why Cancun is a fantastic place to renew your vows
So, what are the concrete reasons Cancun is perfect for vow renewals, honeymooners, babymoons, and all kinds of romantic trips?
Entertainment

– This destination boasts a rich culture and history. Ensure you don't miss the city's jewel – the

Maya Museum of Cancun.
White sandy beaches – The dazzling turquoise waters and unspoiled white sand beaches

are features that speak for themselves.

Relaxation –

The hotels with

different couple packages, romantic restaurant settings and beaches, and lounging all day long

are some of the features that make Cancun the perfect location to renew your vows. On top of that, it's good to know that Cancun is quite affordable and offers

packages that suit everyone's wallet

.

Things to do –

With the Nichupte lagoon, the ocean, and the sea, numerous water activities primarily attract most visitors. Additionally, different tours offer

snorkeling

or simply enjoying and

dancing on a catamaran

. If you are a private couple, you can book

a private tour of the Caribbean Sea

. On the other hand, you can always try

sailing, windsurfing, or even kite surfing if you like to push your limits

.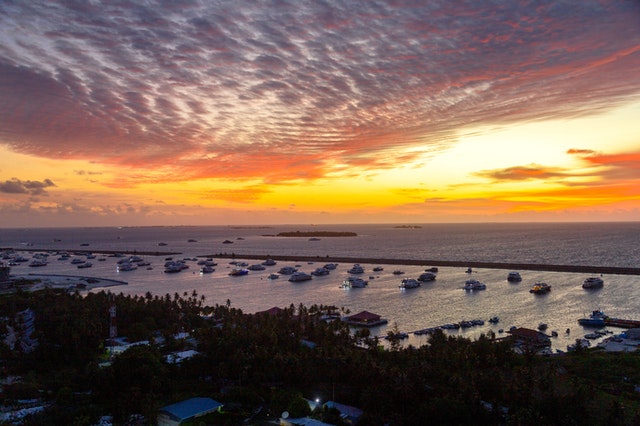 Healthy food –

If you wish to experience the "real" Cancun, we recommend visiting

Market 28

. There you'll find some delicious

Yucatecan food, seafood, and snacks

. Also, you'll be able to order some

traditional dishes

in the area.

Nightlife –

At least one night of partying is a must when visiting Cancun.

Congo Bar, Palazzo, Mandala, The City, and Coco Bongo are the most popular clubs.
Shopping –

Make sure to visit the

Puerto Cancun Marina Town Center.

Besides many Mexican and international brands and restaurants, the center is surrounded by nature, a marina, and a golf course. Additionally,

La Isla Shopping Village

is an outdoor mall with a small canal leading to the lagoon and has many exclusive shops.
Where to stay in Cancun when renewing your wedding vows?
Even though we are still in a global pandemic phase, people have found ways to stay safe during their flights and travels. So, a crucial thing for your vow renewal experience is your stay. However, Cancun has numerous incredible options for hotels and resorts, so it might be challenging to choose.
Before you start searching for the right one, ask yourself these questions.
Are you looking for luxurious pampering while keeping your romance secluded?
Are you and your spouse adventure-seeking individuals who want to experience an epic journey?
Do you love experiencing the unique nightlife and going shopping?
You'll know what type of experience you want by answering these questions. Therefore, this will make it easier to choose one of the many couple packages Cancun resorts offer.
To give you a better idea of what to expect, here are the most popular options perfect for renewing your vows and enjoying yourself with your spouse.
Breathless Riviera and Hotel Spa
This resort is adult-only and offers numerous possibilities. It has three pristine pools that each offer different experiences. With that said, you'll be able to relax on days you feel lonely and enjoy pool parties when you feel more outgoing.
This is the perfect option for couples who seek complete relaxation and don't wish to explore further. The Breathless Riviera has it all: spa packages, fine dining, shops, live entertainment, tequila tastings, and social activities. Not to mention the oceanfront adds to the perfect resort vibe.
Le Blanc Spa Resort
This option is perfect for couples who wish to have some alone time. Their best features are in-room aromatherapy and bath salts, as well as their Royale Honeymoon Oceanfront, which is a beautiful romantic sanctuary overlooking the ocean.
This resort will make it easy for you to focus on vow renewal and indulge in romance. The reason for this is the perfect accommodation, variety of amenities, and helpful butlers.
Paradisus Cancun Resort
The ultimate place to renew your vows. This resort specializes in making your experience romantic and magical. With the array of services, butler service, and access to private areas in the hotel, we can agree that Paradisus Resort has your romance covered.
The most popular feature they offer is the Oriental Garden, where couples can enjoy a relaxing atmosphere and exotic spa treatments. They also provide Royal Service with numerous exceptional amenities.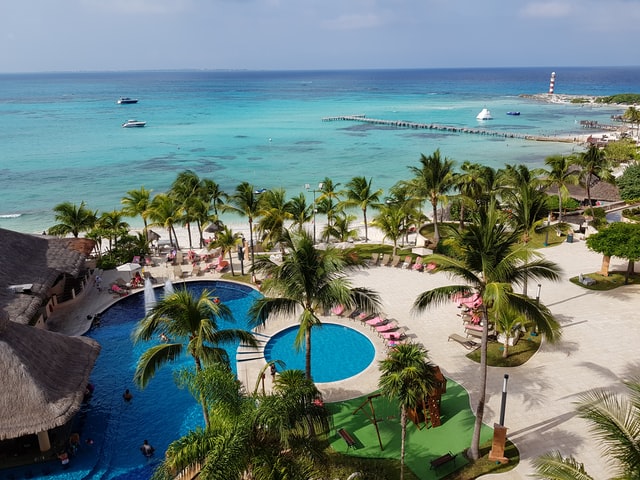 Final thoughts on why you should renew your vows in Cancun
As you can see, there are many reasons why Cancun is a perfect place for you to renew your vows. It is the place many tourists have fallen in love with. But you have to do your research. Use our questions to decide what type of experience you want as a starting point to help you get to the Cancun airport and start your vow renewal journey the right way!