Cancun Airport is Recovering after reopening – Cancun and the Mexican Caribbean are now in the new normal, after one month of the officially reopen; things are getting better for this destination. According to the ASUR report, the Cancun Airport closed the week of July 29 to 5 with 853 flights.
Some of the flights were from Fort Lauderdale, Los Angeles, Denver, Salt Lake City, Montreal, Chicago, Baltimore, Charlotte, Nueva York, Miami, Atlanta, Houston y Dallas. American Airlines, Delta, United Airlines, Sun Country, Spirit, JetBlue y Southwest Airlines are some of the airlines operating those flights.
Concerning domestic flights, some airlines are also recovering operations, such as VivaAerobus Airlines. This month it will have 88 national and international routes. Cancun is in those routes connecting with Ciudad de México, Guadalajara, Guanajuato, Monterrey, Puebla, Querétaro, and more.
Cancun Airport is implementing all the sanitary protocols, and working to avoid the spread of the virus. The Airport is strictly following all the measures if you haven't checked the video about that go to our home page here.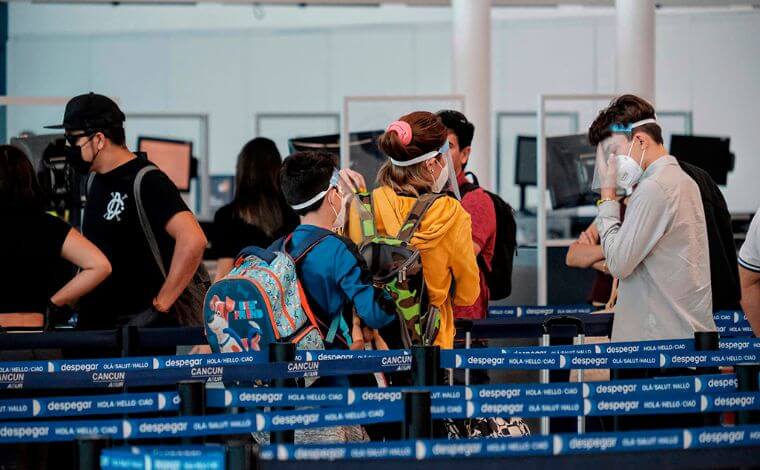 Cancun and Riviera Maya Tourism
Although the hotels have opened at 30% of their capacity and the average occupancy remains below 20%. Cancun has already received nearly 70,000 tourists in less than a month of economic revival.
Currently, around 13,000 visitors remain in the 120 hotels that have reopened their doors since June 8. Occupancy remains below 20% with just over 6,500 rooms in operation, corresponding to 30% of the 20,922 that total open hotels add up. This data is according to the Cancun, Puerto Morelos, and Isla Mujeres Hotel Association.
Beaches are allowed only for guests staying in the Cancun Hotel Zone. Many more tourist activities are now open with all the hygiene measures and operating only at 30% of capacity.
Thank you for reading "Cancun Airport is Recovering after reopening"
Source: Quadratin Quintana Roo