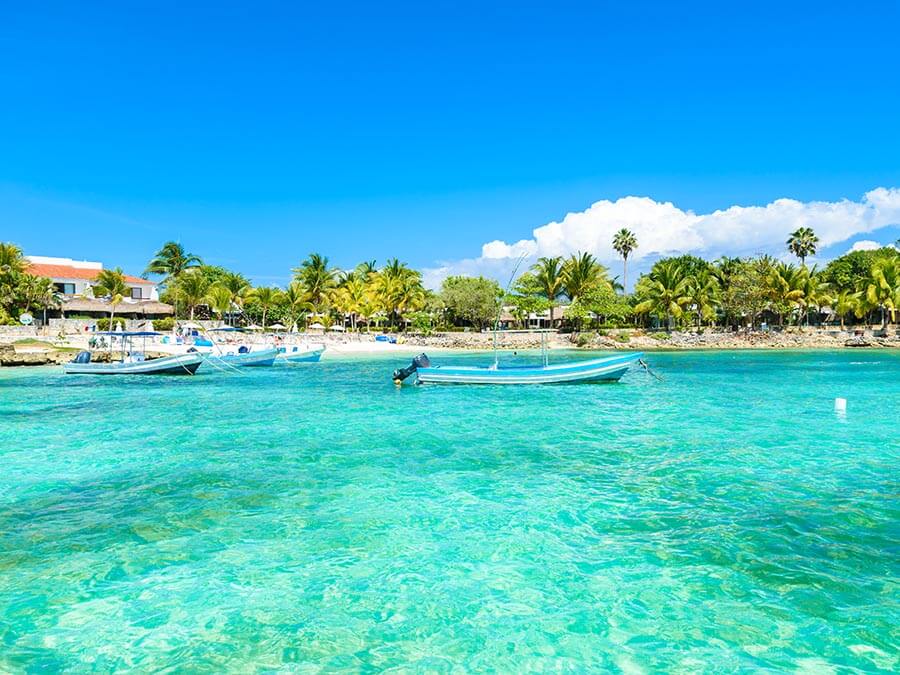 Overview
Akumal in Mayan means "place of turtles". Its beaches have been a sanctuary for these animals for hundreds of years. Historically, it is the first tourist destination on the coastal strip of the Yucatan peninsula bathed by the Caribbean Sea. Its wide area of ​​sand, shallow waters on the edge of the beach, a large area of ​​sandy bottom, and the fact that it is white in color make this beach one of the best in the area to rest on the shore and to let the children play in the sea.
Akumal is still a tourist micro-destination that still preserves its natural beauty. Swimming and snorkeling are excellent options in its coves, such as Kantena, Xaac, and Half Moon Bay, however the most famous is known as the Yalku Lagoon, which is 2 km north of the town. In Yalku there is a freshwater eye in its rocky area, and in that environment, a large number of colorful tropical fish live their youth far from predators.
When to visit Akumal
The best time to Travel Akumal for most visitors is during the
Fall and winter
, which are high season, and whеn dry ѕеаѕоn bеgіnѕ, November thrоugh Aрrіl. The chilly temperature is due to the north's winds that carry cold breezes to the coast and lower the temperatures.
Know that eery year between May and October, loggerheads and green sea turtles emerge from the ocean to lay their eggs on the beaches of Half Moon Bay and surrounding areas. These Akumal sea turtles lay approximately 70,000 eggs every year.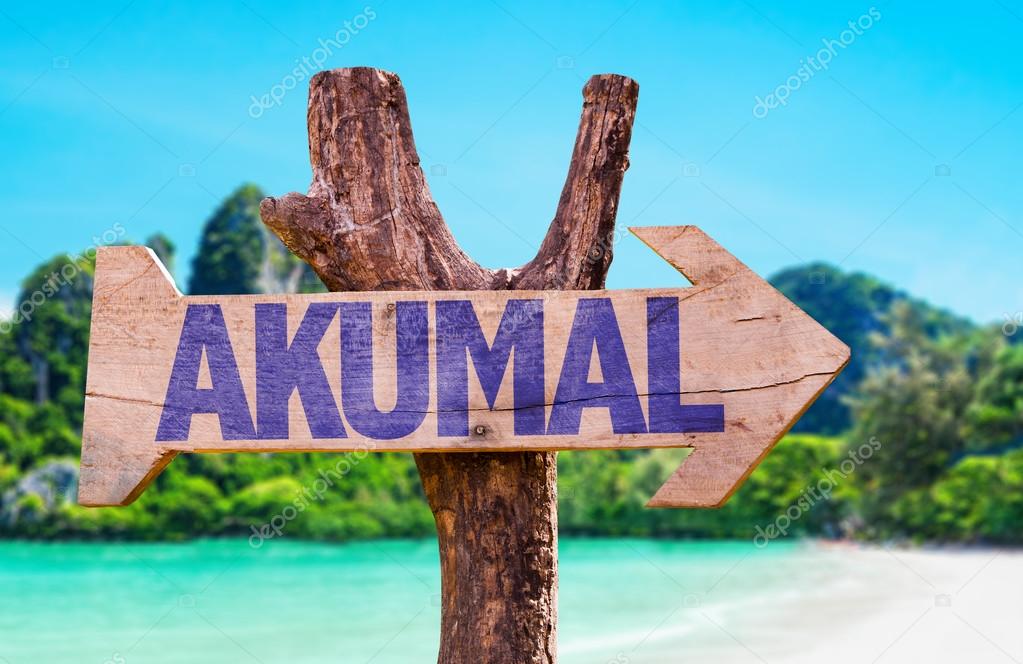 Things to do in Akumal
Beaches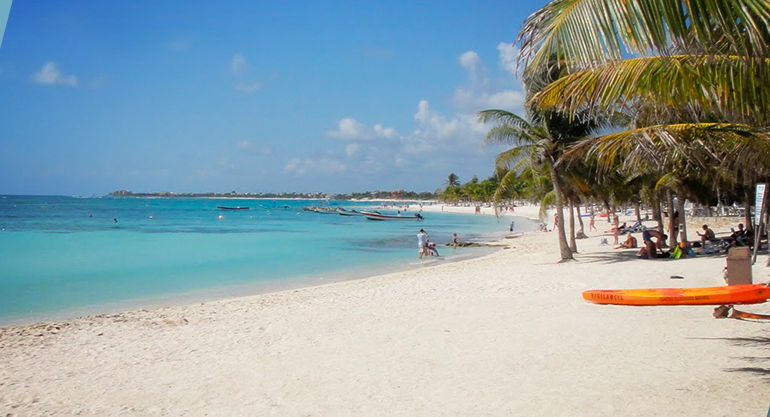 Media Luna Bay
A beautiful place to snorkel or just relax. Seeing the turtles,  is something inexplicable as well as charming, inside the Media Luna Bay we will find this and it is a must-see when visiting Akumal.
The water is so crystal clear that it is possible to see the mentioned species without so many complications. You can choose the Tour for swimming with turtles. It is recommended to bring some cash since you can find several Restaurants and Tours that you can buy. The entrance to the beach of Akumal Half Moon Bay costs 100 pesos (5 dollars). Take cash because they do not accept cards.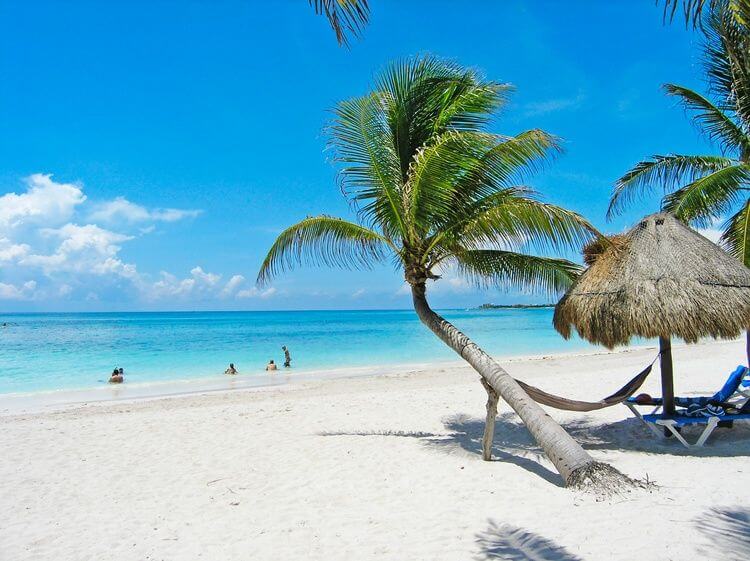 Akumal Beach
Akumal Beach is one of the places that people enjoy the most in the Riviera Maya in Mexico since it combines two fascinating things: a beautiful beach and an incredible experience of swimming with turtles. Turtles are Akumal's main attraction, but there are many more things to see in this area such as manta rays, corals, and coral fish.
On our visit to Akumal we swam with turtles that were probably more than a meter long. If you go between May and September, you can stay until night to see the turtles spawn. The entrance to the Akumal public beach costs 100 pesos (5 dollars).
Bring cash because they do not accept cards. On the public beach there are free toilets and showers (included in the entrance).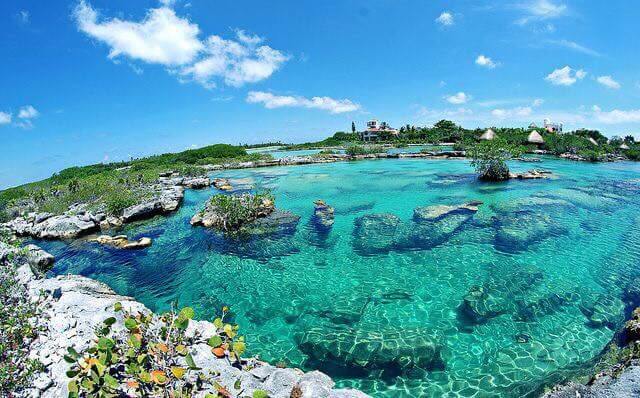 Yal-Ku Lagoon and Cenote
This wonderful lagoon that just by seeing it invites you to dive into its transparent waters, is the mouth of an underground river that mixes with the sea, that's why its water is brackish (a mixture of fresh and saltwater). They have snorkel equipment rental and guides to tour the cenote.
Location: Akumal, Yal-ku, 77776 Tulum, Q.R.
Hours: 9:00 am - 5:00 pm
Cenotes
Cenotes Park Hidden Treasures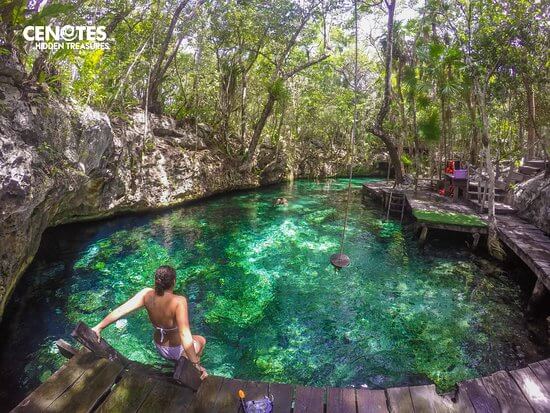 In Cenotes Park Hidden Treasures you can find various activities such as:
HILARIOS: This cenote is an entrance to the Mayan underworld with more than 50 km to go and with a depth of up to 115 m. Surrounded by impressive stalagmites and stalactites, Cenote Hilarios will dazzle you with one of the most spectacular views, for its natural and impressive rock formations. Its crystalline and purifying waters will make your tour the best experience on your next visit to the Riviera Maya.
LA GLORIA: Its marvelous turquoise blue and crystalline waters invite you to refresh yourself and contemplate the spectacular scenery by diving into the depths of its cave.
It is part of this natural spectacle, hardly seen in other places when the sun enters from the mouth of the Cenote "La Gloria" it is creating different games of light, in its magnificent crystalline waters during the day, it is simply wonderful to be able to contemplate the underwater view of this open cenote. Having a moment to connect with nature, relax and purify yourself with sacred waters, in an ancient and paradisiacal place of the Mayan jungle, is a dream come true in Cenotes Park.
ATV / BUGGIE - OFF-ROAD EXPERIENCE: If you are an adventurer or adventurer, travel in ATVs and buggies the Mayan jungle and delve into its mysteries. It is an incredible tour full of adrenaline and emotion, contemplating the wonderful landscape.
ATV CENOTE SWIM TOUR: It is an activity created for the most intrepid. Make your tour in a quad bike in double mode. The tour takes place on a private circuit within the Mayan jungle. The activity is supervised by highly qualified personnel, guaranteeing the safety of all participants.
Hours: 9:30 a.m., 12:30 p.m. and 3:30 p.m. Duration 5 hrs.
It's important to know: The minimum age for handling the ATVs is 16 years old and the responsive must be signed by an adult as responsible.
Aktun Chen
Aktun Chen is a natural park located next to Akumal in the Riviera Maya, it is a park with ecological spirit and exciting activities, you can snorkel in a cenote, walk-in cave, fly over zip lines and enjoy an incredible variety of flora and fauna that adorn this wonderful natural sanctuary.
Aktun Chen is located in the heart of the Riviera Maya, only 10 miles (16 kms) north of Tulum, only 2.5 miles (4 km) south of Akumal and 66 miles (106 km) south of the Cancun International Airport. It will take you just 25 minutes to get there from Playa del Carmen and 15 minutes from Tulum
Parks and Archaeological  Sites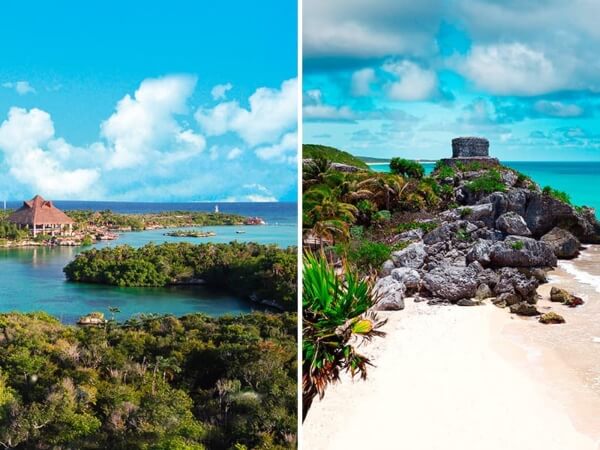 Xel-ha Archeological zone
Xel-ha is a small Mayan site with ruins that have clear, colorful images on their walls across the highway. Few people notice it, though one of the main pyramids is right on the highway. The archaeological site is located 115 km. south of the city of Cancun and 16 km. north of Tulum, on the west side of federal highway 307 Puerto Juárez - Chetumal. It should not be confused with Xelhá Park, whose access is located in the eastern sector of the mentioned highway. The visitor can arrive at the site by public transport.
Tulum Mayan Ruins
Tulum Mayan Ruins is the most emblematic site on the Quintana Roo coast, due to its privileged location and the excellent conservation of its buildings and wall paintings. Its wall is well known, delimiting the main complex on its north, south, and west sides since the eastern sector face the Caribbean Sea; It has five accesses and two watchtowers. This is the most iconic place of Tulum, the reason why many visitors choose this destination.
Where to stay
Best Hotels
Secrets Akumal
Secrets Akumal Riviera Maya, ideally located in the heart of the Riviera Maya along the famed white-sand beaches and calm, clear waters of Akumal, fuses elegant and original design with nature's elements. Rated as one of the "Top 10 Beaches in Mexico" by TripAdvisor and with a name meaning "place of the turtle" in Mayan, Akumal is renowned for its beautiful beaches and green sea turtle population making this oasis a premium snorkeling location. Dare yourself to discover this amazing place in Akumal, and have the best accommodation.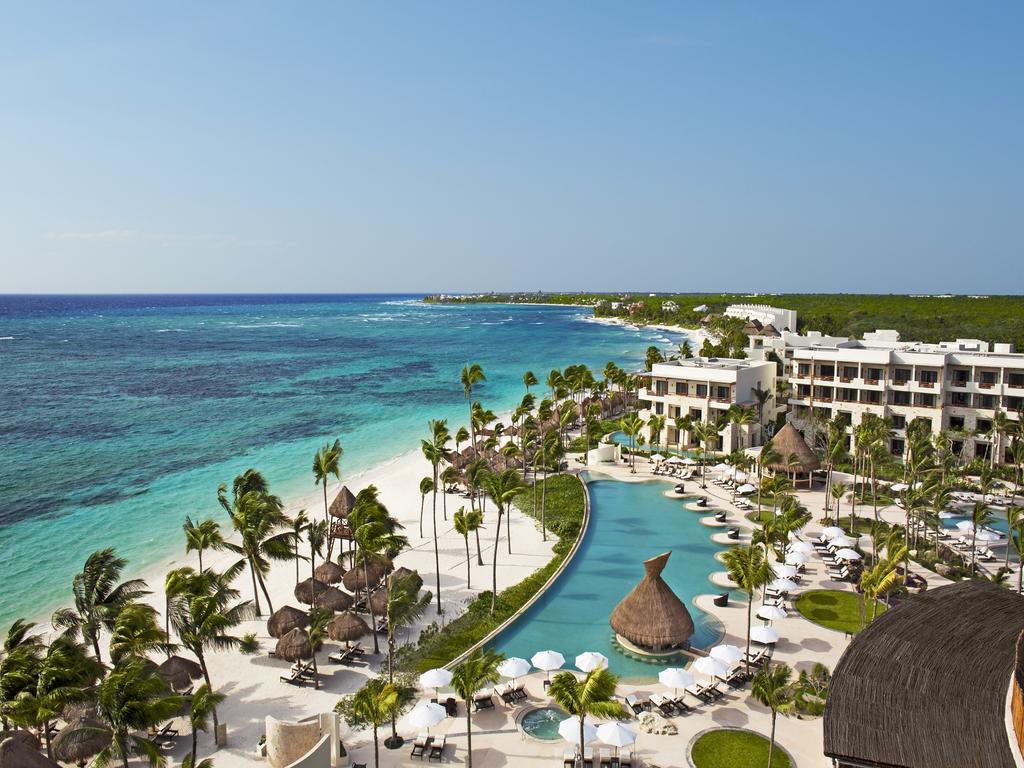 TRS Yucatan Hotel
TRS Yucatan Hotel is a 5-star luxury hotel that offers a calming retreat within the lively Riviera Maya. It is the perfect choice for couples and adults who want to enjoy privacy and personalized service whilst also offering unlimited access to a wide array of top quality services.
The hotel pays homage to the indigenous flora and fauna, and the immaculate grounds are complemented by the elegant architecture and decor. From the moment guests check-in, they get lost in the magic of the TRS Yucatan Hotel, where worries disappear faster than the ebbing tide.
From the luxurious modern suites, it's just a few steps to the exclusive adults-only pool; and from there, a couple of strokes to the swim-up bar. Enjoy the cool, clear water as you sip exotic cocktails and soak up the bright Mexican sunshine.
TRS Yucatan Hotel prides itself on letting guests put their feet up and bask in the relaxation they deserve. With a 24-hour butler service to cater to your every need, your stay can be exactly what you dreamed it would be, and there is an array of bars and restaurants within a stone's throw of the suites.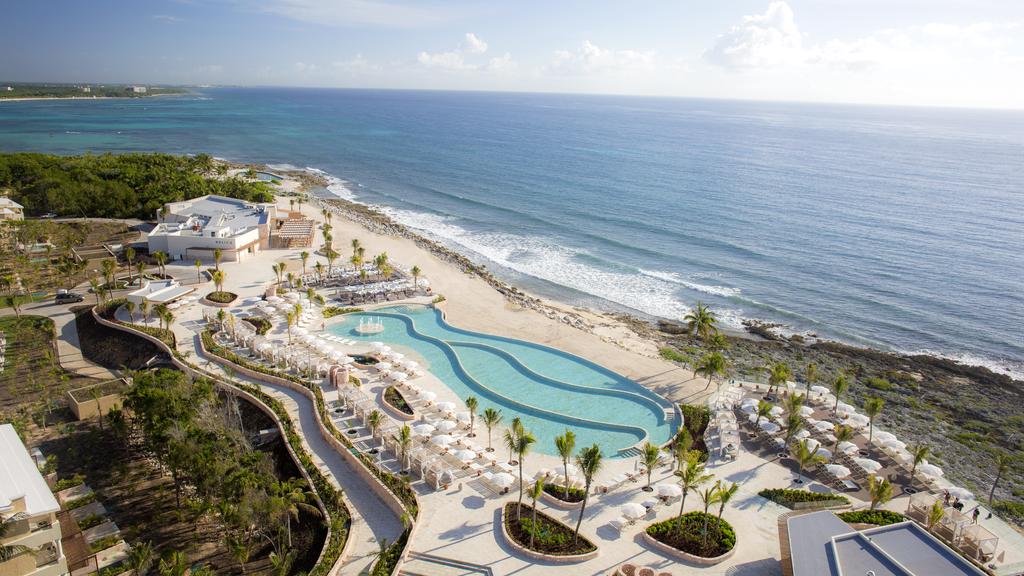 Grand Palladium Kantenah
Visit Grand Palladium Kantenah on your next trip to Riviera Maya. The 5-star Grand Palladium Kantenah Resort & Spa is in the heart of the Riviera Maya, a half-hour drive from both Playa del Carmen and Tulum. The ideal choice for families, friends or couples seeking a memorable vacation at one of the most complete all-inclusive hotels in the Mexican Caribbean.
Conveniently located just a short walking distance from the pristine beach, main pools, on-site water park, and activities center. Choose from a wide array of gastronomic offerings including show cooking and à la carte restaurants with exquisite cuisine and exceptional service.
Tucked away among the lush tropical vegetation of the Mayan Riviera, Grand Palladium Kantenah Resort & Spa overlooks nearly a mile of exquisite beach. The hotel embodies the richness of the environment and is surrounded by local animals and lavish gardens that provide a truly unique experience.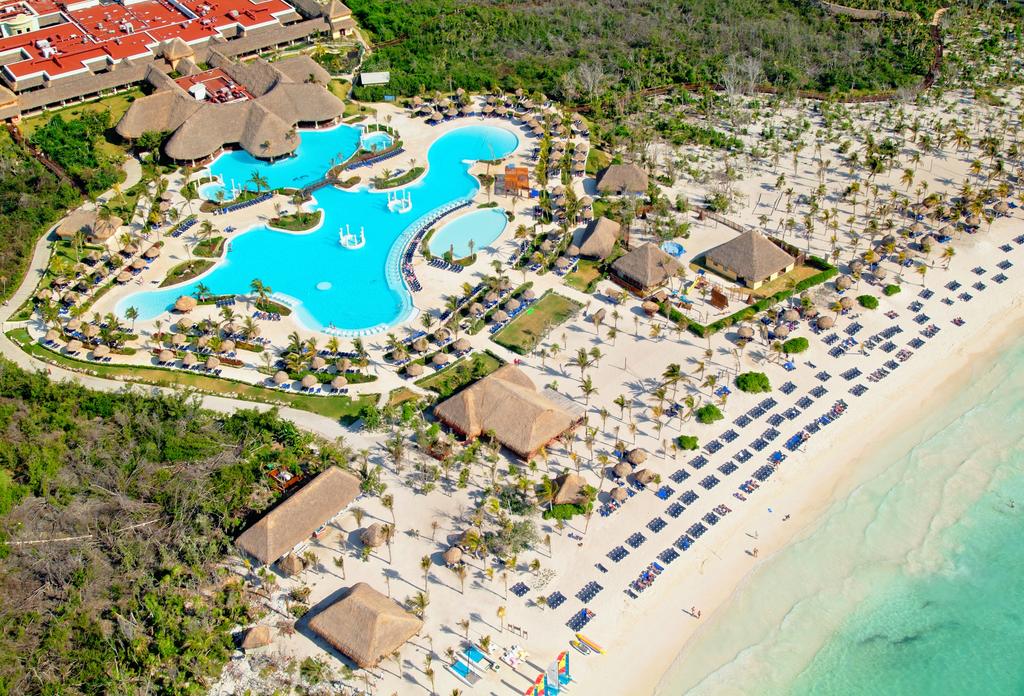 Taverna Akumal
One of the best restaurants to try Pizzas, Seafood, Mediterranean, and Italian food. The gnocchi with Pomodoro and lasagna is delicious, highly recommended.
At an affordable price and with extra services such as Takeaway food, Parking Available, Television, Free Wi-Fi and accepts credit cards. Comfortable outdoor seating, and access for the whole family, with high chairs available.
Italian, Pizza, Seafood, Mediterranean
Location: Camino de Accesso Fracc # 1 | Plaza Ukana I, Akumal 77780, Mexico
La Cueva del Pescador
Open for Lunch and Dinner Daily. Located across from Akumal Bay in the Plaza Ukana I (Central Akumal).
A great choice for fresh seafood! Carlos and staff will take you fishing by day and grill al gusto for you in the evening: "If you hook it we'll cook it!"
La Cueva del Pescador is a local favorite for Happy Hour with generously poured drinks. For those who like a game of pool, La Cueva also has a pool table where you can challenge the locals to a game. You will definitely enjoy this amazing place in Akumal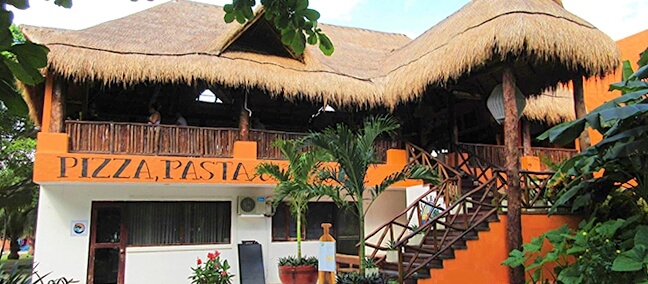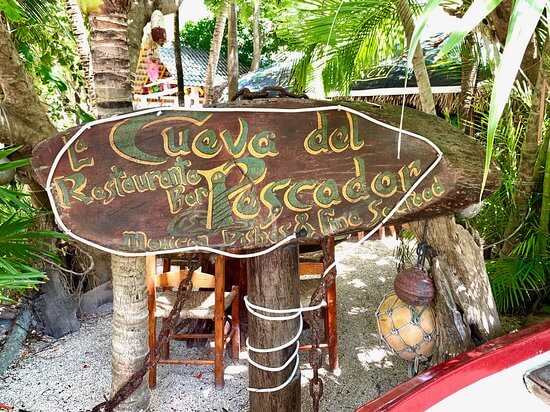 Beached Bikini Bar & Grill
This beachfront bar also has food to accompany with a delicious margarita, beer or pina colada, whatever you fancy most at the Bar. Mexican, Snack and Seafood
Location: Aventuras Akumal Lote 35, 77737 Quintana Roo

Lol-Ha Akumal
Lol-Ha offers its clients Mexican cuisine. It is always a pleasant experience to have their famous bacon, their homemade grilled chicken or their extraordinary fish tacos. Start your meal with an irresistible beer, delicious margaritas or an unsurpassed wine. Come to this restaurant if you want to celebrate your anniversary, wedding or birthday party. The staff here are said to be helpful. You will enjoy with its magnificent service.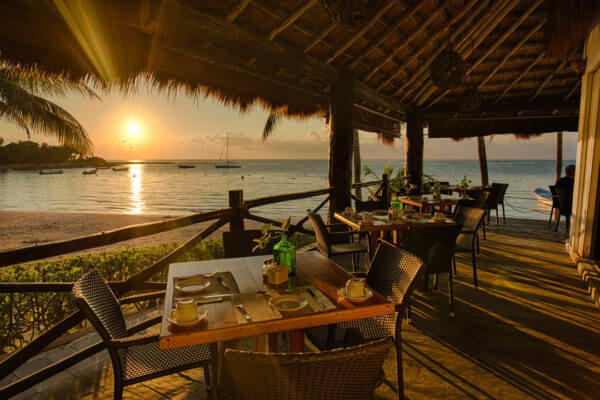 How to get around
Taxi
If you want to go around the hotel zone or move downtown you can take a taxi but know that if you take a taxi in the Hotel Zone, they tend to be expensive. Taxis are an easy and practical way to get around quickly and by yourself. What it's worth, we recommend using a taxi if you are going downtown or somewhere out of the hotel zone.
Public transportation
Public transportation is the most accessible method of transportation in the Hotel Zone. You can probably find a bus stop outside of your hotel, or very close. The bus routes can take you along the hotel zone and they operate from 6:00 am to 10:30 pm. R1 is the one you'll probably want to look for to take you anywhere inside the hotel zone.
Private transportation
Private transportation services are suitable for travelers who want to spend time getting to know the hotel zone or Riviera Maya without having to wait for transportation or having to pay every time. Private transportation has the advantage of taking you exactly where you want to be without you having to worry about driving.
Car Rental
Another option to move around the city is car rental, this is a more independent way of transportation. For people that feel comfortable driving in a new city, and if you have plans of exploring, this is a great option.