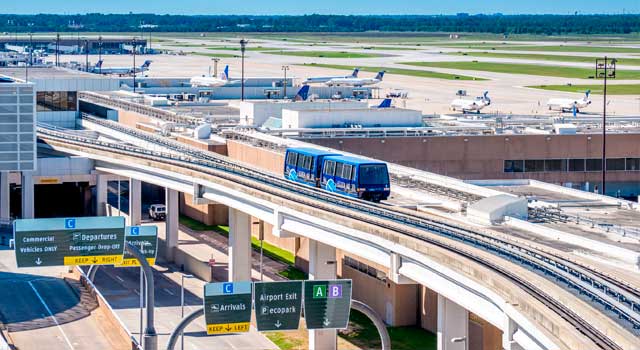 Address: 2800 N Terminal Rd, Houston, TX 77032, EE. UU.
Phone: +1 281-230-3100
Website: www.fly2houston.com
George Bush Intercontinental Airport (IATA: IAH, ICAO: KIAH, FAA LID: IAH) is an international airport in Houston, Texas, United States, under class B airspace, serving the Greater Houston metropolitan area, the fifth-largest metropolitan area in the United States. Located about 23 miles (37 km) north of Downtown Houston, between Interstate 45 and Interstate 69/U.S. Highway 59 with direct access to the Hardy Toll Road expressway, George Bush Intercontinental Airport has scheduled flights to a large number of domestic and international destinations. The airport is named after George H. W. Bush, the 41st President of the United States.
In 2016, the airport served 41,622,594 passengers, making IAH the forty-third busiest airport in the world.
Houston Intercontinental is the second largest passenger hub for United Airlines, only behind O'Hare International Airport in Chicago. IAH was the premier domestic and international hub for Continental Airlines prior to its merger with United Airlines.
IAH covers 10,000 acres (40.5 sq.km.) of land and has five runways.
The airport also serves as a focus city for Spirit Airlines. Under operations as United Express, Expressjet Airlines and Skywest Airlines operate hub operations from IAH.
The distance from Houston Airport, United States to Cancun Airport, Mexico is 1307.37 kilometers or 812.36 miles.
You can find flights to Cancun Airport from Miami International Airport here: Flights to Cancun Airport