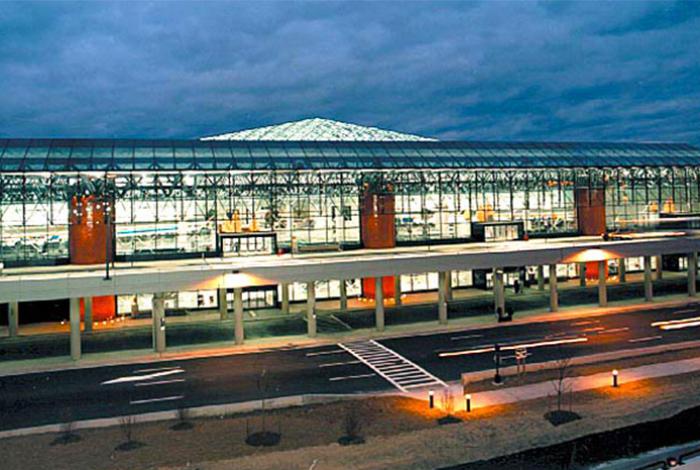 Address: Baltimore, Maryland 21240, EE. UU.
Phone: +1 410-859-7111
Website: www.bwiairport.com
Baltimore/Washington International Thurgood Marshall Airport (IATA: BWI, ICAO: KBWI, FAA LID: BWI) is an international airport located in Linthicum, Maryland, United States. The airport is 9 miles (14 km) south of downtown Baltimore and 32 miles (51 km) northeast of Washington, D.C. It is the busiest, by passenger count, of three major airports serving the Baltimore–Washington metropolitan area, the other two being Ronald Reagan Washington National Airport and Washington Dulles International Airport. It is commonly referred to as BWI or BWI Marshall. The airport is named after Thurgood Marshall, a Baltimore native who was the first African American to be a judge on the Supreme Court of the United States.
BWI is a focus city for Southwest Airlines, and is the second-largest airport by number of departures for that airline after Chicago–Midway. With a 71% market share in 2014, BWI is also a fortress hub for Southwest. BWI is also a small regional hub for Southern Airways Express. A record 25.1 million passengers traveled through BWI in 2016, an increase of 5.45% over the previous year. BWI was ranked as the 23rd-busiest airport in North America and the 75th busiest airport in the world in 2014 by the number of passengers. BWI covers 3,160 acres (1,279 ha) of land.
The distance from Baltimore, MD Airport, United States to Cancun Airport, Mexico is 2240.81 kilometers or 1392.37 miles.
You can find flights to Cancun Airport from Baltimore, MD International Airport here: Flights to Cancun Airport