Quintana Roo is a beautiful state home to wonderful places such as Cancun, Playa del Carmen, and Tulum one of the top tourist cities in México. Its bast biodiversity makes it an incredible destination to stay. On April 1rst the tourist authorities announced that foreign visitors arriving in the Mexican Caribbean will have to pay a tax.
The new payment is mandatory for all foreign tourists over 15 years old entering Quintana Roo state. Tourists can pay before their arrival, during their stay, or upon exiting the state via a new website called Visitax. There will be also an option to pay in cash at the Cancun Airport terminals.
How to pay the New Tourist tax to enter Cancun and Quintana Roo?
The new payment to foreign tourists for $ 224 Mexican pesos (12 USD) can be made before or after entering the destination or during their stay, since the payment verification will be made when the tourist leaves the state.
First of all, you need to enter the official website of Visitax  and fill out the form with the following information:
The date you will be departing Cancun
How many people are in your group
First and last name of each person in your group
Birthdate of each person in your group
Passport number
Once visitors have filled out the form, they will be redirected to a secure payment page to complete the online payment which can be made by credit card.
As soon as the payment is completed, travelers will be provided with a QR Code that will need to be presented to airport security before boarding their departure flight.
New electronic terminals are also being set up at the Airport where travelers will be able to make a cash payment for the new visitor fee.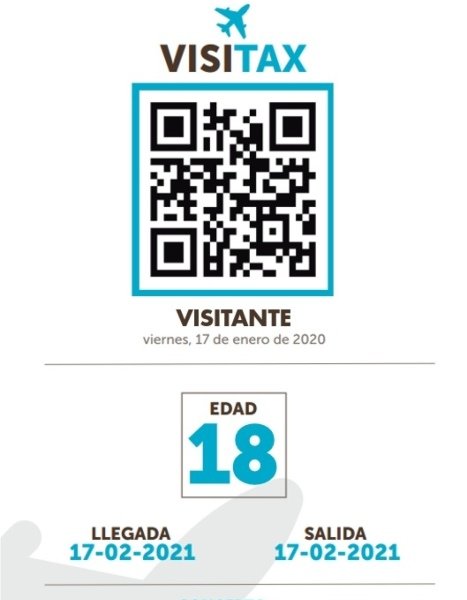 Contact information:
Tel: +52 (998) 223 68 42 / +52 (998) 329 57 45/ +52 (998) 483 76 59
Hours: 6:00 AM - 10:00 PM
Email: contact.us@satq.qroo.gob.mx