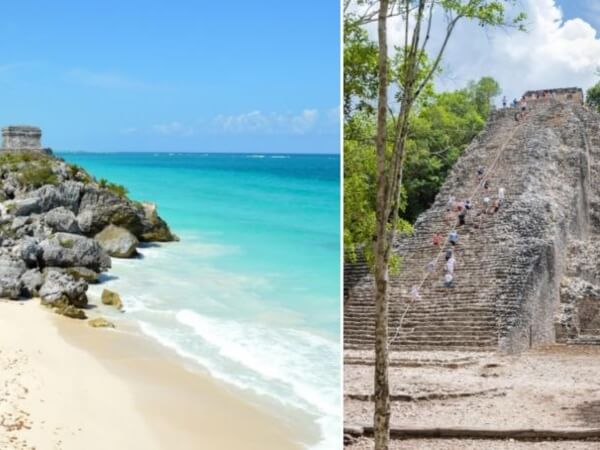 Tulum + Coba + Cenote + Playa del Carmen Tour
The tour begins in  Tulum ruins, an ancient Maya city famous for the breath-taking views of the Caribbean Sea it offers to visitors. You may even make it downstairs to the world-famous Tulum beach. Then the next stop is Coba, another major prehispanic city, and you will also have the chance of swimming in a cenote.
At Coba you will see the Nohoch-Mul temple, one of the tallest structures in the Yucatan Peninsula. And the best part is you can climb to the top of this huge building! Coba is one of the largest cities built by the Mayas. You'll enjoy a tasty lunch and a unique Mayan Chocolate Experience! You'll refresh with a swim in a sacred cenote and that's not all, you'll enjoy free time in Playa del Carmen to stroll along the famous 5th Avenue.
Explore Coba and Tulum, two of the most important Mayan cities, swim in Cenote Tancach-Ha and wander 5th Avenue in Playa del Carmen in this 4 x 1 Cancun tour combo!
Duration: All day    Available: Everyday
Included
Round trip transfer in an air conditioned van or bus
Bilingual tour guide
Entrance fees to Tulum and Coba
Guided tour at the archaeological sites
Lunch
Mayan Chocolate Experience
Swimming at Cenote Tancach - Ha (approximately 30 minutes)
Use of restrooms and changing rooms at the cenote
30 min free time in Playa del Carmen (for guests staying between Cancun and Playa del Carmen only).
Not Include
Any beverages
Photo or video services
Snacks or any food other than the included lunch
Other activities at Tulum or at Coba
Tips
Souvenirs, handicrafts, clothes, etc.
Any other product or service not mentioned on the inclusions list
Food, beverages or the use of life jackets at the cenote
Extra Info
Pick-up times range between 7:15 am and 7:30 am depending on the location of your hotel
The tour starts at 8:00 am
Considering you have to walk along irregular trails on this tour and that you must go down a staircase to get to the cenote, this activity is not recommended for people with a limited mobility
Please reach us by dialing the toll free number shown on our home page to know if the pick up service is available at your hotel or if you have to go to a meeting point, and also to know the location of such meeting point (make sure to call in advance)
Your pick-up schedule is sent by email after booking
The visit to Playa del Carmen is only included for guests staying between Cancun and Playa del Carmen.
Times are estimate.
Suggestions
It would be a good idea to carry some cash
Do not bring heavy backpacks
Wear comfortable clothes, shoes, and sunglasses
Bring your bathing suit and sandals
Wear a cap or a hat
Remember to use biodegradable sunscreen
Bring your camera
Kids should be supervised at all times (we're going to a city on top of a cliff and to another one nestled in the jungle!)
If you have any health or physical problem please contact us before you make your reservation so we can provide you with advice on the matter
Be ready for long walks and for lots of fun!