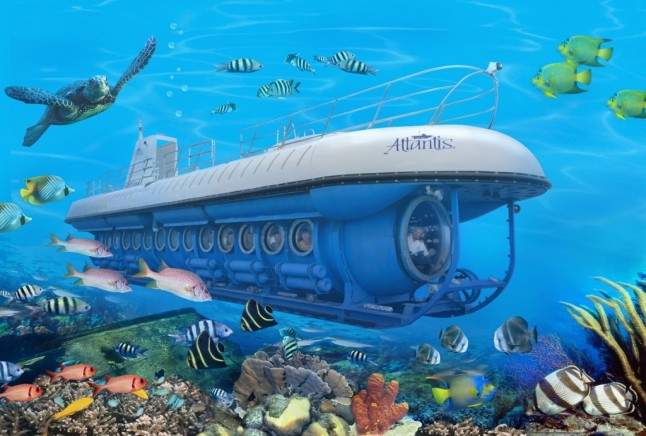 Atlantis Submarine Tour
The Atlantis Submarine is definitely one of the best Cozumel tours for those travelers who don't dive or who don't enjoy water activities much but do want to see what's below the surface of the crystal clear waters of Cozumel. This experience gives you the chance of exploring the underwater landscapes Cozumel offers in a comfortable, modern passenger submarine!
On the Atlantis Submarine Cozumel you will see why this awesome Caribbean island is one of the most visited tourist destinations in the whole world: there are many coral reefs with abundant colorful tropical fish surrounding Cozumel, the sea currents are gentle, and the visibility conditions are excellent, making it a paradise for divers and snorkelers... and for the passengers in the submarine too!
Book the Atlantis Submarine tour now and experience one of the most incredible underwater Cozumel activities on your next vacation!
Duration: 2 hours   Available: Mon, Tue, Wed, Thu, Fri, Sat
Included
A boat ride from the office of Atlantis Cozumel to where the Atlantis Submarine Cozumel is located
Bilingual staff
Tour on the Atlantis Submarine Cozumel
Not Included
Transportation to/from the offices of Atlantis Cozumel, where the tour departs
Additional activities in Cozumel
Any meals or snacks
Any kind of beverages
Souvenirs, handicrafts, clothes, or any other product or service not mentioned on the inclusions list
Photo or video services
Tips
Dock fee, federal tax and access fee to the marine park per person (3 USD approximately)
Any other service or product not mentioned on the inclusions list
Extra Info
Transportation to/from the offices of Atlantis Cozumel, where the tour departs
Additional activities in Cozumel
Any meals or snacks
Any kind of beverages
Souvenirs, handicrafts, clothes, or any other product or service not mentioned on the inclusions list
Photo or video services
Tips
Dock fee, federal tax and access fee to the marine park per person (3 USD approximately)
Any other service or product not mentioned on the inclusions list
Suggestions
Wear comfortable beachwear, swimming shoes and a swimsuit, as well as sunglasses, a cap or a hat
Your sunscreen lotion must be bio-degradable
Bring some cash and a credit or debit card since the use of certain equipment requires a deposit or to pay for any other service not mentioned on the inclusions list
If you have any health or physical problem please contact us before you make your reservation so we can provide you with advice on the matter