Cancun Airport >> Airports Around the World >> Airports United States >> JFK International Airport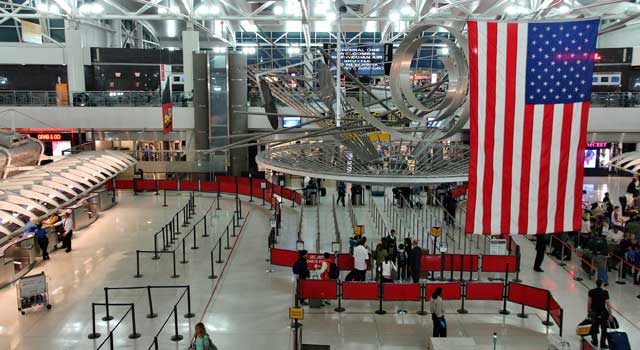 Address: Queens, Nueva York 11430, EE. UU.
Phone: +1 718-244-4444
Website: www.jfkairport.com
John F. Kennedy International Airport (IATA: JFK, ICAO: KJFK, FAA LID: JFK) (often referred to as Kennedy Airport, New York-JFK or simply JFK) is the primary international airport serving New York City. It is the busiest international air passenger gateway into North America, the 22nd busiest airport in the world, the 6th busiest airport in the United States, and the busiest airport in the New York airport system. JFK handled just over 59 million passengers in 2017. Over ninety airlines operate out of the airport, with non-stop or direct flights to destinations in all six inhabited continents.
JFK is located in the neighborhood of Jamaica in the borough of Queens, in New York, 16 miles (30 km) southeast of Midtown Manhattan. The airport features six passenger terminals and four runways. It serves as a hub for American Airlines and Delta Air Lines. It is also the primary operating base for JetBlue Airways. In the past, JFK was a hub for Pan Am, TWA, Eastern, National, and Tower Air.
The distance from New York Airport, United States to Cancun Airport, Mexico is 2507.58 kilometers or 1558.14 miles.
You can find flights to Cancun Airport from JFK International Airport here: Flights to Cancun Airport