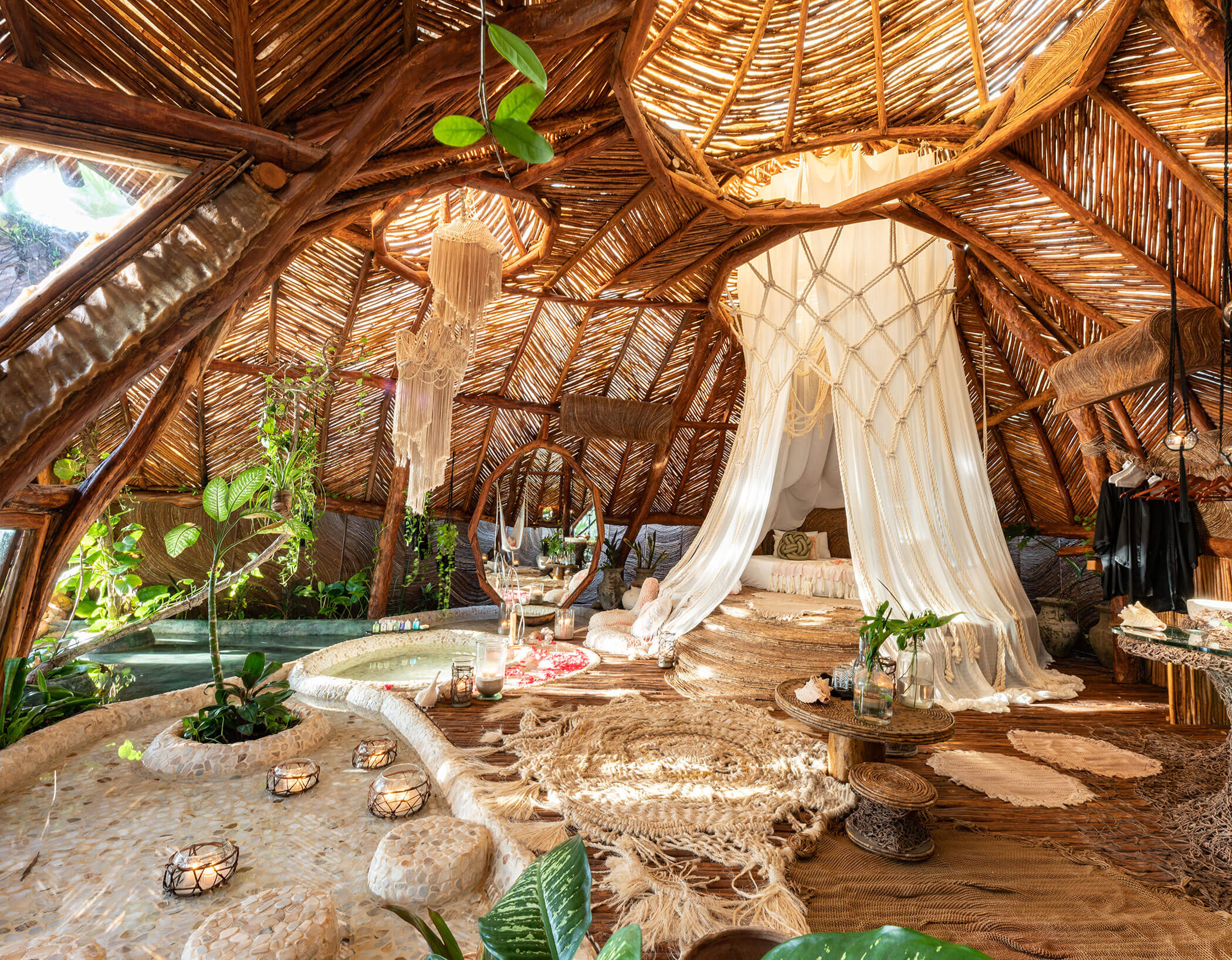 Hotel Azulik Tulum, if what you are looking for is relaxation, to disconnect from the rush of the city, AZULIK Tulum is the option you're looking for. The villas of AZULIK Tulum were designed in detail in order to create an atmosphere for relaxation. A place where technology is limited to reduce its impact on the environment. A site to enhance your ability to get in tune with the beautiful surroundings.
Located in the heart of the Mayan jungle, a revolutionary project takes its place with elegance and grace. It presents us a new vision of the future that is guided by ancestral knowledge and a sense of community.
What to expect
In AZULIK Tulum, you'll surround yourself with nothing more than nature itself. The hotel in Tulum presents nature as their main amenity. So don't expect electric light, A/C, or TV, as they set up the mood for the perfect getaway. Its architecture and design is breathtaking, the hotel itself is a museum. Taking you to experience the place with all of your senses, embrace yourself for the most relaxing and innovative experience of traveling. By walking the hallways, you'll find macramé art pieces, pottery, glass and fashion workshops, all inspired by the mission to bring us closer to nature, art, and ancestry.
The gastronomy
In AZULIK Tulum you'll see a place greatly influenced by Japanese culture. From its interior design to the gastronomy, everything is orchestrated to bring you a peaceful experience. AZULIK takes the dining experience to the next level by having a treehouse as a restaurant that holds the nest where you'll be eating. It is only natural to enter an artisanal environment where new flavors come alive. They have different restaurants for you to choose from, either Kin Toh, Tseen Ja or Jungle Cuisine, you'll experience the ultimate dining sensation.
AZULIK Tulum's healing journey
AZULIK's healing journey recovers teachings of our Mayan ancestors. By connecting with the native Mayan world cosmology, you get closer to understanding the body and spirit as one whole. This is why AZULIK Tulum is the ultimate relazing experience. AZULIK offers massages, yoga classes, special ceremonies and spa services for you to get the treat you deserve. If you're looking for the perfect getaway location, with no need to get out of your hotel. AZULIK is the option you're looking for. If you are up for some action, AZULIK may be the ideal place for you to relax after a day of adventure around Tulum and its great surroundings. 
The art
Also, if you are into design or art, not only will you feel amazed by the building itself, you can also find art boutiques in the hotel. Even if you are window shopping, you'll find unique art pieces to beautiful handmade clothing and jewelry.
SFER IK in Uh May, the museum
And don't even get me started on their art gallery… Open to everyone, AZULIK offers an art gallery for anyone interested in art pieces, sculpture and paintings. The amazing thing is that you cannot tell when the art stops, the building itself is an scultural art piece. The museum, SFER IK in Uh May is open daily, from 10:00 am – 5:00 pm. Times apply unless otherwise specified on the homepage due to private events. Do know that the Entrance Fee is 20 USD per person. Don't worry if you are not a guest at this hotel, they're still open for everyone. Hotel AZULIK has become an icon for Tulum's tourism, I mean, it's only obvious.
Take note, AZULIK Uh May is located in the village of Francisco Uh May, 25 km northeast of Tulum. Take the highway 109 to Coba. Pass the village of Macario Gómez, and drive on until you arrive to Francisco Uh May. So it's not in the hotel, but it's sure worth the visit.‍When you see the police station, turn left on the street before it. Continue straight on a rough road until you see a sign that reads IK LAB AZULIK. Turn left again. A few meters ahead, you will see the entrance of AZULIK Uh May.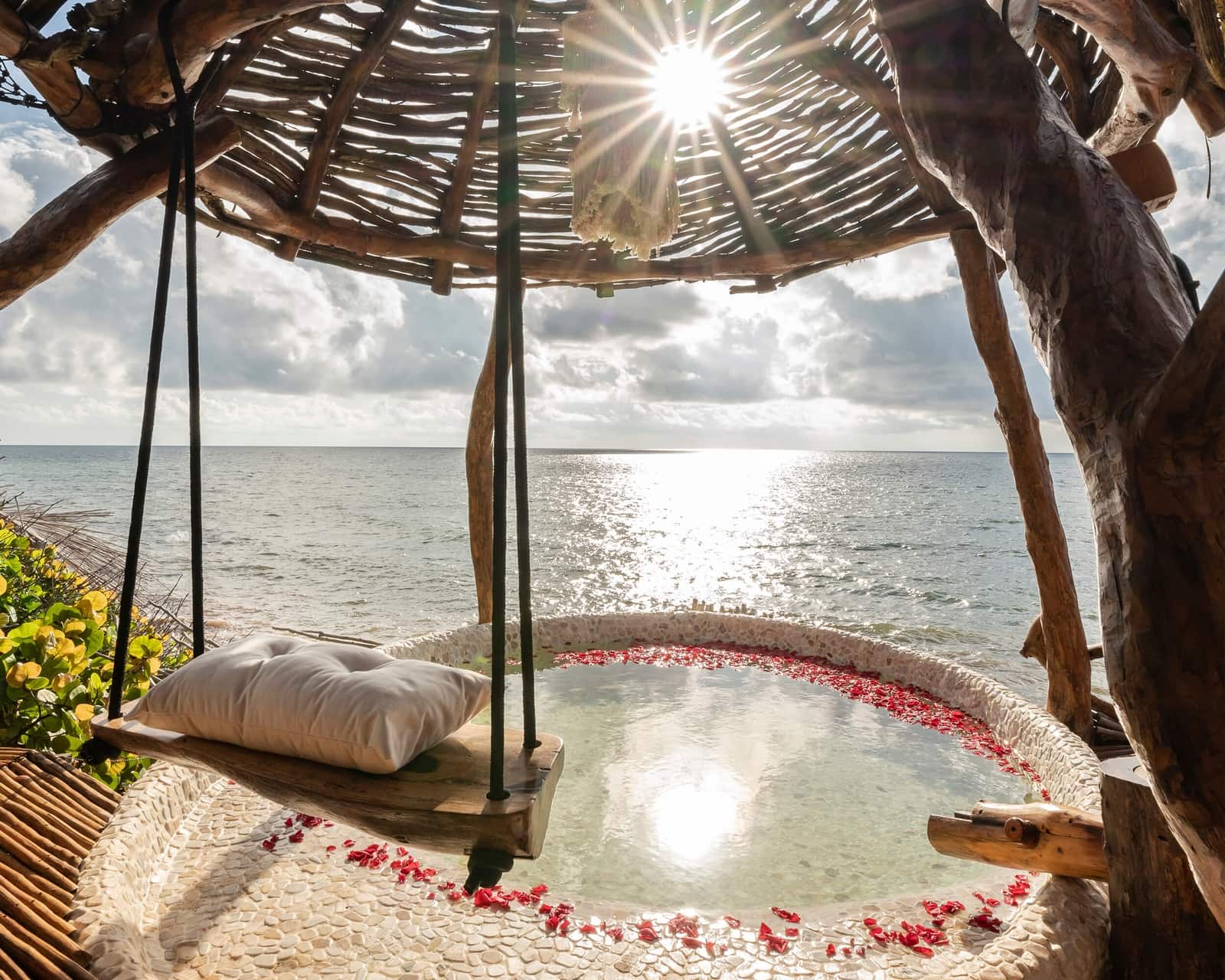 The Villas
Now, out of their 48 villas, the Aqua Villa is one of our most cherished ones. Maybe it is the breathtaking views or the resting net that faces the ocean, which is a hot tub. Each villa is located in strategic places so you get a unique experience, so don't worry, every room has its own special thing.
Remember, it only takes about 2 hours to get to AZULIK Tulum from the Cancun Airport. As you may find amazing stops along the way, there is nothing like arriving at this exquisite hotel and letting the relaxing experience start.