All Inclusive resorts in Playa del Carmen. What is it about all inclusive hotels that makes us never want to leave? Oh, we know, between endless drinks and amazing buffets, it's difficult to go back to the routine.
Playa del Carmen is being chased after many tourists, and if you want to have the ultimate getaway experience you must continue reading this article. If you're daydreaming, as we are, about your next all inclusive hotel vacation, you don't want to get behind on what's on the top of the list when it comes to choosing the best all inclusive hotel for you. So we're here for you, and we bring you 3 amazing options for you to consider…
Paradisus Playa del Carmen
Paradisus Playa del Carmen, an all-inclusive luxury for both adults and families along the Riviera Maya's prestigious Playa del Carmen. This is your "to go" option if what you are looking for is fun and relaxation at the same time. It offers a variety of great settings around the hotel, including great water slides, sparkling free-form swimming pools and fun activities for the whole family. So get ready to relax and enjoy the beach with your family. 
No matter where you go, Paradisus Playa del Carmen helps you connect with adventure. Playa del Carmen has become one of the most visited destinations in Mexico. For your convenience and comfort, Paradisus Playa del Carmen is located 45 min away from the Cancun International Airport. Check out your transportation with Cancun Airport Transportation.
It is also located just minutes away from shopping and outdoor activities. So be ready to jump into adventure in Playa del Carmen.
A poolside grill and a 22 restaurant and bars variety, the only difficult choice you'll face on your vacation will be deciding where to eat. And if you are feeling lucky, you can upgrade your vacation to luxury suites and exclusive VIP lounges. Maybe you're looking for a more exclusive and private experience. Paradisus Playa del Carmen has private pools and beaches for you to have the luxury and exclusivity you're looking for.
Feeling adventurous? Paradisus Playa del Carmen also offers different activities for you to try new things such as wine tasting, tequila testing, dance lessons, fitness classes and more.
Paradisus Playa del Carmen offers exclusive and unique shows and entertainment for the whole family.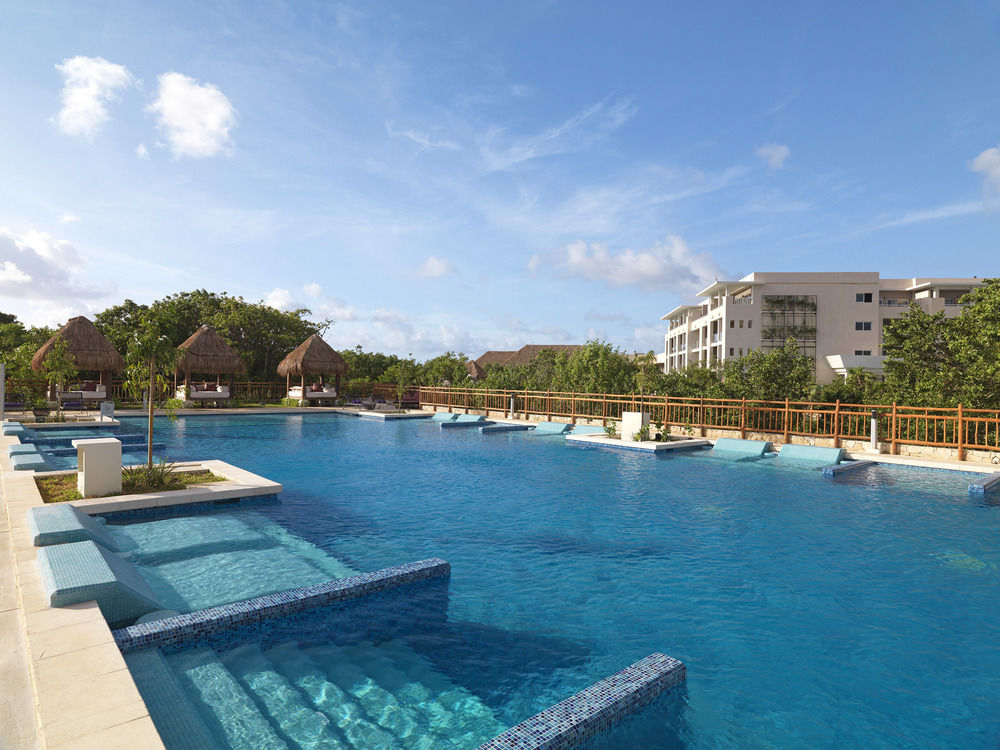 Hilton Playa del Carmen
Just a few steps from Fifth Avenue's famous restaurant , shops and nightlife. The Hilton Playa del Carmen is waiting for you. With fourteen restaurants and bars to choose from, wellness spa, two outdoor pools and outdoor activities and night entertainment. There's no place for stress here. 
As an all inclusive hotel, there's not much else to say, but as an only adult hotel we must tell you that it is the perfect romantic getaway. With 24 hour drinks and snacks in their lounge area, your day doesn't have to stop when the sun sets.The sun goes down and the fun heats up. If you hear music, follow it! And join the party with live music, you'll easily find it around the resort each evening.
Innan Spa, let stress slip away and feel at your best with exclusive treatments, hydrotherapies, aromatics, and beauty salon services at the resort spa. Between us, this is where I would spend most of my vacation.
If you want to take advantage of everything that Hilton Playa del Carmen has to offer, go check out their weekly activities. Starting with zumba sessions, ping-pong, beach time, salsa dance lessons, a rooftop tennis court, aerobics, these daily activities will make some sweet vacation memories.
Wanting to explore around? Lucky you, because outside the doors of Hilton Playa del Carmen is the Riviera Maya's most famous street, where guests and locals alike head for trendy shops, local bars, and nightlife. Playa del Carmen 5th Avenue, is one of the most visited places in town. You get to taste amazing cuisine and hear great bands that play live at bars and restaurants. A day wouldn't be complete if you don't get fresh coconut water to drink in the street.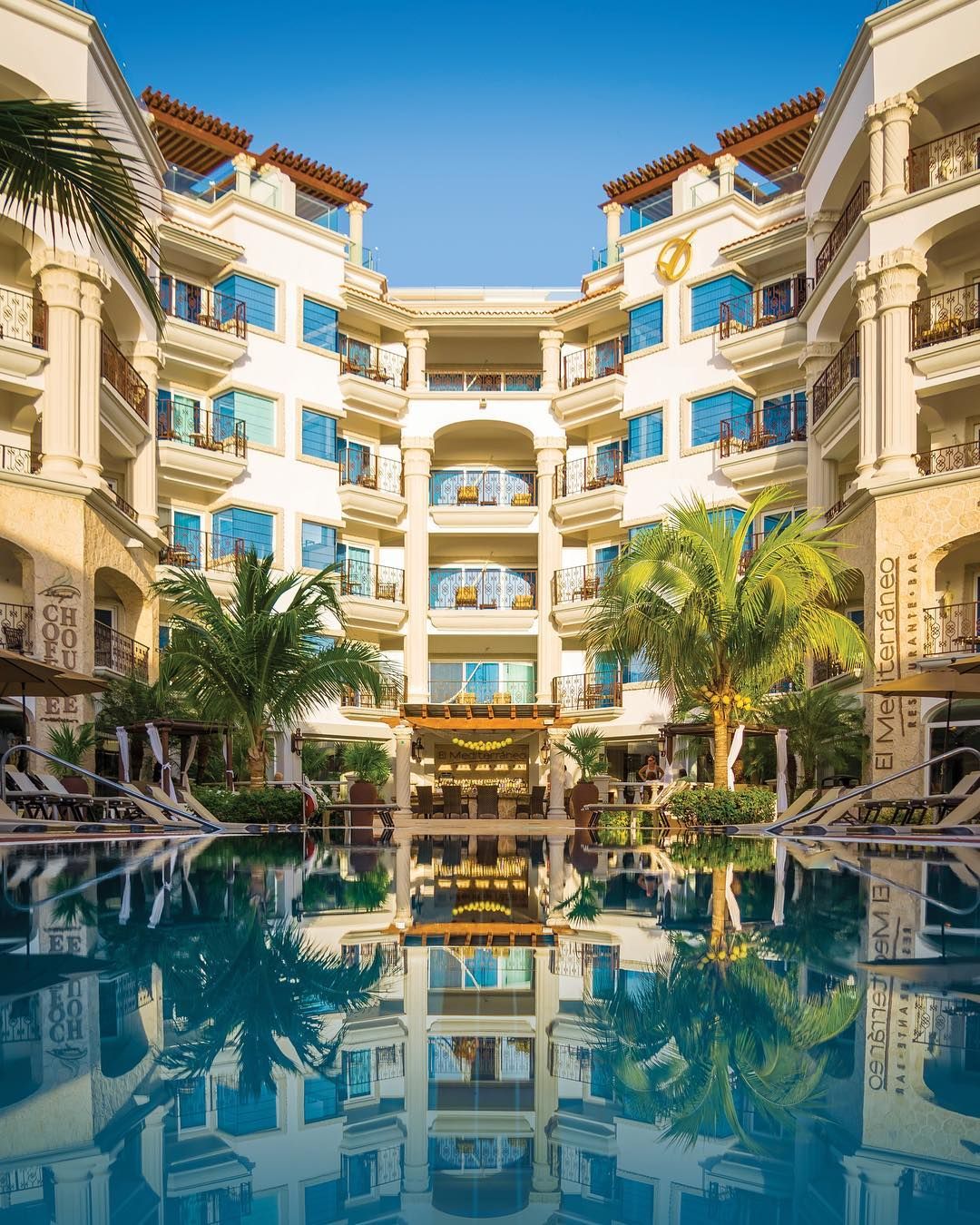 Grand Hyatt
Treat yourself and your family with the amazing experience of visiting the Caribbean Coast of Quintana Roo like never before. Retreat to oceanfront rooms with balconies and suites with private plunge pools overlooking the turquoise Caribbean sea. Introducing relaxing spa treatments and immersive experiences that elevate the local culture through culinary experiences, art, and nature. Make every moment count, Grand Hyatt Playa del Carmen Resort is waiting for you.
Enjoy endless multicultural experiences, indoors or out, options are endless. Take a walk on 5th Avenue, and amaze yourself with streets full of bars, restaurants, art galleries, and nightlife. Or take a swim in the traditional cenotes, natural sinkholes which Mayans acclaim as sacred. There is something to do for everyone. Grand Hyatt Playa del Carmen is ideal if you are feeling like doing anything besides relaxing and enjoying the sun.
Immerse yourself completely in the vacation mode with the Wellness Activities. When you're on vacation it is important to continue with our healthy lifestyle. The hotel offers Yoga Classes and Kayak Tours. 
If you're looking for a gastronomy experience, every week you can enjoy Grand Hyatt's menus and complement them with a unique show to end the evening in the best way. From Mexican night, Japanese night, Tango Night and so much more.
To add on to the relaxation you're looking for, Grand Hyatt offers a Cenote Spa, a genuine therapeutic treatment that helps you find balance, tranquility and rest. Continue relaxing with a unique experience embodies this amazing rejuvenation therapies for the body, mind and soul. This is the ideal place for stress to go away.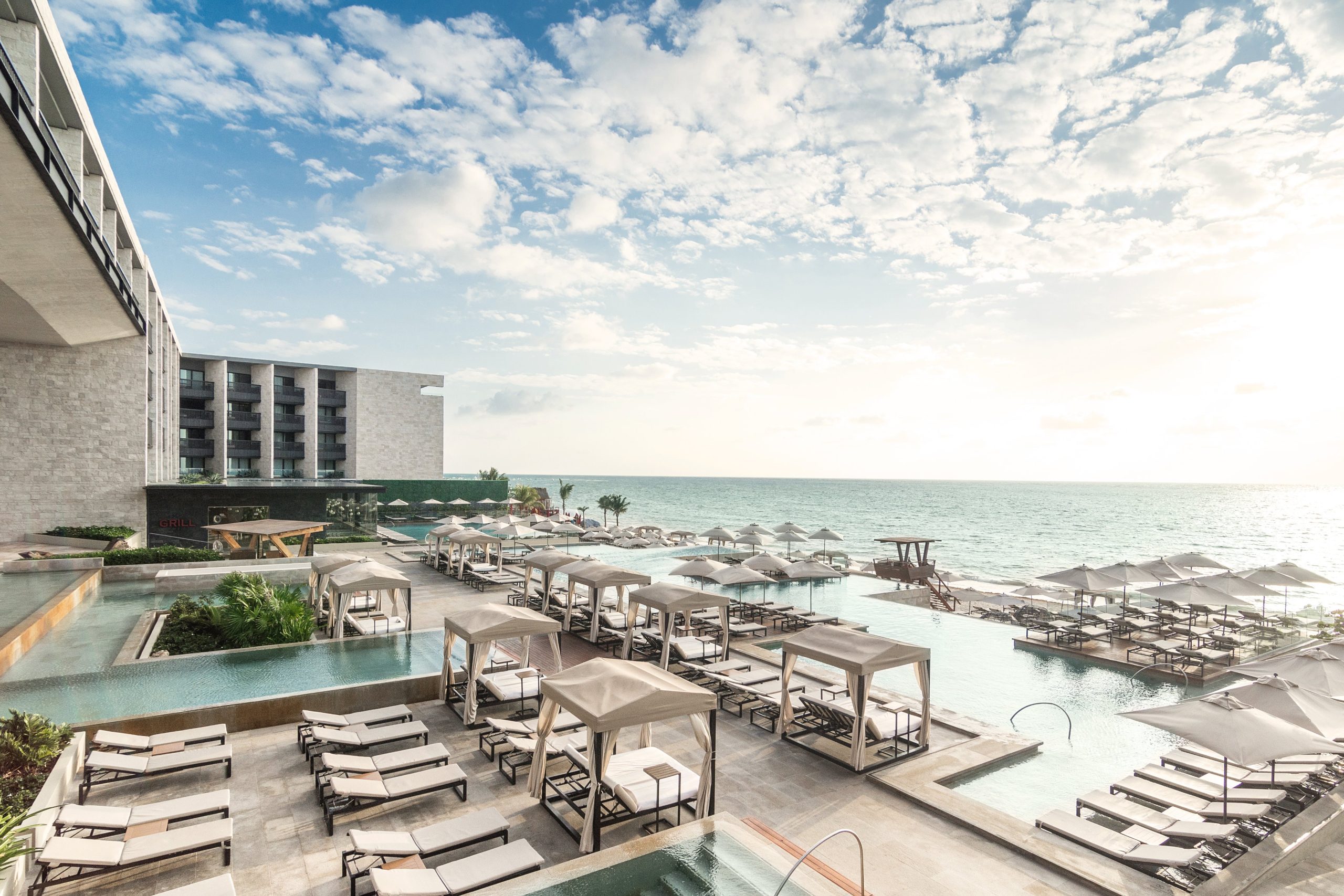 These locations and more are about an hour away from Cancun International Airport. You can schedule your private transportation with Cancun Airport Transportation.